'Dancing With the Stars' Recap: Sherri Heads Home
Sherri Shepherd and Val Chmerkovskiy eliminated in a shocker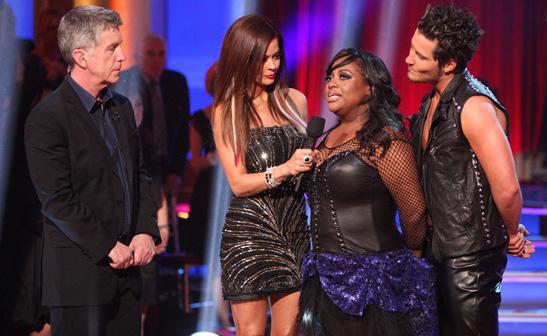 This was an incredibly tough -- maybe downright shocking -- elimination. Sherri's grace and enthusiasm for dance made her a favorite early on and seeing her in tears as she was eliminated was heartbreaking. Sherri thanked the producers for letting her "live the dream," and gave a shout-out to her partner, Val. She also encouraged everyone to live their dreams. Sherri thanked everyone and said she had the most amazing time dancing.
Bing: More about 'Dancing With the Stars' | Photos: Meet the cast of Season 14

Here's a quick look at how the remaining stars did this week:
Last Night on TV: Watch recaps | Video: Watch clips and more
Melissa Gilbert
After a close shave – Melissa suffered a mild concussion after this week's performance round – Melissa is still in the game. Her paso doble actually left Maks with a shoulder injury as well! Nonetheless, it was a good dance. Melissa has great rhythm and this dance really highlighted her stamina. Melissa got off to a rough start in this competition, but she has really brought her A-game the last two weeks. Let's hope the trend continues.
Gavin DeGraw
Gavin's tango was moody and measured, but a bit problematic. He had trouble moving with Karina, though they did pull off an amazing turn-and-roll toward the end of the routine. The judges didn't love this dance, but they did acknowledge how far Gavin has come this season.
Maria Menounos
Maria's tango was a coup, considering that she was dancing on an injured foot. She and Derek moved beautifully together. Bruno was a fan of the staccato action of the routine, which he dubbed "brilliant." Unfortunately, it's not clear how much Maria's injury will affect her performances going forward.
Jaleel White
Jaleel's winning tango was a lot flashier than his other routines have been. He and Kym moved well together and the routine struck a good balance between actual dance and flips and tricks. Jaleel has been strong throughout the competition, but he might need to set aside his cool-as-ice persona if he really wants to win hearts and minds.
Gladys Knight
Gladys' tango was a bit too studied, though, as always, her footwork was very precise. Len said Gladys needs to make her steps a bit quicker and that her posture isn't what it should be. This wasn't Gladys' best performance but everyone has an off week.
Donald Driver
Donald's shirtless paso doble was intense to the nth degree! There were some incredible spins in the routine and Donald kept pace with Peta and made sure his footwork was sharp and precise. The judges loved this one, especially Carrie Ann, who called it one of the most memorable dances of the season.
Katherine Jenkins
Katherine's intense paso doble was a hit with the crowd but wasn't exactly the judges' cup of tea. Bruno commented on a lack of precision and Carrie Ann took issue with the lack of cohesion in Katherine's footwork. Katherine has been No. 1 almost every week, but will she vault back to the top of the judges' leaderboard in the next round?
William Levy
William's rock 'n' roll jive brought out his funny side, though the routine was a bit of a disaster. William got thrown off in the middle of the routine and never quite got his groove back. In judges' critique, Carrie Ann encouraged him to stay focused. Let's hope he listens!
Roshon Fegan
Roshon's Viennese waltz was a real departure from his usual supercharged hip-hoppy routines. Bruno praised his elegant lines and Carrie Ann compared the routine to "watching the climax of a Disney movie." Roshon took a risk this week, and it paid off. I can't wait to see what he does next week.
Who won the week: Donald and Roshon
Who needs to step it up: Gladys
"Dancing With the Stars" airs Mondays at 8 p.m. ET/PT and Tuesdays at 9 p.m. ET/PT on ABC.