'Survivor: Philippines' Exit Interview: Angie Layton
The pageant queen spills on those booby trap accusations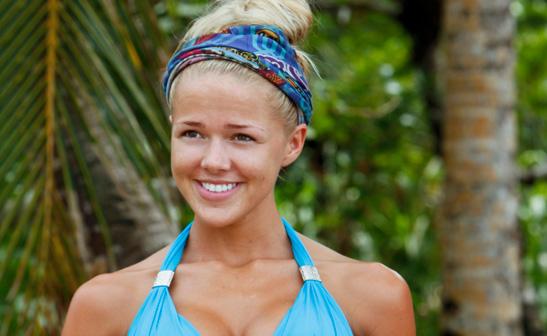 This week on "Survivor: Philippines,"
the Matsing tribe continued its losing streak with another trip to tribal council, whittling its already thin numbers down to three. The castaway cast out? Utah-born pageant queen Angie Layton, whose cozy alliance with handsome Malcolm came crashing down as Denise and Russell convinced him to vote against his nighttime cuddle buddy. 
We caught up with the former Miss Teen USA runner-up to talk about how pageants translate to "Survivor," who she's rooting for now -- and, of course, those "booby trap" accusations.

MSN TV: Matsing keeps losing. What gives?
Angie: I don't know. I think we just have bad luck. 
You're young and blonde and cute, a former pageant queen. Were there automatic assumptions about who you were?
Yeah, immediately they saw me as the pageant girl model. I think I proved them wrong -- because when you're in a tribe with six people, you really are pushed by the game. You really have get in the game and play it. I wanted to be there and I wanted to win. When it comes down to it, I can manipulate my way into getting what I want. It can be a good quality, it can be a bad quality, but in this game, I didn't end up manipulating anybody. 
Going into the game, was the whole thing with Malcolm part of your strategy? 

No, that just came about naturally, the thing with Malcolm. Going into the game, I just wanted to be a part of a strong alliance, and he was the best bet. He was the one I trusted. And I just wanted to do good in challenges and work hard in camp, which I did. I accomplished what I set out to do. 
Last week, Roxy accused you of setting a 'booby trap' for Malcolm. Your reaction?
That was ridiculous! There was no booby trap. It was really because we were freezing at night, and we kept each other warm. He literarily saved my life at night. I thank him for that. I was so cold. People don't realize how cold it gets. 
Was it a romantic thing?
No, we were just buddies. We were just good friends, really. And yes, there was an alliance. And I was hurt that he voted for me. That sucked. I think I should have stayed over Russell. But I get it, I do. That's how it goes. They wanted strength over loyalty. And that's there choice.
But is Russell pulling his weight? Because this week he wasn't doing so great. 
I think he has his strengths. Swimming might not be one of them. But there won't always be a swimming challenge. I mean, he's a big, buff guy and he's played this game before. They took all of that into account. I'm 20, I'm small, I gave it my all, but they have to do what they want to do.
Pageant life is pretty cut-throat, right? How does it compare to something like "Survivor"? 
They're both tough. You have to be mentally prepared, you have to know you're in it to win, you have to have confidence. You have to believe you can do it. But "Survivor" was harder for me. Pageants come natural -- my family is there to root me on, and I can handle the other girls. With "Survivor," that support was taken away. It was hard. When you watch "Survivor," you see sun and warmth and the beach. But when we were there, it was cold and raining non-stop. 
What's next for you?
Well, right now I'm just going to school, doing some modeling across the country, and preparing for the Miss Utah USA pageant. Maybe one day I could play again, down the line. In a few years, when I'm older and more mature and have a bit more life experience. 
Is there someone you're rooting for to win?
I'm really rooting for Malcolm and Denise and the Matsing tribe to take it. We're off to a slow start, but I know they can do it. And I really like Skupin. 
"Survivor: Philippines" airs Wednesdays at 8 p.m. ET/PT on the CW.