'Top Chef All-Stars' Recap: Fear and Freak-Outs
Undercooked pork cuts shorten Carla Hall's trip to the Bahamas for the finals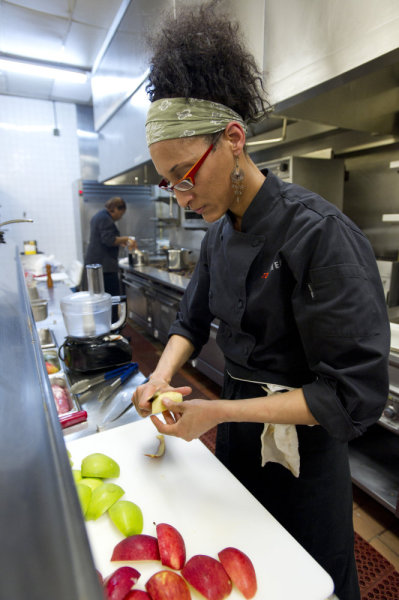 The pressure of making it to the finals on Bravo's "Top Chef All-Stars" appears to have turned the chefs into blathering crazy people. They're in the Bahamas, but all we hear is Richard Blais muttering to himself that his food was disgusting. Antonia Lofaso said she was sick to her stomach over her shrimp and grits. Carla couldn't stop talking about her self-doubt and fear of failing, and started to drag me down with her. What happened to our confident, cute, quippy chefs? I am more worried than ever about Richard Blais, who lost in the finals of his season because he folded under the pressure. Richard Blais, this is NOT allowed against Mike Isabella, do you hear me? But Carla owned this week's mental meltdown, and was sent home at the end of the episode for serving a piece of pork that was almost raw in the center. Carla, we love your zany, goofy self. Don't change a thing.
But we also were reminded that winning doesn't make you memorable, or even mean you were the best chef from your season. For the Quickfire, the All-Stars had to face off against the winners from their respective seasons. I forgot Hosea Rosenberg and Kevin Sbraga were on the show, let alone won. On the plus side, we got to see Stephanie Izard, who is still making waves in Chicago, and the smokin' hot and insanely talented Michael Voltaggio. Hi, Michael!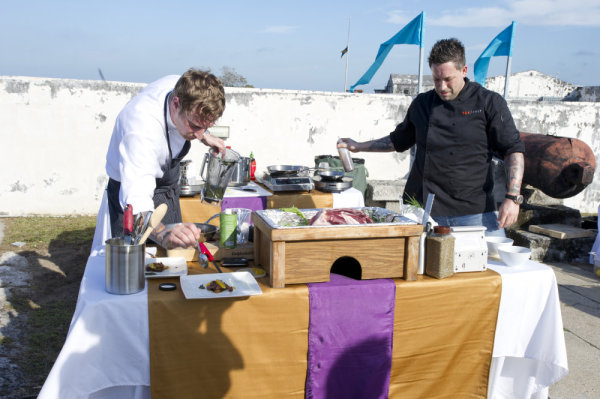 Mike Isabella squared off against Voltaggio and managed to beat arguably the best "Top Chef" winner out there. Is Mike on an unstoppable roll? Tiffany Derry pulled off her first win of the season, shockingly enough, against Kevin with her pork stew, while Hosea won over Carla, who served undercooked rice that was the beginning of her trajectory down. Blais also beat Stephanie with braised veal, but Stephanie bested Antonia's roasted veal. Got that?
If the Quickfire seemed like a lot of drama, it was nothing compared to the Elimination Challenge. First, the chefs believed they were cooking for Bahamian royalty, then discovered the "royalty" was the king of a street festival who greeted them in elaborate costume. Then, in their small, ill-equipped kitchen, the oil in the deep fryer caught fire just as they were about to serve. They abandoned their food, which was coated in chemicals from fighting the fire. Head judge Tom Colicchio tells them they must start all over again. They freak out. Wait, silly me, they have been doing that the entire episode.
Mike outdid Richard with a dish of sous vide chicken with mushrooms, yams and a lobster hash, but the judges still liked Richard's cannelloni made from pickled turnip with braised lamb and mustard greens. Richard thought it was terrible. "Honestly, I hate everything I do," he told the judges. Richard! You're not supposed to say that out loud! Do we need to have an intervention?
There was no excuse for Carla's raw pork tenderloin, but I would rather have seen Tiffany leave for her blah dirty rice with spiced pork tenderloin and tomato jam. As judge Gail Simmons said, "I am certainly never going to think about this dish again." The judges also disliked Antonia's fried shrimp and grits with pork shoulder. Mike Isabella can't hide his distaste for some of his competitors. "Carla, Antonia and Tiffany played it safe just to get here," he said. "I think they're playing it safe right now. It kind of makes me a little upset." I kind of agree. Wait, did I just agree with Mike Isabella? Now I'm really scared.
In the next episode, the chefs snorkel for their conch. And are ratings down? Because host Padma Lakshmi also shows up in a bikini. Yowza.