'Dancing: All-Stars' finale preview: Girl fight
Who will take home the Mirrorball Trophy?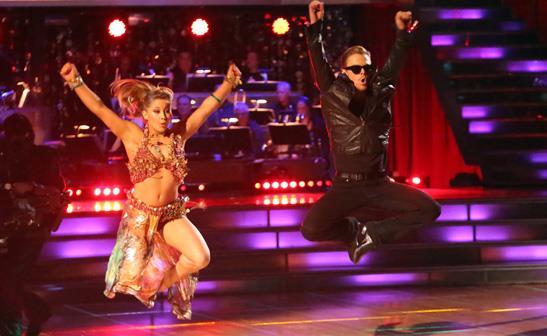 By Kate Mulcrone
Special to MSN TV
This was first ever all-star season for "DWTS," and now we'll see another new first -– an all-girl finale. Shawn Johnson, Kelly Monaco, and Melissa Rycroft are also the first "DWTS" contestants making a second trip to the final round. Shawn took home the coveted Mirrorball Trophy in Season 8, Kelly was the Season 1 champion and Melissa placed third in Season 8.
Bing: More about 'Dancing With the Stars: All-Stars' | Videos: Watch clips and more
The championship is very much up for grabs: Only half a point separates Shawn and Melissa on the judges' cumulative leaderboard. This year's finals will include three dances for each couple: freestyle, judges' choice and "instant." The freestyle round is usually a wild card, but all three of our finalists have danced freestyle routines both earlier this season and in other seasons, so we do have something to go on. (The advantage is Shawn's.) The judges' choice round will focus on routines that the stars struggled with earlier in the season, and the instant round will feature routines that the couples put together in just an hour during the broadcast.
Photos: See season highlights
Here's a look at our three finalists, along with some predictions as to how they'll fare:
Shawn Johnson
Olympic gymnast Shawn stood out in Beijing in 2008, and she stood out this season as well. She's a nimble, versatile dancer with a ton of energy. Shawn and partner Derek Hough have been pushing themselves especially hard the last few weeks of competition, turning in a killer tango-paso doble routine during the fusion round and a supercharged bhangra in the semifinals.
Derek has won the Mirrorball Trophy three times before. It's made him a bit cocky. He's taken some risks with choreography this season that have left the judges pretty fed up. In fact, after the pair's trio samba with Mark Ballas Len told Shawn that if she was eliminated the following night she should blame Derek! Will he rein it in in the Finals, or go for broke?
Why she might win:
She and Mark have done it before.
The other dancers can't match Shawn and Derek's frenetic energy.
She has the highest total number of judges' points so far.
She got a 30 for her Season 8 freestyle routine.
She might not have been joking about using a balance beam for the freestyle round.
Why she might run into trouble:
Derek suffered a pretty serious neck injury earlier this month.
Derek's risky choreography could sink them both.
The other two couples have amazing chemistry.
She doesn't quite have Melissa's technical precision.
Kelly Monaco
"General Hospital" star Kelly has been the dark horse contender this season. She and partner Valentin Chmerkovskiy (younger brother to smoldering, scowl-mouthed Maks) have incredible chemistry, and Kelly has pushed herself hard all season long. She took home the Mirrorball Trophy with Alec Mazo in Season 1, but many felt she wasn't the best dancer of that bunch. Kelly has proven the naysayers wrong with her dedication and focus, but she's definitely had a few hiccups, like last week's flamenco.
Kelly would seem to have a lot of fans in her corner. Even though she tied for last on the judges' leaderboard during the semifinals she advanced to the next round. Kelly's also tough: She danced on a broken toe! Don't count her out!
Why she might win:
She's done it before.
The fans love her.
She and Val have sizzling chemistry.
Carrie Ann seems to be in her corner.
Why she might run into trouble:
She has yet to score a perfect 30 this season.
She seemed strained during the semifinals.
She has trouble expressing vulnerability in certain styles of dance.
Melissa Rycroft
Reality TV star and former Dallas Cowboys cheerleader Melissa is an amazing dancer. She and partner Tony Dovolani made it all the way to the finals back in Season 8 before losing out to Shawn and Derek. Could a rematch give them the edge this time around? Melissa has scored more perfect 30s than any other contestant this season, and she and Tony dance together effortlessly. Melissa may not be able to do backflips on a balance beam, but she has an excellent mastery of ballroom technique and seems to be a quick study, which will come in handy for the instant round.
That said, Melissa doesn't have Shawn's energy or, presumably, Kelly's fan base. In Season 8 she and Tony danced a freestyle routine to C+C Music Factory's "Everybody Dance Now" that didn't go over well with the judges, and it's tough to say whether this will spur them to do better or sink them once again in this season's finale.
Why she might win:
She has three perfect scores under her belt this season.
She and Tony won the swing dance marathon.
When the judges thought she might be eliminated last week, they spoke up for her.
Why she might run into trouble:
Tony hurt his back in rehearsals a week ago.
She's the only non-champion among the finalists
She didn't do well in Season 8's freestyle round.
The two-night "Dancing With the Stars" finale will air Monday, Nov. 26, at 8 p.m. ET/PT and Tuesday, Nov 27, at 9 p.m. ET/PT.