'Survivor: Philippines' exit interview: Carter Williams
Kalabaw's last man standing: 'I would have done the same thing'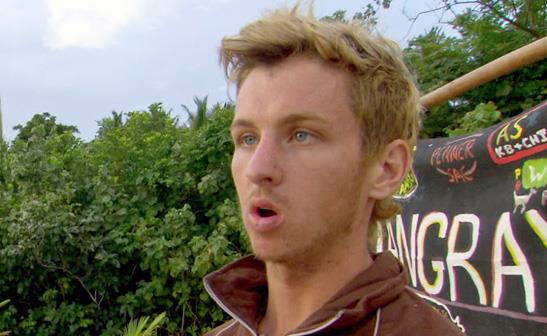 The last man standing from the Kalabaw tribe, Carter Williams knew his number was up once Jonathan Penner was sent packing -- but it still hurt to be sent to Ponderosa before Abi, who seems to be everyone's nemesis these days. "But I get it," he says. "I do. I would have done the same thing."
We caught up with the Kansas-born track coach, 24, to chat about his strategy, Abi's attitude and whom he's rooting for now.
MSN TV: Last week we talked to Penner, and he was rooting for you.
Carter: Yeah, I love that guy. I let him down. 
You tried your best. You just couldn't break out of that fifth spot. But were you surprised it wasn't Abi this week?
You'd be amazed how many people came up to me before last night's episode and said like, "Man, it better be that Abi girl. It's so her time to go." But that's the tricky thing about the game: how liked do you want to be? And how dangerous is it to be liked? That was my downfall. Because I think it was pretty obvious who was more liked. It ended up biting me in the butt.
Do you think you should have been a bit meaner and more vicious? 
Haha, well, clearly there are regrets, but I truly think that game really just brings out who you truly are. And as much as people want to talk about how they want to play this way or that way, who you are just comes out. It's impossible not to. You're fighting so many other things, that acting the whole time would just be difficult. I don't know if I could have been different personality-wise while I was out there. I really grew to like those people. I was who I was.
Being in that number five spot is what did you in, right?
Yeah, but it could have shifted. Last night they showed that there was a plan afoot to get Malcolm out, and that would have kept me with them. But it was difficult to watch, difficult to know that the immunity challenge was so close and it could have gone a totally different way. That would have made a big difference in the game.
It seems like Malcolm really didn't have a clue that he really would have been the one to go, had he not one the challenge.
Yeah, he may be in for a bit of a surprise. He's dodged a few bullets this season, which is impressive. 
What's up with Lisa? Last week, it was all about her word. This week, it's all about the final three.
Her brother came in there with a level-head, emotions apart, and talked to her about how she was playing the game. I love Lisa. I admire her. And she's playing the game part from her heart and part from her head, which will tear you in two. So I feel for. I know a part of what she's going through. She's had some huge decisions to make, that are a hybrid of how she's playing. In this game, it's very different to use both your heart and your head.
If Penner was still here, would things have gone differently for you?
Yeah, if Penner was still here, I don't know how solid that final four would have been. I don't know if there was still room to make some magic happen. But I would have liked to think that, if in the final five this week, had Penner gone home, I would have been locking a real shot at the final three.
But you'd still be a big risk to take to the final three -- you haven't pissed anyone off. 
Yeah, that's the thing about this season. Everyone talked about how they wanted to go to the end with people they admired, people that deserved it. I'm sitting there at the end, saying, "Look, you said this all along. Take me to the end because I deserve it." But then they turned around and said, "If he's in the final five, he has a great chance of winning -- and a great chance at winning these immunity challenges." So it would be dangerous. I can talk a big game about how they should have kept me and voted Abi, but in their shoes, I would have done the same thing. It was probably a smart decision.
Is there someone you're rooting for now?
I would like to see Lisa do good. She's been so torn up by this game, Abi's abused her, and you saw at the reward challenge what a toll this has really taken. People say you can't play this game with emotions, but she is. And I'm proud of her for doing that.
"Survivor: Philippines" airs Wednesdays at 8 p.m. ET/PT on CBS.