'America's Next Top Model' Exit Interview: Jane Randall
The Princeton history major says she might take time off from school to pursue modeling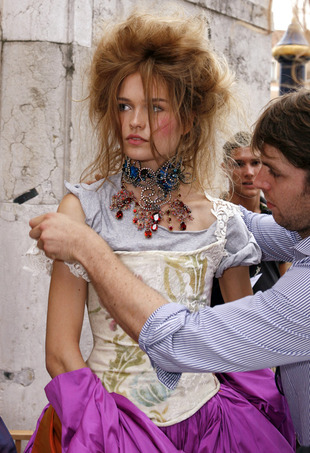 Perhaps the most poised-poser in the house,
Jane Randall
, an ethereal blonde, was a history major at Princeton University before getting cast on
"America's Next Top Model."
Since being dismissed from the show, she's returned to school, where, she confesses, she's remained pretty low-key. We caught up with the Baltimore native to chat about fashion, life back at Princeton -- and why she might quit.
You're back at Princeton post-show. Are things different?
I have to say, I don't think most of the student body at Princeton watches "Top Model." So things have been pretty much the same. I got really lucky, because we filmed the show over the summer, so I didn't have to take any time off from Princeton. Casting was during finals week, and I turned in a few papers early. I got very lucky. But I did have to quit lacrosse. Honestly, there's no backlash, there's really been no reaction. I was worried coming into the school year that people would treat me differently when then show aired, but everything's been pretty much the same. If people are talking about it, they're not talking about it with me. It really hasn't affected my daily life on campus.
Given your academic background, how did your family feel about you going on the show?
My parents have been really supportive. My mom has gone into New York with me to go on go-sees, and my dad calls me after every episode. They want me to focus on school, but they know I take modeling seriously too. I'm definitely planning to pursue it. I do feel like it will be interfere with my school work, so I will most likely be taking time off if I get picked up by an agency. Because whatever I do, I want to do it 100 percent.
You're a history major. Was the whole fashion thing interesting for you?
I've definitely grown a whole new appreciation for fashion. It was not an area I had a lot of previous knowledge about. Casting was during finals week, so while I was taking study breaks, I was studying Vogue, trying to read up and learn as much as I could. I really enjoy being able to experience the fashion industry firsthand.
Between the two finalists, Ann and Chelsey, who are you rooting for?
I definitely think either one of them would be a real contender. Chelsey is one of the sweetest girls, but I'm closer to Ann. She came to visit me at school last weekend, and we really bonded in Italy, when we had that one night to just mellow out together.
Given your history major background, was Italy amazing?
Italy was a whirlwind, it was hard not being able to experience it, outside of the challenges and the shoots we did. We were passing all this amazing architecture and these historic places, and you can't really stop to take them in. I'll definitely have to go back to absorb it all.
Catch the final showdown on "America's Next Top Model" season finale, Wednesday at 8 p.m. on the CW.