'Dancing With the Stars' Recap: A Very Brady Goodbye
Florence Henderson and Corky Ballas are eliminated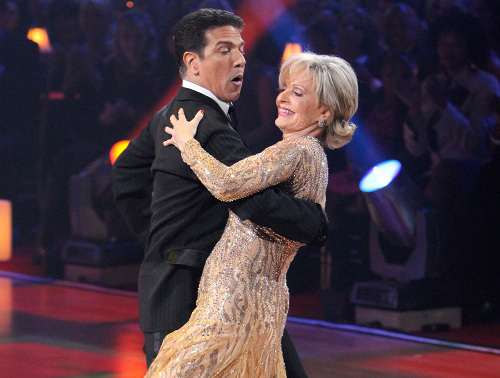 Every elimination on this show is tough, but this one really hurts. It's obvious how much Florence has enjoyed the "DWTS" experience and how much the rest of the cast loves her. The normally stoic Tom broke the fourth wall to comment on how much he enjoyed Florence's "obvious glee" on set.
Photos: See the 'Dancing' cast | Video: Watch clips and full episodes | Twitter: Follow MSN TV
If Florence had to go, at least she went out on a good note. Her "Brady Bunch"-themed tango was a hit with the crowd and should live long in "DWTS" memory. (And, as insurance, she's got that raunchy rumba for us to remember her by.)

Here's how the rest of the stars did this week:
Kyle Massey
This week Kyle held his own with lovely Lacey and her crazy Farrah wig with a "Charlie's Angels"-themed foxtrot. The judges were of two minds about this one: Bruno complained about too many disco moves, Carrie Ann was all "whatever, disco fever hooray!"
Bristol Palin
Bristol has had trouble with confidence throughout the competition and I think coming out in monkey suit for her "Monkees"-themed jive helped in some strange way. Unfortunately, as Bruno noted, when Bristol's confidence went up her commitment to technique went out the window.
Brandy
She's number one! Brandy and Maks's "Friends"-themed quickstep was a huge hit with both the audience and the judges, so much so that it was chosen for this week's encore. Her footwork was amazing, her rhythm was perfect and she seemed really into it. I can't wait to see if she can hold onto the top rung of the leaderboard next week.
Kurt Warner
The jaunty quickstep really suited Kurt's style. His timing was perfect, his footwork was very good and he totally sold the routine. It was nice for Kurt to score a win with the judges after two weeks of disappointing feedback. Let's hope he can keep in their good graces next week.
Audrina Patridge
This might not have been her best week, but Audrina is still a frontrunner in this game. Her rumba was poised and flowing, but she was missing that strange mixture of courage and vulnerability that makes for the perfect rumba.
Jennifer Grey
Jennifer and Derek's foxtrot to the "Married ... With Children" theme was competent -- good, even -- but ultimately uninspired. Jennifer does better when she goes a little sexy. The last time she was knocked out of the top spot Jennifer came back with the tango of all tangoes, so watch this space next week.
Rick Fox
Rick can show the rest of our stars a thing or two about the rumba. His lines were amazing. He just went for it, hips, arms, everything! This has been a ladies on top season, but Rick seems poised for a leap into the top three.
Who won over the judges? Brandy, Jennifer, Kurt and Rick
Who needs to step it up? Kyle and Bristol