'American Idol' Recap: Top 7 Revisited
Phillip Phillips, Joshua Ledet rise to the challenge of a two-song performance night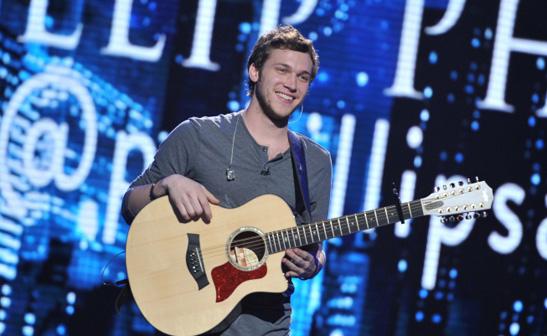 By Carla Patton
Before you get excited, this week's theme, "Now and Then," does not refer to the movie starring Christina Ricci and Rosie O'Donnell, among others. I wish. No, the top 7 (revisited after the Save) are performing twice -- one song from this century/millennium and the other a "soul" hit from yesteryear. It's pretty wide open.
Bing: More about 'American Idol' | Photos: See the top 7 singers
Will Jessica Sanchez enjoy a week of bottom-two backlash in both her judges' feedback and viewer votes? Will Elise choose a song she likes enough to do well this week? Twice? Will we be able to understand more than 90% of the lyrics of whatever Phillip Phillips chooses to sing? Will Colton Dixon get the standing ovation he practically demanded? Have we already forgotten about Deandre Brackensick? All these questions and more will be answered this week as the "American Idol" top 7 take on songs from "Now" and "Then"!
More: 'American Idol' on BuddyTV | Video: Watch 'American Idol' clips and more
After feeding us some Yoda-level crap about beginnings and endings, this week's episode begins. We do not have time for all this emotion, you guys. We have 14 performances, undoubtedly abridged, to get through. And Kris Allen is ever so dutifully in the audience to witness it. Ryan has the time to mention the sad passing of Dick Clark, though. Sorry, Skylar. We won't have time to watch you ride an ATV in your clip package this week.

The good news is that the top 7 are all dressed absolutely crazy on this night.

We're starting with "now," and Hollie Cavanagh is going first. Now! She's singing "Rolling in the Deep" by Adele. Oof. Can she overcome her nerves? She starts a cappella, which was really working for her, given her vocal clarity. This is actually a good song for her, something with some energy behind it! Is she wearing a skirt? Is it pants? Is it long or short? What is that cutout in her top? Whatever. The performance was a great way to start off the night, and she really rose to the occasion. Steven Tyler called it "perfect," and Jennifer was so happy Hollie wasn't thinking. Randy said she has arrived.
Colton Dixon has chosen "Bad Romance" by Lady Gaga. I think he could make it great, or it could be absolutely insane, like his coat this night. I am all about that coat, y'all. And don't worry. We'll get to how Elise is dressed like a giant yam. All in good time. OK, so this arrangement is absolutely terrible. I'm all for making it your own, but there's a reason no one has done an arrangement of the song like this yet. It took him out of "now" and moved him into Spinal Tap. It almost seemed like a joke at times. He didn't get the standing ovation because, frankly, the performance wasn't quite worthy of it. He changed octaves, like I do when I'm singing along to stuff in the car. I like a kinder, gentler Colton. The judges like Colton, so they complimented his willingness to take chances. Would you take a chance at so much leg sweat so early in the night?


Elise Testone, the bottom three's local sweet potato, has no idea why she keeps falling in the bottom three. She's singing "No One" by Alicia Keys to her fan base (no one! hardy har har). She's the only contestant left who is still being judged week to week. So this week, we're adding wind, which is helping the dress's tendency to look yam-like. This is a mediocre song choice, but her voice is doing her a lot of favors. Good performance. Jennifer tells Elise to smile more. Steven wanted a better chorus, and Randy was glad she didn't take too many liberties with the melody. I am, too, Randy! Where's your bedazzled cartoon-face pin on this night, though?



Phillip Phillips is singing "U Got It Bad" by Usher. I am fuh-reaking out with anticipation. What if it's amazing like I want it to be? What if it is growly and terrible, though? Jimmy loved it, and saxophone lady is back: These are good signs. This is just Phillip's "jam sesh." His new nickname is Fifty Shades of Grey, by the way, because he loves wearing grey, and the middle-aged ladies love him!


I was worried, but I kind of loved it! I think they should lose the saxophone, though, because, as much as I love my saxophone lady, it just reeks of Dave Matthews. This arrangement was really cool and sexy. It's hard to take the sex out of Usher, though. Am I right? Jennifer also thought it was sexy. Randy called Phillip a "true artist." He is unassuming, and he knows who he is! So sexy I could just keel over, regaining consciousness only long enough to ask how old he is again.
Jessica Sanchez is still here. Jimmy just basically crapped his pants when he heard his Jessica was in the bottom. So to regain her footing she's singing "Fallin'" by Alicia Keys. I guess it's recognizable. But bleh. Choose something better, Jessica. I want to root for you! And what's up with these Cirque du Soleil floating, red umbrellas? Why does Jessica always get the weird, red props. Is she in a French film?


I love her hair but don't care for the grunting and growling on this petite 16-year-old girl. The song is so oversung in general, and I'm not sure this was memorable enough. But the audience freaked out like, "Vote for her! She is a good singer!" Yeah, we know! We knew before, and this song didn't show us anything we didn't already know. The judges adore Jessica and continue to do so in her feedback. She was adorable thinking the judges took her mic in mid-song last week because they didn't like her, though. Do you think her necklace weighs more than she does?
A "country twist on Gaga"? If anyone can do it, it's Skylar Laine, I suppose. She's singing the country version of "Born This Way" by Lady Gaga. I think Jimmy Iovine is coming around on Skylar, although he's still focused on nurturing Jessica and Phillip. Who put all those layers on Skylar? Leather, chiffon, glitter ... and it's all belted. This is an interesting version of "Born This Way," and I'm not sure I love it. But it's a valiant effort. I wouldn't put it on the set list for her concert. She didn't have any big moments, but it was fun! Jennifer loved it and said, "A more perfect song for you does not exist." Steven really enjoyed it, and Randy said Skylar has "crossover appeal" and is "so beyond ready." I agree. Hire this girl!

Joshua "Mantasia" Ledet got a special message from Fantasia, so he's possibly contractually obligated to sing Fantasia Barrino's "I Believe" this week. We all know he's going to tear the roof off this place when "Then" rolls around, though. He is also dressed the least crazy of the first seven performances. I'm not familiar with this song, but it seems to really fit him well. It's big and church-y, and he gets the choir in the background. Good job. But I think it's what we have come to expect from him at this point. We know he will always deliver a big moment. Randy called him one of the most gifted singers they've ever had on this show. He appreciated the restraint Joshua showed, too. Joshua could not have been more adorable than when he was shyly unresponsive to Ryan's questions about why he chose to sing Fantasia's winner song.
Hollie Cavanagh got a special message from the hot and sexy Liverpool Football Club right before her second performance. Thank God she has this intro-to-"Soul Train" clip package to get through so she can refocus. And thank God this is not a tribute to Soul Patrol. Hollie is singing "Son of a Preacher Man" by Dusty Springfield. I thought this might be a better fit for Skylar Laine, and it's hard not to think about how much better she might have sung it. The performance is a bit lackluster, especially in comparison to her "now" performance. It wasn't bad, though. Randy said he liked it better than Round 1, and I'm like, "Huh?" Steven thinks she could push it even more. Regarding Hollie's outfit: Barbie does Pepto-Bismol.



Colton Dixon is Colton-ing up Earth, Wind & Fire's "September." And at first I was like, "No, you can't do that," because I just want to dance to that song for 24 hours straight and Colton made it all slow and modern. But it is working. He demonstrated a really great understanding of the song and also what type of artist he would like to be. The set department is dropping too many leaves on him, though. He should get one of those suspended, red umbrellas. He did not get his standing ovation this time, either. The judges said it wasn't the right song for his voice. Why don't we agree anymore, Randy? He said it was "good but not as exciting as we would have liked." Whatever. I thought it worked.
Elise Testone is singing "Let's Get It On" by Marvin Gaye. And she's starting on what can only be described as a porn couch. I suppose that's fitting since the song is about having sex -- so much so that it's over-played and borderline jokey. Bad song choices this time, Elise. Her performance of the song is jokey, as well, with too much growling. It was nice of her to move off the couch so the saxophone player could have a seat, though.
Jennifer called Elise out on not being very vulnerable. This performance was a good example of her putting walls up. It was too much like, "Haha, this song is a joke, and it's cheesy and about having sex!" and not enough like, "Let's enter into a meaningful sexual relationship as consenting adults." After the critique, Elise got defensive and it wasn't very charming or vulnerable.
Phillip Phillips is singing "In the Midnight Hour" by Wilson Pickett. What a rapid change of pace, almost awkward after Elise's reaction to her comments. Good for him for singing something so fun and un-Dave Matthews Band. I do like him, but this was 100% growling. I never realized how much I rely on those clip packages to prepare me to hear a contestant. Randy took advantage of this quick pace to compare Phillip and Elise directly. Phillip feels everything from head to toe and just allows himself to be entirely in the moment. The judges were very appreciative of Phillip's character and soul, and forgot to critique the vocal performance at all.
Jessica Sanchez, dressed to confuse, is singing "Try a Little Tenderness" by Otis Redding. It's hard to go wrong with this song, but this arrangement is well on its way. It needs to be slower! Just by a couple BPM, you know? Even Jessica seems like she's struggling to keep up. That being said, and her effort to growl too much aside, what a fun song! Too much growling on this night overall, really. But she was having a good time with the song, and she nailed it. Jennifer recommends that Jessica push herself a bit more. She has the voice, but we need some more heart. That is really the essence of this night's performances, isn't it? We know they can sing. We get it. Now it's about whether they can make us love them and feel human emotions.


Skylar Laine looks a lot more comfortable singing a countrified "I Heard It Through the Grapevine" by Marvin Gaye. This is a really adorable country arrangement, frankly. And Skylar is just giving this song a good old-fashioned spanking. I liked it so much more than "Born This Way." This was more fun and had more personality. This is the Skylar Laine concert! Randy acknowledged that Skylar has a brand and no problems showing us who she is. She is a rock 'n' roll party, and we're all invited. Yay!

Joshua Ledet is singing an "emotional Civil Rights anthem." Just what we need from him.
The anthem in question is Sam Cooke's "A Change Is Gonna Come." Oh, my god. This song, though. He had to do it! It is perfection, and he's the only one who can do this song or this theme justice, really. I know this is what we expect from Joshua, but he might as well deliver! The judges rose to their feet, and Steven said he appreciated the restraint in the beginning. Jennifer begged America not to send Joshua home. She is a desperate woman! Randy said this song was perfect for Joshua, and he took his time with it. Then Joshua said he couldn't help but notice J.Lo's abs coming out the side of her dress, and he was even more likeable to me.
Why did Elise change back into her orange dress? Did something happen to her second outfit? I need answers, Ryan Seacrest!

So, who owned the night? Was "now" or "then" more satisfying for you? Or was Wednesday night just a big, hurried, snooze?
 
What do you think of Wednesday night's performances? Who's next to go?
"American Idol" airs Wednesdays and Thursdays at 8 p.m. ET/PT on FOX.