'America's Next Top Model' Exit Interview: Lexie
This week's eliminee says she knows she was cast as "filler"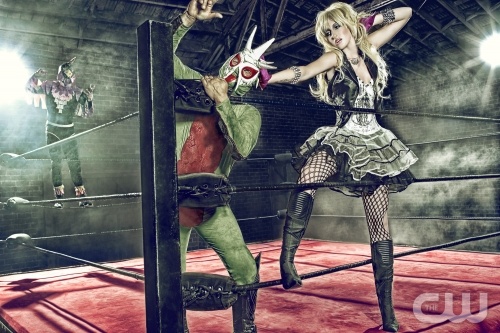 This week's "America's Next Top Model" eliminee, Lexie Tomchek, says she's not surprised she was finally sent packing. After all, she says, she was cast as "filler." We chatted with the Chicago-based poser about house drama, anorexic ideals and Mr. Jay's mean streak.   

So you didn't seem to love the last shoot, with the luchadores.
I don't have much to say about that shoot. My styling was probably my least favorite out of all them. And I knew what was coming the whole time, so I guess my attitude wasn't the best going into it, because I knew my time was limited. After being in the bottom a few weeks in a row, I knew I was headed home. And I've watched the show and I know there are some girls that are "fillers" -- the ones you look at right from the first episode and you know they're not going to win. And I think I was okay with that. But I don't think I got a single good comment from Mr. Jay the entire time.
Does that take a toll on your self-esteem? 
It was still a great experience. I knew what I was getting into, and I still have my self-esteem. I was picked out of thousands of girls and I was happy to be there. But once I got there, my outlook and my mood the entire time was really effected by it. I was so excited to be chosen -- I still am -- out of thousands of girls. And I will never take that for granted. But everyone starts the competition with that attitude of "I'm going to win this!" I had that too. And then I got there and Mr. Jay's like, "What is wrong with you? You can't model." So right away you know, I'm filler. I'm going home.
You were involved in some drama at the house with Kasey. Was it real? 
Oh, yeah, the house drama is totally real. It's all real. There's lots of editing but the Kasey drama was genuine -- and I don't like her to this day. They don't show how awful she really is. She's very, very selfish. They didn't show a lot of that. But we weren't ganging up her. She truly was horrible to everyone. She's very, very self-centered -- to us, to the crew, to everyone. She's just one of those girls you just don't want to be around, and we were forced to be with her. And I'm very confrontational, so if I have a problem with you, I'll let you know. I'll tell you if you suck. And she sucks.
Is there someone you are rooting for on the show?
I was really close friends with Ann in the house, and I still talk to her now, so I'm definitely rooting for. And I won't be surprised at all if she takes it. I mean, she won best photo four challenges in a row. Nobody's done that before. I also love Chelsey. But I really did get along with everyone except for Kasey. 
Is modeling something you plan to still pursue?
I think I'm going to be focusing more on acting. I don't like having to watch my weight. I was one of the bigger girls on the cycle. I could lose weight and be high fashion if I really wanted to, but I don't think that's healthy for anyone. I'd rather not force myself into that body type. And I like acting and 
Do you think "Top Model" has reverted to its old school tall-skinny roots? 
Well, yeah, I mean I was one of the bigger girls in the house, and I'm nowhere near large by real girl standards. But that drama with AnaMaria in the beginning of the season was real. They weren't just making an example of her. She came on the show and she just kept losing weight until you could see her bones. So they tried to handle it carefully. But they try to always show, 'Oh, these girls can be any size.' But then they edit the show and add a comment from the photographer that, oh, my body's not good enough for modeling. Really? I'm still well-below average. I absolutely hate that about this industry and it's something that really turns me off of modeling. It makes me not want to be part of it.
So you'll pursue acting instead?
Yeah, I'm in Chicago, so I think I'll take some classes at Center City, they're supposed to be really good, and there are a few agencies here. And then I'll probably end up in L.A. or New York. I think I'm off to a good start.