'The Amazing Race' Recap: India Strikes Again
It's a Bollywood dance show-turned-horror film for best friends Mark and Bopper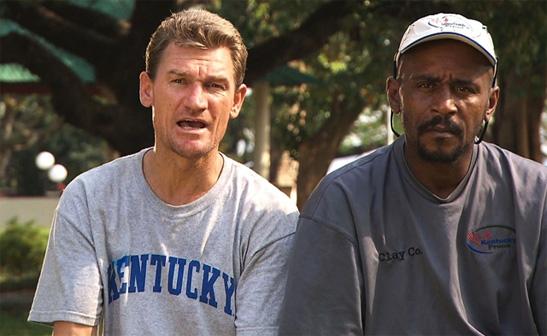 By Diane Vadino
Special to MSN TV
Previously: After two U Turns and a season's worth of belly-aching from the disgruntled border patrol agents, the undercover feds, Jamie and Nary, failed to make up enough time to survive. 
Bing: More about 'The Amazing Race' | Photos: Meet the teams
We're still in Tanzania as this week's episode opens, with a few final shots of galloping wildebeests and crazy zebras rolling in the dirt, scratching its back. But we're not here for long: Within minutes, we're off to "to the densely populated chaotic streets of Cochin, India," Phil tells us. Bopper, unfortunately, is not well -- he aggravated his knee two episodes ago. A Tanzanian doctor says it should be okay, with a brace, and not very convincingly. "If I have to do most of the work, I'm gonna do it," Mark says. "Despite however much I have to throw up," he does not add, but might as well have. One minute behind Mark and Bopper is Rachel and Dave, who are well aware of the state of their former alliance with the border patrol agents -- which soured after the husband and wife bailed on their agreement to U Turn Team Big Brother if possible: "Our relationship with Art and J.J. seems to be severed at this point," Dave says. In case anyone was wondering: "We're done with Major Dave," as J.J. says to Art. "Take your Army ass and get out of my face." Everyone goes to Rickshaw Travel, which is booking the tickets for Cochin -- on a flight leaving at 7:40 a.m. "Art and J.J. are babies," Bopper says to Mark on their way out. Rachel and Brendon follow the leaders onto this flight, but Vanessa and Ralph, remarkably, look through alternate flights on a computer and get an earlier one -- connecting in Nairobi, while everyone else goes through Dar Es Salaam. 
That lead doesn't last long -- just long enough for Vanessa and Ralph to see the other four teams come running off the second flight. ("Our little dose of luck just stopped," Vanessa says, accurately.) Dave and Rachel are the first to find a bus to the Roadblock, and each team, it seems, is on their own bus. Much is made of Mark and Bopper's long wait for a final bus, Mark's car- and bus-sickness, and Bopper's ongoing problem with walking. It is very stressful for fans of the team. The comment that sums the general environment up best is probably Mark's "There better be a barf bag around." 
At the Roadblock, teams discover a Bollywood-inspired challenge, in which they have to dance alongside a Bollywood troupe to the satisfaction of a sadistic-looking, sunglassed choreographer. "Thank God that [clue] alluded to dancing, and I didn't inadvertently select it," Dave says. He's right: Rachel (who apparently danced all through high school) whips the challenge -- one and done, and she and Dave are off. The rest of the teams have more trouble, giving Art the opportunity to sit around and make approximately 1,000 "chick" comments. (For example: "Dudes just can't dance like chicks.") It's too lame to be offensive -- anyway, as Rachel says, "[J.J.] is a clumsy oaf." Most ominously, Mark is shown heaving in the hot sun and struggling with his dance moves. 
Moving on to the Detour, Dave and Rachel face the choice of Cricket or Clutch It: Play cricket (India's favorite sport) or drive an auto-rickshaw through an obstacle course. When Rachel opts for the latter, saying they don't have any talent for cricket, Dave is quick to respond, "I have skill and ability in nearly every sport." It's actually kind of funny. At least he -- unless the border patrol agents -- has a sense of humor about being an arrogant mess. Back at the Bollywood challenge, Art's commentary hasn't slowed down: "[J.J.] looks like a gorilla in a chiffon suit." Vanessa gets it on her third attempt, with Rachel moving on soon after. J.J. passes next. Things are still looking dire for Mark and Bopper, who are now solidly in last place. "We're Kentucky boys -- we ain't Las Vegas dancers," Bopper says to Mark, and then to us: "He's never been much of a dancer." Dave and Rachel finish their rickshaw task and head for the Pitstop, at the Bolgatty Palace, but most of the attention is still on Mark and Bopper: "I want to do this or die, right on this spot,"  says Mark, who's clearly thinking that death-by-heatstroke is really one of the available options. Bopper seems to concur: "Listen, man, the hell with this money -- let's go home." It's all extremely touching.
At the cricket challenge, each team member needs to hit a cricket ball beyond a certain boundary -- and Brendon and J.J. are the first to do it, pitting Rachel versus Art in a battle royale...that is, unbelievably, won by Rachel. "It was a good feeling to know they both got beat by a girl," Rachel says. In a following interview, Art says: "Rachel hit that stupid cricket ball before I did...." "Which strips you of all your manhood," J.J. finishes for him. 
Back with Bopper and Mark, the pair are coming to painful conclusion that they're going home: "We was given an awesome chance," Bopper says. "We came here friends, we're going to leave here friends." Mark is wavering: "I mean, I'm that close." His dancing trainer doesn't want him to give up and is basically grabbing Mark's Bollywood outfit so Mark can't take them off. But Mark is convinced that this task is literally going to kill him: "Is a million dollars worth not going to my youngest's ballgames?" he asks. "I just came to the conclusion that it wasn't." Back at the Pitstop, teams are filing in: Rachel and Dave are first, followed by Brendon and Rachel, and then the almost simultaneous arrival of Art and J.J. and Vanessa and Ralph. 
We go, again, back to Bopper and Mark, who seems to have taken a rest and perked up a bit -- and changed his mind about continuing. "Our kids would be proud that we at least finished the leg and didn't quit on them," Mark says. "I hope it proves to my kids that their daddy loves them more than anything in this world." And at that, after 12 attempts, Mark passes the dance test. His dancing coach and fellow performers rush him on the stage, cheering. It's much like the moment, also in India, from Unfinished Business when Luke, of Luke and Margie, after a failing to identify a million cups of tea, finally identifies the correct one, and all the tea servers go insane. 
Of course, they're still in last place, and after appearing to quickly dispatch with the auto-rickshaw challenge, they take their place on the mat, as their supposedly season-ending montage plays. Remember when they just seemed like sort of loud, annoying dudes, and now, nine legs later, they're one of the most believable, and affecting, best buddies to appear on the show? "It's been an honor," Bopper says. But it's not over yet: It's the season's third non-elimination leg. Some divine power must be pulling for these guys. 
Next week: Mark and Bopper have a Speed Bump, Vanessa goes splat, and Rachel says something about $500 extensions. 
"The Amazing Race" airs Sundays at 8 p.m. ET/PT on CBS.