Exclusive: 'Top Model' All-Star Lisa D'Amato
This week, Season 17 winner Lisa D'Amato mentors the wannabe posers on a music video challenge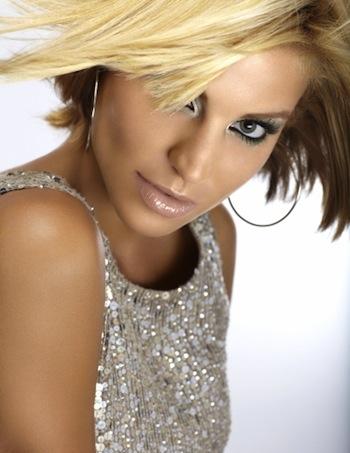 Just as things between the Brits and the Americans get really contentious on "America's Next Top Model," Tyra Banks and her crew call in some help to whip the girls into shape. And one of this week's mentors is a former "Top Model" winner herself. 
"I'm so glad they retained the branding part of the show this season," says season 17 winner Lisa D'Amato, who'd long been interested in acting and music along with modeling. "You have to be able to do a bit of everything these days -- a pretty face is just not enough."

That's why D'Amato dropped in this week to mentor the would-be posers as they got to work on writing and recording a song, then creating a music video. 
Rocking her own stomping grounds was a blast for the Hollywood native. "It was so much fun," says D'Amato. "I bombarded the 'Top Model' house with fellow mentors Nadine Coyle (Girls Aloud) and Jessica Sutta (The Pussycat Dolls) and the girls were completely shocked! They were just running around in yoga pants and socks. They weren't expecting to see us!"
"My job was to write songs for the girls, who each sang their individual parts, and I mentored them through it in the recording studio, so it was lots of fun."
And while she thought all the ladies were contenders, she couldn't help but play favorites. "It's not that I didn't love the American girls," she says. "Some struggled -- like Azmarie. She just didn't come through on the challenge for me.  But there's something about Laura that just stands out. She was great. But overall, as far the challenge goes, I thought Brit girls Annaliese, Catherine and Alisha did a fantastic job."
Her parting words for the girls this season: "They have the spotlight right now -- it's up to them to make the most of it," says D'Amato. "At the end of the day, you have to want it and be driven enough to go after it."
D'Amato has certainly taken that to heart herself. In addition to modeling gigs for
Vogue Italia
 and an Express campaign this May, she's touring the country, promoting the first "America's Next Top Model" perfume line, Dream Come True, working as a correspondent for "Extra!" and planning a summer tour to promote her new album. Plus, D'Amato says, she's got two TV pilots in the works. "There's so much happening, it'll make your head spin," D'Amato said. "But fans can keep up with me
on my website
and on Twitter and Facebook. I'm all over the place!"
"America's Next Top Model" airs Wednesdays at 9 p.m. ET/PT on the CW. 
Are you sure you want to delete this comment?