'American Idol' Recap: Whole Lotta Love
Elise Testone rocks the house and judges on night dedicated to personal idols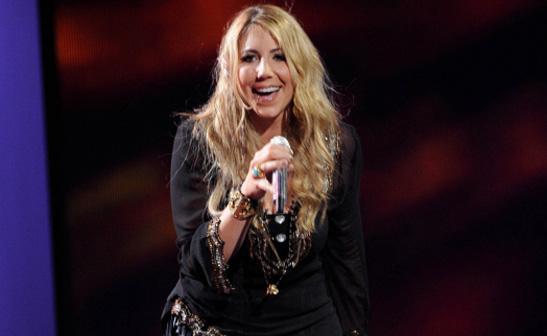 By Carla Patton
Another week, another theme, although this week promises to be much entertaining than Billy Joel week. This week's theme, songs from your idols, is much broader and allows the contestants to sing pretty much whatever they want. If they pick a bad song this week, it's completely on them. Seriously, you could say pretty much anyone is your idol just to sing a certain song. And many contestants have gotten away with it in past seasons.

Bing: More about 'American Idol' | Photos: See the top 9 singers

So, it's open season here on "American Idol," and the Top 9 had best take advantage of it! If it's a bunch of ballads again this week, I will eat my hat. That is a very real threat, and I hate the taste of hat.
More: 'American Idol' on BuddyTV | Video: Watch 'American Idol' clips and more
Oh, but the best part of this week? Stevie Nicks! This episode opens with "Landslide" by Fleetwood Mac, and I am reminded that Stevie Nicks is the mentor. Ryan tells the Top 9, "May the odds be ever in your favor," in a blatant, forced nod to "The Hunger Games." That movie came out this week, and Ryan knows it. He just wants us to know that he knows.

Ryan introduced a useless Tommy Hilfiger segment just to remind us who is providing the clothes again. But more importantly, look at young Jimmy Iovine with Stevie Nicks! Back before he was dried up and codger-y!
Colton Dixon is up first. Stevie Nicks scared him a little when she grabbed his hand and wouldn't let go. "Don't let them cut your hair! It is more precious than gold," she whispered. Sort of. Anyway, Colton is singing his "favorite worship song," "Everything" by Lifehouse. I don't think Stevie knew that it was a worship song and said she wants a guy to sing those lyrics to her. But they're for Jesus! Oh, boy. I think this will win him some big votes, but I just don't agree with the choice to sing a worship song -- especially to start. And whose idol is Lifehouse? I guess you aren't supposed to create false idols ... Colton started crying with the intensity of his very public worship and was brought to his knees to finish the song. I don't know how to critique this.

Jennifer felt his passion, and Randy likes Colton's coat. Randy declared, "There's nine people left! I think I could be looking at a contender for the title! He wants to win! Ryan!" Don't hold up the show for that, Randy. Colton again says that it's his favorite worship song of all time and that's why he cried. I just don't know if it's appropriate, but maybe someone else later down the line will have the freedom to choose their favorite satanic song.
Skylar Laine sings next, and her idol is, of course, Miranda Lambert! She chose "Gunpowder & Lead" by Miranda Lambert. Jimmy Iovine is a little worried because this is a Miranda joint and relies heavily on the singer owning the song. Skylar had a lot of energy and brought it with this song, but I agree with Jimmy that what little melody there is to the song is pretty narrow. It was more fun that it was a demonstration of vocal ability. But she's a little firecracker! The judges loved her energy and Randy complimented her range. I appreciate that Skylar really stayed true to the theme and sang a song from her number one idol.
All of a sudden, there's a trio performance. Not for Thursday night? What is this? Whatever, I'm happy to hear any tribute to Stevie Nicks. Colton, Elise and Phillip sing a medley. You can tell that Elise is consciously remembering to smile. It doesn't seem like the background vocals are live, but they certainly are being lip-synced! The trio was enjoyable enough, but I sure wish it was on Thursday night instead of being jammed into the solo performance night.
Heejun Han has been criticized for not taking the competition seriously, and he has been beaten into submission. Jimmy and Stevie submit their diagnoses for Heejun's new attitude, and I hope they're both wrong. I like Heejun just the way he is. But here is the new Heejun, and he still has his cute hat. He's singing "A Song for You" as performed by Donny Hathaway. It's an interesting choice, but, for the first time in the voting rounds, he is showing off his vocal ability. He really has a beautiful voice! The judges gave him a standing ovation. Thank you, their applause says, for playing by our rules now. "When you go there, when you believe, when you let go of all the other stuff," Jennifer says, "you move people." Randy admits that Heejun is back -- the "real Heejun." It appears that Ryan still does not know how to interact with Heejun, the real one or otherwise.

Jason Derulo broke his neck, but he did it for Coca-Cola. Now he's popping out a song about it and needs you to finish cleaning up.

Hollie Cavanagh is singing "Jesus Take the Wheel" by Carrie Underwood. She made Stevie Nicks cry, but I think it was more about Stevie making Stevie cry. She grabbed Hollie at the end and clutched her small arms in her claws. "It matters what you feel and what is in your heart," she whispers to Hollie's face. Terrifying. Hollie gets fake snow and a snowy, wooded backdrop. She always gets the best backgrounds and lighting effects. The performance was mostly good, with a few off notes. It was a pretty good performance.

"Um," Randy begins, "I don't think, once again, it was perfect. There were a couple notes there ... "And then he was interrupted by booing. But he still managed to get in, "Carrie sang the I-don't-know-what out of it." Jennifer disagreed, thinking it was one of Hollie's best because she connected emotionally. But did the emotion transfer through the screen? Steven said he would have picked a different song, but he's not going to mess with Jesus or Carrie.
After Ryan's failed bit with a snowblower that he could barely lift, Deandre Brackensick performs. He's singing "Sometimes I Cry" by Eric Benet, who I am not familiar with. It's a lovely demonstration of Deandre's voice. He gets to show off that beautiful, floaty falsetto of his. But the song is so old-feeling, and not in a Motown way but a '90s R&B way. And it's too much in the higher range. It felt almost silly at times. But that is my opinion, and it seems like I'm full of sour grapes on this night. The judges loved it! "Vote for him!" Jennifer cries, and Randy uses the performance as an excuse to hype up what's so great about "American Idol."
Jessica Sanchez chose Beyoncé as her idol! Yes, yes, yes. She's singing "Sweet Dreams" by Beyoncé, but a slowed down version with lots of doors and a harp. She's doing a great job, but I wish she had chosen a faster Beyoncé song. I mean, if you're going to do Beyoncé ... But, whatever. Jessica is such a professional. I loved it right up until she awkwardly walked through that doorway and closed the door behind her. That part was odd. Guess who also loved it? The judges!
Deandre, Heejun and Joshua sing a Michael Jackson medley. Or is it a tribute to fedoras? Hard to tell at this point. I much prefer Deandre in this performance than in his solo performance. It was a little slapdash, but bless their hearts for whipping it together. And I had to laugh when Heejun couldn't remember the choreography. He exchanged a glance with Joshua that seemed to say, "Oh, well!" This performance doesn't matter anyway. PYT!

Stevie Nicks thinks that Phillip Phillips is going to be very famous. He has magic, and he's gorgeous. Stevie! Don't grab them anymore. It's the sign of an ineffective mentor. Phillip is singing "Still Rainin'" by Jonny Lang. He did a great job. Phillip, like Jessica, is a professional, and there's not much else you can say. He chose a good song for himself, and it's clear that he knows what kind of artist he wants to be. The judges gave their seventh standing ovation of the night. Randy loved it and loves being friends with Johnny Lang slash everyone.
Dionne Warwick is in the house sitting next to Jordin Sparks and the broken (but bedazzled) Jason Derulo. I haven't seen Dionne since her flawless performance on "The Celebrity Apprentice."

Joshua Ledet is singing "Without You" as performed by Mariah Carey. It is a challenge. But so is capturing that suit jacket on film! Why have they gone to such lengths to set up this imaginary desert around Joshua? There are just way too many fake, dead trees on stage. It's distracting. But let's talk about the performance. Yes! Another great Joshua Ledet moment that will certainly elicit a standing ovation from the judges. Joshua hung on until the end, when he turned away crying, but finished the song. Randy wished Mariah Carey a happy birthday because, you know, they're friends. He also called the performance flawless. Jennifer thinks Joshua is an angel from heaven.
Ryan comments on the emotion of all the contestants, and Randy claims it's because Colton "threw down the gauntlet." He keeps saying that. So once one of them cries, they all have to. Is that it, Randy?
Hollie, Skylar and Jessica are singing a medley of Madonna hits. I love Jessica's opening to "Like a Prayer," and I really want her to sing more Madonna. Though they had a promising beginning, this trio soon goes the way of the other two -- straight into the land of mediocrity. These poor girls are tired. They need a rest.
Elise Testone is last to sing, and she'll be taking on "Whole Lotta Love" by Led Zeppelin. She has sung this song before with her band, so she's comfortable with it. She took advantage of this broad theme to just sing whatever. She even had some extra time to jam out with Stevie Nicks, which must have been just insane. Stevie likes Elise. Stevie didn't even clutch her and whisper at her! They busted out the smoke flumes for Elise in this performance! It was fun and exciting, though. There's a reason they put this one last. This is how Elise does up-tempo. In this performance, she proved not only that she's working on a professional level but also that she functions really well as a band frontlady, rather than a solo artist. Elise and Steven are wearing the same pants, and that's all we heard from Steven. Randy and Jennifer loved it, of course.

So according to Randy, who is friends with every famous person you can name, everyone is in it to win it! They all sang the you-know-what out of their respective songs! Everyone shed a tear and brought the judges to their feet. But if I may play devil's advocate (aka Jimmy Iovine), I thought some were certainly better than others.
What do you think? Who was overrated? Who's next to go?
"American Idol" airs Wednesdays and Thursdays at 8 p.m. ET/PT on FOX.