Honey Boo Boo Snores at Dr. Drew
Fake-sleeper hates stardom, interviews and her fans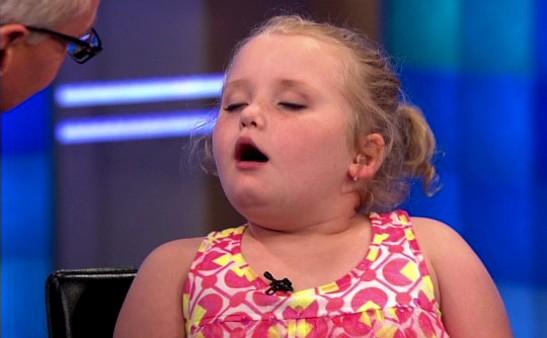 Just when you want to pity Honey Boo Child for being exploited by her mom and the media, she behaves in a manner consistent with preferring you to hate her.
Bing: 'Here Comes Honey Boo Boo' | Alana Thompson

Alana Thompson -- the spoiled, 7-year-old star of "Here Comes Honey Boo Boo" -- pretended to be asleep when Dr. Drew Pinsky asked for her reaction to sudden fame on Tuesday's  episode of his HLN talk show.
"Oh, she's sleeping," Pinsky said as she snored in his flop-sweating face. "Is there something exciting you'd like to talk about?"

Not since "Celebrity Rehab" star Kari Ann Peniche has Pinsky had so much trouble getting through to someone.
Plus: 10 must-see reality shows | Reality TV stars who drive us crazy

After seven pretend snoring cycles, Thompson pretended to awaken -- only after mama June Shannon reminded her it was "so we can get this done so we can go" -- but not before taking an air slap at Pinsky's face.

Check out the video:

Eventually, Thompson got to what she sees as the root of her problem. She doesn't like TV stardom, she told Pinsky, "because fans come up to me and I hate it."
Chances are, she won't have to worry about that too much longer. So Thompson had better apologize to Dr. Drew, because she may seriously need his services in a dozen years.

"Here Comes Honey Boo Boo" will return to TLC for holiday specials around Halloween, Thanksgiving and Christmas.