Hilary DeCesare Is the Next 'Secret Millionaire'
Everloop.com Founder talks about the cameras, what she learned and how she changed from her experience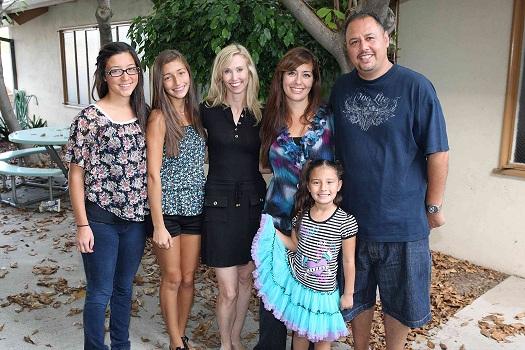 By Minh Nguyen
Special to MSN TV
Now in it's second season, ABC's summer series "Secret Millionaire" had us in tears by the end of the premiere episode and had us wondering what we could to do make the world we live in a better place.  "Secret Millionaire" is a show about real life millionaires who go emmerse themselves in impoverished neighborhoods and become impoverished themselves for a week. They find causes/people that need their help and reveal their real identities at the end of their stay. We were thrilled to learn that we would have the opportunity to interview another millionaire this season, but well beyond her wealth, she is a very successful single mother and entrepreneur who wants to do some good in this world.
Bing: More on Hilary DeCesare | "Secret Millionaire"
Hilary DeCesare is the CEO of Everloop.com. Everloop.com is the leading safe internet place for tweens to go online and socialize. MSN TV spoke to Hilary about her experience living in a not-so-nice area of Long Beach, CA and how it changed her life. She inspired us and is sure to inspire others when her episode airs on Sunday, July 8 at 8p.m. ET/PT on ABC.
MSN TV: We just watched an episode of "Secret Millionaire" and we were crying the last ten minutes of it.
Hilary DeCesare: As they say, it's definitely a tear jerker. I get it. [Laughing]
Could you us about yourself and why you think they picked you to be a "Secret Millionaire?
I think they've done a great job of pulling people out who want to make a difference but maybe some of us don't know how to do it. I have always been an advocate for kids. My business is actually around making kids safe online. Kind of like a twitter/Facebook for kids. For me I was very fortunate because the unsung heroes I met all dealt with children. It was really telling for me because I deal with kids online. I don't get to necessarily meet these kids, but I can relate as I've got three kids of my own.
I think "Secret Millionaire" saw that I could go out there and this could potentially be a life lesson for me being a single mom but (also for) every parent out there really needs to take it on themselves to get involved so that your children could see the benefit of doing good. It transcends into the kids and the kids wanting to do good. When I got back, the first thing I said was, "We're getting involved in the community, now!"
Did the show change how you lived day to day?
It impacted me more than (any) other thing next to having children in my life. I think as a successful business woman, I have always been involved in charity but from a position of writing checks. I do sit on the board of a pediatric cancer organization for kids. When I got back, I called Max Cure Fund, the name of the organization, I sit on the board of and I said, "I want to do more than just be on a board call. I want to do more than practice this at arm's length. How can I really get involved?"
My daughter and I talked and we decided to bring Max Cure up west coast. What that means is helping families where their kids have cancer. It was interesting because before the show, it was almost taboo when you heard that someone had died and one of the charities was called New Hope. New Hope helps families that have lost either a child or a parent go through the recovery stage.
If you're like me or if you're like most of America, there's a great promise you're the casserole parent or friend. And then you check it off your list. It was interesting because that's who I was. What this experience made me realize is that these people that lose a child or a parent, there's a long process ahead of them. Time does help but what they really need is friendship.
When you start talking about death we really avoid being around it. Someday it's going to happen to all of us. Whether it's your parent dying or your children dying, we're going to have to deal with that. Instead of society being afraid of death, it's taught me is how you can embrace others in this horrific time in their life and truly become a friend.
Walking away from it and coming back to my children...it scared about me thinking about being around all these sick kids because it was disturbing to me. It's overwhelming. It's not okay. It is okay to be afraid and okay to have fear of being around these kids because it is scary. The real lessons of life are how can you make differences in people's lives? There are bad things going on. I believe this episode will uplift and make a difference. The smallest thing you can do is go and volunteer.
Speaking of your experience with the show, did you ever feel like you were in danger?
The environment they put you in is unlike any environment I've been in. There are people I'm shaking hands with, homeless people in living quarters that are beyond comprehension. ABC did a fantastic job of letting me experience the environment. I did not ever feel like I was in an unsafe place. They still allowed me to experience it.
These kids, watching through their own lens of experience, they felt safe being at a ranch in the middle of, honestly, just concrete city with trains and freeways right next to them. One boy felt comfortable enough to tell me he'd been shot a week before going through a gang fight, yet he felt safety in this ranch. I could feel his pain because I was living in that kind of environment. I really thought to understand their lives by the story of abuse, by the story of emotional difficulties, the shooting, and the drugs. It was their stories, their faces and their tears that impacted me the most.  
What do you tell them about the cameras?
[Laughing] It's not really a secret experience. What I say is I am a volunteer doing a documentary on volunteering. We're all interested in sharing the good people are doing. I was really surprised that people want people to help so badly. They are so in need of help that they were so willing to believe my story. There was one gentleman who said it was too good to be true. He said, "Really, you're doing this? You look really familiar. Are you sure?" It was funny…this is the thing: The people giving up their paychecks are retired FBI experts and office workers. They have been working hard their entire life and are still willing to give back.
Thanks for your time. It was a pleasure talking to you.
Please tune in for the show. It was such an incredible experience.
"Secret Millionaire" airs Sundays at 8 p.m. ET/PT on ABC.

Are you sure you want to delete this comment?