'American Idol' Recap: Safe!
Judges save Jessica Sanchez from elimination in shocking results show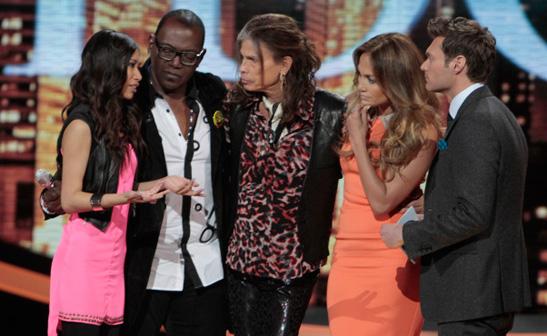 By Carla Patton
On Wednesday night, at the end of a string of mixed performances, Jennifer Lopez admitted that viewers are probably just voting for their favorites at this point. Does that mean there's little a contestant can do to fall out of favor with their fans? Will Jessica Sanchez's fans forgive her for wearing that terrible white bodysuit thing during her trio performance? Or does it just mean that underdogs need to give them a reason to vote? Also, as a side note, I simply don't agree with Jimmy's comparison of Colton and Phillip. They are completely different artists, and Colton cares way more about this whole thing than Phillip.
Bing: More about 'American Idol' | Photos: See the top 7 singers
"Idol" alums James Durbin and Jennifer Hudson are performing in this episode, so I will enjoy at least one of those performances! I hope James goes right up to Colton, says, "I invented standing on pianos," then turns to the audience and asks, "What do you guys think?!"
More: 'American Idol' on BuddyTV | Video: Watch 'American Idol' clips and more
"So, let me fill you in," Ryan says, not filling us in on anything of value. Let me fill you in: Jennifer looks stunning on this night, Randy is still wearing those giant sparkly pins and the group number is back! It is a terrible rendition of P!nk's "Raise Your Glass." These kids look sad and wiped -- except Elise, surprisingly. Look at those "dirty little freaks" up there, pumping their fists to the sounds of overgrown Kidz Bop.

Aah!! The best thing happened. Ryan Seacrest got in at the very end of the group number! He slid in front of the final tableau, legs inexplicably in the air, raising his red Coca-Cola cup above his head. How much did they have to pay him to do that? Whoever had that idea, I love them forever.

I don't even care about the terrible, "Napoleon Dynamite"-inspired Ford music video this week. Ryan Seacrest just made my night. The contestants got some half-hearted celeb tweets. Colton got invited to prom by Katie of Wichita, Kan. Hollie got an invite to spring formal from a surprisingly hot dude. Elise got some feather jewelry for herself and Steven. Ryan made a funny joke about Quinceañera invitations. He is really on a roll again in this episode.

Hollie and Jessica are going head-to-head for the first results of the night. Will Hollie fulfill our expectations by heading for the bottom three, or will Jessica be penalized for singing a song we weren't super familiar with? Jimmy called Hollie stiff and contrived, and called Jessica the effortless, winner of the night. Hollie? Ya burnt. Gosh, Jessica's legs are thin.

Hollie starts a group on the right side of the stage. Jessica starts a group on the left. I know whose group I would prefer to be in on this night. Although, she was wearing that jumpsuit ...

James Durbin is performing a song from his album, which is titled "Memories of a Beautiful Disaster." So overwrought. He's got blond hair now, y'all. Take that, Colton. He probably did it first. He's singing into a vocal modifier, which works for the song but not for the context. Give us the real James! The people demand it! While we're making requests, can I ask that he take off those blinding white sneakers? He screamed a lot. And when he was finished screaming, the contestants clapped slowly, reservedly.


Oh, my gosh. Of 
course
James Durbin is touring with Evanescence. It's a match made in gothic
heellllll yeaaahhh
. (That was me screaming into a distorter).
Back to the groups.
Phillip and Elise
hear results next. Do you think Ryan practices this with his Beanie Babies at home? So many Beanie Babies, I bet. The judges raved about Elise and not so much about Phillip. Jimmy says they're both singer/songwriters and "character singers." Jimmy thinks Phillip will be in the bottom 3 on this night and that Elise might also be, despite being "technically correct." So either of them moving to a group won't answer anything for us.
Phillip joins Hollie, and Elise joins Jessica
.
Just stopping by on her way to an
EGOT
, it's
Jennifer Hudson
! Oh, my gosh. She looks stunning. Weight Watchers is the way! And her hair is fierce. And Ne-Yo? Shut up. This is awesome. Jennifer Hudson is showing off that acting ability in this performance, giving Ne-Yo all kinds of looks. Can she be Whitney Houston in the biopic everyone's discussing?
Colton and Joshua
hit the stage next. So it is Skylar who must choose. Jimmy thinks they both did well, and he's "in" on both of them. Colton still hasn't gotten the ubiquitous standing ovation? What's going on with that? Even Jennifer Lopez can't believe it. "I thought we stood for everyone!"

Joshua stands with Jessica and Elise, which the audience has already determined is the winning group, demonstrated by applause. Colton joins Hollie and Phillip. Uh, oh. Colton and Phillip!

Skylar is up last. Jimmy thinks she is just great, not to be left behind. He was floored and hopes Skylar doesn't get left behind. He predicts Phillip, Elise and Hollie will be the bottom three. Skylar is safe, and Ryan graciously didn't make her choose a group. Oops, I spoke too soon because Ryan asked her to pick the group she belongs with. Skylar said, "No!" and walked away. Good girl, not acknowledging that. He places her with Hollie, Colton and Phillip in a big twist. Joshua, Jessica and Elise are in the bottom three.

Time to use the Save! Jimmy thinks this is wrong, wrong, wrong. But I kind of get it. I wonder if Joshua and Jessica are getting too advanced, too mature, too boring for the viewers. Randy says this is messed up. I only sort of agree.

No one can offer up an explanation (Except me! Let's talk later. Text me or something, Ryan). Joshua is safe. Jennifer looks like she's ready to solve a murder. The person at risk is Jessica Sanchez. The judges freak out. I wish I had gotten a screen cap of Jennifer's face. It was great. I can't even believe it! Before the judges can interrupt with "we will save her!" Ryan hands Jessica the microphone.

The judges go up on stage like this was all scripted. Jennifer grabs the microphone, "Gimme that mic! Of course we're using the Save! Go sit down." I teared up a little. I love when stuff happens like this.

"We are saving Jessica without any doubt," Randy declares. Ryan doesn't like when he's not in control of things. "She is one of the best singers in America. Are you kidding me!" Randy shouts.
"I don't expect anything," Jessica says winningly. She was almost Pia Toscano-ed right outta here! But I love that girl. For filler, Ryan has Jessica sing us out. The top 7 remain for another week!
What a whirlwind five minutes! Did you collapse from all the excitement? Will you suffer from PTSD?


What do you think of Thursday night's results? Did America and the judges get it right?
"American Idol" airs Wednesdays and Thursdays at 8 p.m. ET/PT on FOX.