Report: 'RHoNJ' Members Reunite With Xanax
Lauren Manzo says drug was 'passed around like candy' at reunion taping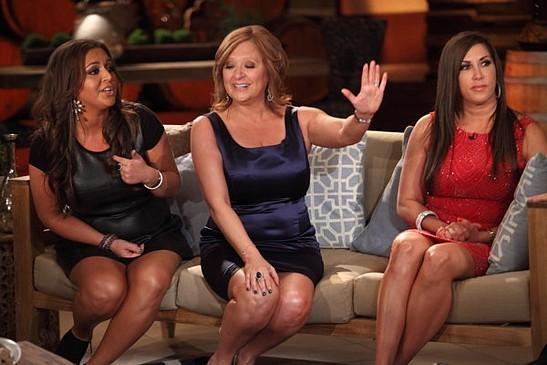 Lauren Manzo, daughter of "Real Housewives of New Jersey" star Caroline Manzo, tells Us Weekly that the cast members needed some help making it through their vicious Season 4 reunion taping last month in Atlantic City.
Bing: More on 'RHoNJ' | Teresa Giudice
"Xanax was being passed around like candy," she told the gossip magazine.


If true, it's hard to imagine how beserk these housewives would have gone on Teresa Giudice without the aid of the anti-anxiety drug. Only a hint of the fireworks was shown in the first of the reunion's three parts, which Bravo aired on Sunday. By the end of the taping, reportedly, no one had a voice left.
Plus: TV's top secrets | TV women who need to be saved
"There was so much yelling, [host] Andy [Cohen] was shouting at everybody to be quiet!" Manzo said.


As we saw on Sunday's show, Giudice questioned the strength of cousin Kathy Wakile's union to husband Richie. Next week, however, the hot seat is occupied by Giudice, whom Jacqueline Laurita claims once confessed to walking in on her husband, Joe, having sex with a woman on the desk in his office.


Part 2 of "The Real Housewives of New Jersey" reunion airs Sunday, Oct. 7, at 10 p.m. ET/PT on Bravo.

One more thing, isn't it against the law to pass out a controlled substance without a prescription? See? Why do these catty women get away with it and whoever passed out the xanax to everyone? They all must be above the law, and if I were any one of them, being above the law, I would beat the crap out of all of them and go home!

OMG, clearly, none of these women have enough class about them to leave the show.  I would be so out of there.  I actually liked the first season, have tried to watch a few episodes here and there, these women are so childish and SHOULD BE ASHAMED OF THEIR BEHAVIOR.  Their kids can see all of this! They care more about money than their own families and children. 
Are you sure you want to delete this comment?