'Survivor: One World' Cheat Sheet
As we head into the finale, here's what you need to know about those crazy castaways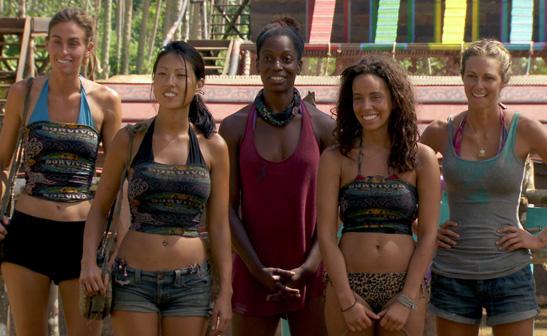 In 24 seasons, the CBS hit "Survivor" has been known for some inane antics, especially in recent history. There was the time Rob Mariano got voted off -- with an immunity idol in his pocket. There was the time Parvati duped Russell with double idol drama on "Heroes vs. Villains." And of course, there was that time when Russell got voted off after four episodes!
Bing: More about 'Survivor' | Photos: Meet the castaways | Video: Watch clips and more
And this season's "Survivor: One World" will be no exception. We've got our fair share of crazies, a villain we loved to hate, and a guaranteed all-female final three -- which is a first in the show's 12-year run.
Missed a minute? Here's what you need to know to hold your own for Sunday night's finale.
Girls vs. Boys
The chaos began quickly this season as host Jeff Probst divided the players into two tribes. The twist? Boys vs. girls -- which put a major wrench into the game for many, including one Colton Cumbie, who was this season' only openly gay castaway.
Colton's Villainous Ways
Once he'd ingratiated himself to the ladies -- and scored their coveted immunity idol -- Colton was running the show on the men's Manono tribe. His first order of duty? Voting out lawyer-turned-leader​ Matt, who'd hoped to be in charge. Then he insisted his alliance throw a challenge -- letting the ladies win --so that he could get rid of nemesis, stand-up comic Bill. With puppeteering and scheming on the level of a Russell Hantz, he elevated himself straight up to uber-villain levels.
Race Relations?
That week's tribal council got particularly heated as Colton pushed forward his plan to eliminate funny guy Bill. He called the Venice Beach-based comic "ghetto trash," before adding that "he's obnoxious, he's loud. He's a struggling stand-up comic. Like, get a real job." But Bill wasn't the only one the bigoted Alabama boy took shots at. He called his fellow teammate Leif "an annoying Oompa-Loompa," and a "little Munchkin."
Karma Police
Mid-season, many were betting that cunning Colton would be in the final three. But even he admits, "I thought I was the biggest bitch. Turns out karma is a bigger bitch than me!" He was carried off on a stretcher mid-season, when a severe bacterial infection in his stomach and intestines made quick work of his master plan.
Troyzan's a Target
Calling out Kim on her puppetmastery amongst the ladies, Troyzan found himself fighting solo against the remaining Salani tribe members, with his only fellow male, Tarzan, throwing in his vote with the ladies. "Kim seems sweet and unassuming, but she's really the one with all the power, the one pulling all the strings," Troyzan told MSN TV. "And the way she does it is just insidious and deceitful. She's a good talker and she makes people feel calm and comforted. Meanwhile, she's manipulating them the whole time, plotting their demise."
 
Last Man Standing
Despite a few eccentric habits, Greg "Tarzan" Smith, 64, managed to maintain a relatively low profile. The Houston plastic surgeon admits that his crazier moments were all strategy. "I was subliminal on purpose," Tarzan told MSN TV. "They couldn't even tell I was plotting the whole time. They didn't really realize it until the end." Uh, neither did we. Still, when he started playing the ladies of the final five against each other, they quickly foiled his plans and sent him packing.
Blonde Blindside
College kid Kat, 22, thought she had the final three in the bag, thanks to her pals Kim and Chelsea. Which is why she was as surprised as the rest of us when they decided to dismiss her, locking her out of the top six, despite some unpopular moves she made that week. "I can't believe Chelsea would say that I didn't deserve to be in the top three," says Kat. "I was really, truly so upset about that. I know she was mad about the lunch and Christina and Tarzan, but she wouldn't have been mad if I had taken her instead of Alicia. Vote me out because I'm a strong competitor, not because you're mad."
The Final Five
In the end, the ladies have it. Sunday's final five features Kim, Chelsea, Sabrina, Alicia and Christina. Need to know who's who? Here's the rundown: The final three could go several ways, but our money's on Kim, Chelsea and Sabrina. Still, feisty Alicia could still have a few tricks planned.
Kim Spradlin: Quiet and even-keeled, this bridal shop owner from San Antonio, Texas, is the one to beat. She's long been running the show behind-the-scenes, but doing it in a low key way that keeps her victims from even realizing they're being played.
Chelsea Meisnner: She's sweet and relatively unassuming, but that doesn't mean this Southern belle's a pushover. A medical sales rep from Charleston, Chelsea's all about playing fair, and when she spies injustice, well, she votes it off. As long as Kim agrees, of course.
Sabrina Thompson: This high school teacher from Brooklyn is about as no-nonsense as they come. Still, she managed to get in with the cool clique in the first few weeks, and held her own, despite some bullying from Alicia and Kat.
Alicia Rosa: She may portray a feisty and fiery Latina stereotype on the show, but it's landed her in the top five. And if her backstabbing and double-dealing have anything to do with it, she'll make it to the final three, too.
Christina Cha: L.A.-based career consultant Cha, 29, was known as the Salani tribe's resident slacker -- and a player without strategy. Which is why all the others are scratching their heads as to why she's still there. But we know why. Take her to the final three, and you look all the better.
Who are you betting on to make it to the final three? And whom would you like to see win the title of sole "Survivor"?

The "Survivor: One World" season finale airs Sunday, May 13, at 8 p.m. ET/PT on CBS.
Are you sure you want to delete this comment?