'The X Factor' Recap: Rockin' and Reelin'
Most of the top 10 acts underwhelm on rock-themed night
By 
MSN TV
 Nov 16, 2011 11:01PM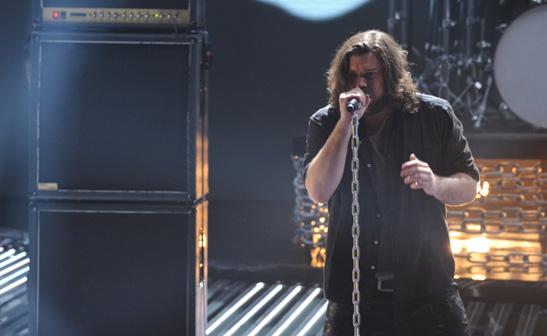 By Jilliane Johnson
The top 10 put the pedal to the metal on the "X Factor" stage Wednesday night. Blow out your hair. Slap on that funky makeup. And pour yourselves into those leather pants. It's rock night!
Last Night on TV: Watch recaps | Photos: See performance pics
LeRoy Bell -- "We've Got Tonight" by Bob Seger

While LeRoy is a great performer and has a great sense of style for an older cat, he's "still not working it like a rock star," as L.A. states. There isn't enough connection and feeling in this one. Nothing about it is memorable, so either Nicole needs to step up her game or he needs to start making the calls.
More: 'The X Factor' on BuddyTV | Bing: More about 'The X Factor'

Rachel Crow -- "(I Can't Get No) Satisfaction" by the Rolling Stones

Why is it that everyone takes a shot at this song? The Stones have tons of other ones. Anyways, Rachel is cute, but have you ever seen those movies where someone is trying to catch a train after it leaves the station? Well, I believe Rachel is attempting to catch the "X Factor" train. I'm not convinced that she knows where she's going, yet the arena loves the performance.
Also: Audience Q&A with the 'X Factor' judges

Chris Rene -- "No Woman, No Cry" by Bob Marley

It is rock night, correct? Nothing about this is rock 'n' roll. While it's not in theme, the performance is fun and entertaining. However, Chris can do so much better than this one. There's a huge ruckus over whether the song is in the requested genre, but all in all the performance could have been much better.

Stacy Francis -- "It's All Coming Back to Me Now" by Meatloaf

Holy flat notes, Batman! Yes, Stacy sings this song. She sings it really loud and off-key, but she sings it. Paula agrees it's her least favorite of Stacy's performances. The fact that Nicole calls this "glam rock" is ridiculous. Nowhere in the world should Stacy Francis be categorized with David Bowie.

Melanie Amaro -- "Everybody Hurts" by R.E.M.

All right, this isn't an up-tempo rock song by any means, yet it is a rock song all the same. Melanie kills the vocals, as always, but it's the same performance that we always see from her. Where's the edge? Somebody's got to step up. She won't be able to ride on just that voice throughout the competition.

Josh Krajcik -- "The Pretender" by Foo Fighters

This is what we should have been hearing all night long! Awesome raspy vocals, strobe lights and Nicole's head-banging make for a rockin' performance. Hands down the best one on this night. "Bloody fantastic," Simon comments. I have to ask, though: Why doesn't Nicole give her other contestants songs like this one?

Astro -- "I'll Be Missing You" by Puff Daddy (a.k.a. Diddy), Faith Evans, 112 and Sting

Astro does it again. He adds his own lyrics and pays homage to hip-hop and fallen musical legends such as Tupac Shakur and Heavy D. Is it rock and roll? Perhaps yes, because of Sting's influence. Aside from that, it's a great performance that reaches out to the audience. Astro's winning this competition could mean huge changes for rap and hip-hop, and he could very well take this.

Lakoda Rayne -- "Your Love/Go Your Own Way" by the Outfield and Fleetwood Mac

Well, this is fun. It's definitely better than what we have seen so far, but is it great? So, Paula is trying to mold a new Dixie Chicks? After this comment, that third seat might be vacant next week. These girls still need to work on vocals, but they look cute.

Drew Ryniewicz -- "With or Without You" by U2

Like L.A. and Nicole, I am waiting for the drums to kick in. Drew needs to try something more upbeat. It is the same performance every single week. Beautiful song, pretty nice vocals, but no one wants to be put to sleep, Drew. Just saying.

Marcus Canty -- "Piece of My Heart" by Janis Joplin

I don't know how to comment, because Marcus states that he wants to hold true to his morals. Did anyone else catch him mopping up the floor with his back while sliding through the dancers' legs? I don't mind some provocative performances at all. Dirty it up! Yet, that stands out more than anything else.

My favorite of the night has to be Josh Krajcik. He rocks the house! Although let's not forget that he's in his element. Who are your favorites? Who should be kicked to the curb this week?
"The X Factor" airs Wednesdays and Thursdays at 8 p.m. ET/PT on FOX.