'The Amazing Race' Exit Interview: Mark and Bopper
Proud Kentuckians talk unemployment, helping kids back home and naked promises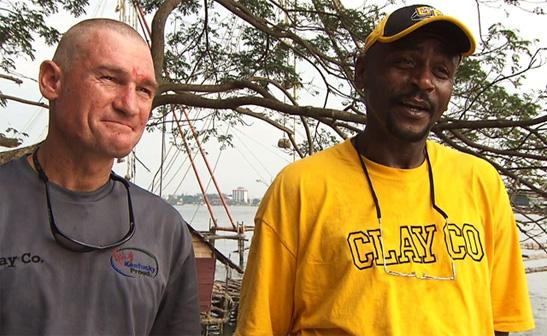 By Diane Vadino
Special to MSN TV
Best buddies Mark Jackson and William "Bopper" Minton made up one of "The Amazing Race"'s most engaging teams in memory. They were funny, kind, devoted to each other, and resolute even in the face of the most challenging Bollywood dance. Despite powering through this week's tasks, the pair couldn't make up time lost during the previous episode -- and exited the race in fifth place. We spoke to the team -- a shoo-in for an All-Stars edition if ever there was one -- about going back to Kentucky, battling unemployment, and whether Art and J.J. will make good on that Pitstop promise to share their winnings.
Bing: More about 'The Amazing Race' | Photos: Meet the teams
MSN TV: What's it been like, coming home to this reception? 
Bopper: It's meant the world to us. It's been absolutely overwhelming. Our county is so proud of us. We can't tell you how much we appreciate it.  
I found it really affecting, Bopper, when you said that being on the race had opened up your eyes to the world around you.  
Bopper: The place where we live is one of the poorest counties in the nation. We're just poor, simple folk. But I got to see first-hand what true poverty really is, and it made me appreciate everything I do have. We were just going down the road in India, and we walked past this man who had to walk on his knees. His feet were curled up behind his back, and this man was still working. His knees looked like elephants' feet. For us Americans, we're kind of spoiled here. He was severely disabled, and he was still working. I cried when I saw that, that was so touching. 
I know you first applied for season 12, but were just cast this season. Do you have any idea why you made the cut this time around? 
Bopper: I have no idea. I was just sitting here with my daughter, feeding her turtle, and there was a message from the race telling me to call them back. I called Mark, and he scurried over here, and we called them. 
You guys talked candidly about living in poverty on the show. 
Mark: We speak the truth. We don't bite our tongues. I lost my job when I got back. We did see poverty all over the world. The only difference between them and us is we live in the USA, and it shouldn't be like that here. 
Did you get a big welcome-home party when you got back to Clay County? 
Bopper: Nothing yet. We've just been going around to the schools, thanking the kids for their support. We talk about bullying with them. We just want everybody to know that our kids are the future no matter what. We have a terrible drug problem here. If you're 25, and you're doing drugs, you're an adult. But we've got to start with the kids. Me and Mark were saying that what we'd like to do is see if CBS can help us with the trip we won [for winning a leg]. We'd like to auction that trip off, to help some needy children here in Manchester [Ky.]. Me and Mark would take that trip, and it'd be over in five days. 
Mark: Me and Bopper have been around each other enough. It's not fair for Bopper to go with his wife, or Mark to go with his girlfriend. Why not get rid of that trip? 
Bopper: These kids really need shoes and shirts. They should go to school feeling proud, like other kids aren't going to make fun of them this year. We'd give 100 percent of the money to those kids. 
J.J. and Art said they'd give part of their winnings to a fund for your daughter's health problems, Bopper. Did that actually happen? 
Bopper: I'm not going to hold them to that, but they insist that when payday comes, they're definitely going to give my child a third of their winnings. 
Mark, you said you lost your job when you returned from the race. How are you doing now? 
Mark: It's a struggle. It was a shock. I never thought it would happen. I lost my job. I didn't lose all my bills. 
Bopper: The job opportunities here are slim to none. You either have the coal mine or McDonald's. That's why we put our heart and soul into the race. CBS gave us the opportunity of a lifetime 
Mark: We enjoyed it. We weren't running a hectic, scatterbrained race. We could never afford to do something like that, no matter how long we saved up. 
When will we see you guys in All-Stars? 
Mark: I'll tell you what, if they call us right now, and they're on call waiting, I'd hang up on you right now. 
Bopper: I wouldn't even stop to pack a backpack. I'd just go naked. 
"The Amazing Race" airs Sundays at 8 p.m. ET/PT on CBS.

Bopper and Mark are the best team ever on this show.   I watch and rooted for them every week and was sadden when they left this past week.  If any two were deserving of winning, these two should have.  Their humility and raw honesty is a model that you do not have to be a sell out to win at anything in life that you need.   They show what true friendship is all about and I would love to have a friend in my life to bound with as this two have shown the world the definition of "friend."    My hat off to them both and I cannot wait to see them again in the all-star race "when" it happens.  

NOW those guys are class acts, not like the whinny woman on the show with the wild hair and extensions she had put in. then refused to cut off her locks cause she paid 500 bucks for them. Those are the idiots that need the wake up call. NOT Bopper or Mark.  Men or not those guys gave 120 percent of their bodies and I think a fund needs to be started to help the both of them out.  Enough of these young kids taking it all then not sharing with those who need it. What is the matter with these people.
God bless these two guys, who know what it is to LIVE in poverty and hardship but yet smile and work through it, with NO DARN WHINNING!!!
Are you sure you want to delete this comment?