'The Amazing Race' exit interview: Josh and Brent
This year's shock winners on pulling out their amazing victory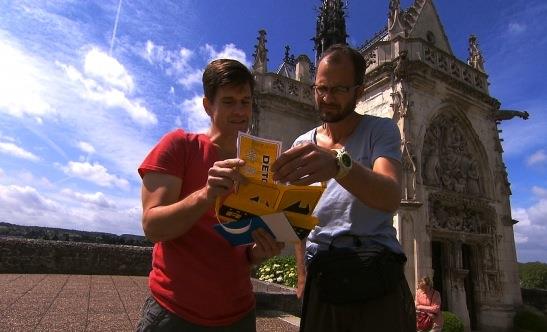 It was a come-from-behind victory for the ages: After a slew of next-to-worst finishes, goat farmers Josh Kilmer-Purcell and Brent Ridge—also known as the stars of "The Fabulous Beekman Boys"—won the only leg of "The Amazing Race" that mattered in their hometown of New York City last night. We spoke to the pair about how they managed their big comeback, their "high school" moment, and the distinct chime of wedding bells in their future. 
MSN: What was it like getting the taxi to Gotham Hall? Had you ever been there before? 

Brent: We actually knew Gotham Hall, but we also checked the exact address on two different maps. We were pretty panicky—when we lived in New York City, we lived on the Upper East Side, and we knew how desolate the far east [side of the city] can be that late at night.
Photos: Meet the teams
Josh, you said you turned the final challenge from a linguistic one into a mathematic one. How did you keep your cool? 
Josh: It was the only way to finish that challenge. As soon as I realized that, it was heartbreaking, but it was also calming.
Why heartbreaking? 
Josh: I realized there were three I could get done—and I knew I had to do all the other combinations. At that point, I really settled down and became calm. I knew I just had to do this. 
Did you have any sense of how the other teams were progressing? 
Josh: Only by the sound of their celebrating. 
Did you feel an obligation to help Lexie calm down? 

Josh: I never want to see somebody struggling. I just shared with her what I think she already knew—that it was going to be a long haul. I don't know how if it helped or not, but I love Lexie.
It kind of broke my heart when you guys were on the train and heard the other teams plotting, and you said you felt like you were in high school. Was that a fleeting thing or something you struggled with throughout the race? 


Brent: It was definitely a fleeting moment. We had gotten along great with the teams. At the moment we overhead that there was an alliance, you can't help but feel like there was high school coming back. We didn't take it personally, but you can't help but have that feeling.
Josh: We didn't run away and cry, like in high school. 
Josh, you spoke in the final moments about how proud you were to have not quit, but it seemed like you were quite close to quitting to help out Abbie and Ryan in Amsterdam. 

Josh: We never considered quitting, though we had plenty of opportunities to quit. We always wanted to check ourselves and make sure we were racing the kind of race we wanted to. We were just incredibly sad to see two such strong racers leave the race like that. 


Brent: You never want to see anyone's dream die right in front of your eyes. We felt really sad to see every team lose. That was the first time we'd been present at the time a team's dream died. It was actually an amazing experience running down that column of racers at that moment when we ran [into Gotham Hall]—we thought Abbie and Ryan were probably mad at us; they didn't know that we had that discussion. It was really exciting to see not only them but the twins. It proves what great sportsman those two teams are. We love the twins, you know. They had always been very honest in who they were, and they kept us laughing throughout the entire race.
You didn't think some of their talk about "coattails" and stuff didn't go too far? 
Josh: It was the same type of trash-talking you'd see at any athletic event. 
What will you do with your million-dollar prize? 
Brent: Three things: We're going to pay off the mortgage on the farm, so we can be together for the first time in five years. We're buying a building in our village so we can invest in our main street. And we're going to start something where the profits will go to help pay the mortgages for other farmers. 


Do you know how close James and Jaymes were to catching you in the final dash? 
Josh: We really don't. It's such a surreal, out-of-body experience. I do remember on the cab ride over there, believing they were in the car behind us. Part of the hometown disadvantage was that we knew our cab might have been going on a cross street that was crowded, and they could have gotten lucky with an empty one. 

When will we see you guys back on TV—with a new season of "Beekman Boys," maybe? 
Brent: We love the impact that the show had on our community and our village and us. The second season is now on the Cooking Channel on Thursdays, and we're hoping for a third—maybe with a wedding. 
Are you sure you want to delete this comment?