'The Amazing Race' exit interview: Abbie and Ryan
Super-competitive duo bow out after a record-setting string of bad luck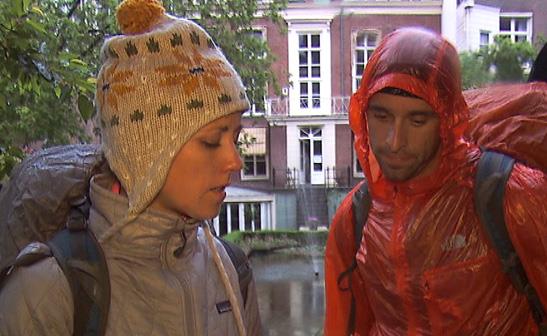 It wasn't that long ago that Ryan Danz and Abbie Ginsberg were in the running to become "The Amazing Race"'s most successful pair ever—and the first team to win a $2 million prize. That plan fell apart, though, after a series of airport-centric snafus push them to the back of the pack. Ultimately, they fell victim to the city of Frankfurt and a season-ending U Turn, planned by a trio of teams and enacted by the Chippendales. We spoke to the pair about falling victim to their former pals, teaming up with the Beekman guys, and hugging it out on a Dutch street. 
MSN TV: That seemed like a pretty miserable way to exit the game. Did you guys have a chance to talk it through later with James and Jaymes? Did you come to understand better where they were coming from, once you saw the episode? 
Ryan: It was actually harder leaving the game knowing just how many times—four times, to be exact—we had plane issues. Our flights ultimately cost us the loss, not the U-Turn. Had we arrived into Amsterdam on the first flight we booked, we would have landed before Texas and potentially beat them to the U-Turn mat. Even if we hadn't beaten them to the mat, we would have had four hours on the Beeks and would have been able to overcome the U-Turn.  
We have not spoken to the Chips since our exit. We were disappointed in them. We weren't upset that we were U-Turned—what we were surprised with was who had U-Turned us. We expected it to have been the twins or Texas, but the Chips caught us by surprise. What they didn't show was the friendship that we had developed at LAX and carried through the race with the Chips. It went beyond just helping each other out. So we were bummed that we had been backstabbed by them. 
Photos: Meet the teams

Did you know that Josh and Brent had considered helping you out on the organ grinder task—almost to the point of kicking themselves off the show? 

Ryan: We were. Leaving us wasn't an easy decision for them. Ultimately, they had to do what was best for them, and we completely understand why they didn't wait around. 

Abbie, I almost cried when I saw that Dutch woman give you a hug following the organ grinder task. What was that exchange like? 


Abbie: She was actually American, and her name is Pam. So, thanks, Pam, if you're reading this. I was so overwhelmed with the series of events from the past four days or so. Pam was so sweet and generous—she ended up giving me the last six Euro to complete the task. That hug—or hugs—was real. I just poured everything out on her. 

Do you think running for $2 million ultimately made you better or worse racers? 
Ryan: The $2 million dollar prize really did not change our motivation to win at all. We can honestly say that. We are huge "Amazing Race" fans and have been since the very beginning. We would have raced just as hard for one dollar. We would have paid to be a part of the race. We grew closer as a couple and were able to cultivate a very important friendship with the Beekmans that will hopefully continue to prosper. 

If I had been in your shoes, it would have made me crazy to see the twins take a bigger chance than you guys did, with their connection in Rome, and have it pay off so big—not because they were better racers but because they were lucky. Given what you've been through, what would be your approach on flight connections or stuff like that in the future (say, on an All-Stars season)? Did you come out of this with any definite-dos or definite-don'ts? 

Ryan: Part of the flight choices were just due to back luck. We booked two connections out of Frankfurt to be safe, so we really were learning from our mistake on the way from Istanbul to Moscow. We were pretty good about taking a step back and talking to each other about mistakes and things we needed to fix after each leg of the race. Maybe we would take a better look at connection times, and if we had a choice between Frankfurt and another connecting city, we wouldn't go with Frankfurt. 

Abbie: I probably could drop a few backpack pounds. We each said it would have been great to travel with one backpack instead of two. It didn't impair us at any point, but you really do realize how little you can get by on for a month.

Ryan, I saw on your Twitter that you could see the other teams opening their clues from your hotel room in Moscow. What was going through your head at that point? 

Ryan: Oh my gosh—that night in the Moscow hotel room was torture! We kept watching a Lady Gaga music video marathon because every other channel was in Russian. We kept staring out the window, and we were about 10 to 12 stories up from a park beneath us. At about 7:30 p.m., we saw the Chips ripping open their clue. It was like a kid trying to open their Christmas presents early. We saw them leave, then the Texans, and then the twins a bit later. There was nothing worse than seeing three teams leave and knowing you don't get to leave to the next morning! We saw their flags as well, and luckily, we had a world map with us that had the flags along the border. We were able to narrow down the countries to France, Netherlands, and Romania.


Did James and Jaymes make the right decision? Tell us on Facebook and on Twitter.

"The Amazing Race" airs Sundays at 8 p.m. ET/PT on CBS.