Snooki felt left out on 'Jersey Shore'
Pregnancy during filming kept star away from Seaside Heights club scene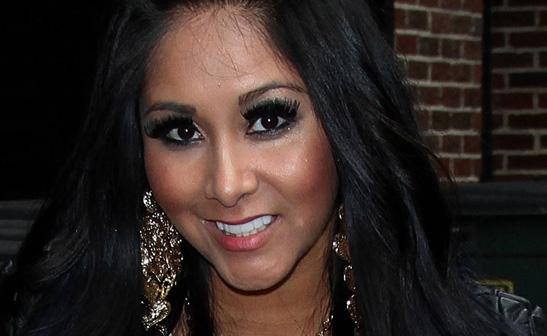 WENN
Nicole "Snooki" Polizzi has confessed she felt left out when her fellow "Jersey Shore" co-stars spent nights out in Seaside Heights, N.J., while she was pregnant. The MTV reality stars moved into their beach house for one final season over the summer, but because she was six months pregnant, Polizzi decided the best option for her was to move into her own apartment next door to her roommates.
Bing: More about 'Jersey Shore' | Plus: 10 must-see reality shows
Although the 24-year-old would frequent their house and see her friends constantly, she tells MTV News that she did feel a sense of exclusion when it came to their late nights out. She admits, "It was definitely different, and I felt left out when they would go to the club because I didn't want to go to the club in Seaside. You don't know what's going to happen. There could be fights. There could be drunk people everywhere. I just didn't want to be around that scene, and I kind of felt left out. But the roommates made me feel comfortable, and they included me as much as possible."
Plus: Past shows that should return | Shows that should be canceled
And while she spoke to MTV News before Hurricane Sandy hit Seaside Heights, which was one of the hardest-hit areas along the coastline during the storm's wrath, the new mom is already feeling nostalgic about the place they call a second home. She adds, "Thinking about not going to the shore next summer, it's weird, like I'm going to go regardless, but not to live with my roommates or to film another season. It's just sad." Polizzi and her fellow castmates will be hosting "Restore the Shore," a live benefit on MTV to raise funds to rebuild the damage left behind this Thursday on MTV.
"Jersey Shore" airs Thursdays at 10 p.m. ET/PT on MTV.