'The Voice' Recap: Live Quarterfinals, Week 2
James Massone and Pip are instantly eliminated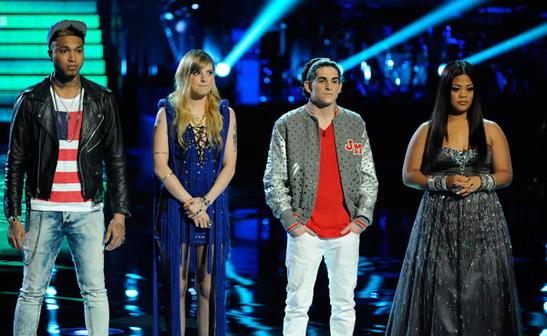 Saving the best for last? Hey, that's the way I saw it. I waited the entire two hours for the Juliet Simms performance, which wound up being the last one of the night. There was a lot of stuff I could have done without (Cee Lo's gas, for starters), and that includes the coaches performing with their teams. That said, Cee Lo's new tune with Goodie Mob is killer.
Bing: More about 'The Voice' | Photos: Meet the contestants
As was the number that opened the show. So, without further ado...
Last Night on TV: Watch recaps | Video: Watch full episodes and clips
Jamar Rogers "It's My Life": The beauty is in the arrangement more often than not on "The Voice," and that certainly was the case here. Rogers gave a cathartic performance of the Bon Jovi hit, and proved he's in this for the long haul. Cee Lo assigned the right song again.
Katrina Parker "Jar of Hearts": I have to admit, I needed to flip through my notes to even remember this gal. And Levine handing her this ho-hum hit of Christina Perri's didn't make her any more memorable.
Mathai "I'm Like a Bird": Back-to-back Levine performances, and here was another who has caused shouldershrugging for this blogger from the very beginning. It began promisingly: Mathai soaring with Nelly Furtado's breakthrough song, but she ultimately smacked into a window.
James Massone "Just the Way You Are": Cee Lo's typically successful record of matching his singers with song missed the mark here. Billy Joel's contribution to wedding band catalogues across the country was lost on boy-band understudy Massone. Maybe he can perfect it in time for Snooki's wedding.  
Tony Lucca "Baby One More Time": After a verbal lashing from former "Mouse"-mate Xtina last time around, Lucca stared his past in the face and did a rock version of Britney's first hit. Gritty, growling ... and groovy. Christina suggested a reunion right there on the "Voice" stage (Spears and Timberlake, too). How cool would that be?
Cheesa "I Have Nothing": Tackling the so recently deceased Whitney Houston was a questionable and bold move. "That's a big song," Aguilera declared. But, Cheesa brought her A-game.
Pip "Somewhere Only We Know": Eschewing the trademark bowtie for tickling some ivories, at least initially, Pip showed some real promise during the first half of the song. He lost his way towards the end there, and Levine all but said goodbye during his critique of his wayward son.
Juliet Simms "Cryin'": Cee Lo got back on track in a big way by handing the fierce and formidable Simms this Aerosmith power ballad. The wings grew on me but, in my opinion, my beloved Juliet  couldn't seem to get a grip on the "Get a Grip" single.  
I am still fairly certain that in the end it will be my two favorites puking it ... I mean duking it out, and they are Simms and Lucca. But there are some dark horses coming up the rear. It's just not James Massone or Pip.
What did you think of this episode? Tell us on Facebook
"The Voice" airs Mondays at 8 p.m. ET/PT and Tuesdays at 9 p.m. ET/PT on NBC.