'American Idol' Recap: One (Not So) Sweet Day
Teenager Shannon Magrane becomes the second finalist to be eliminated this week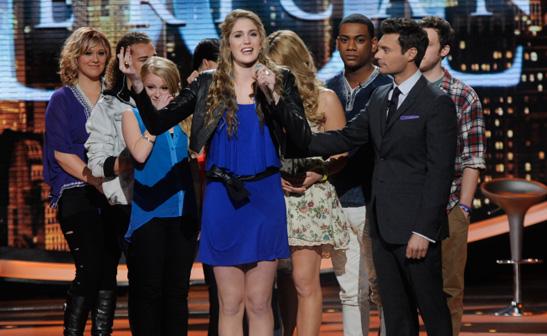 By Carla Patton
Thursday night marks a results show that, from the outset, I could care less about. While my colleague John Kubicek predicts that Erika Van Pelt will be going home, I think we'll still go through all the motions, only for Ryan Seacrest to reveal that no one is going home. "American Idol" has a schedule to stick to, people, and a lineup of guest performances for Thursday nights and no outstanding warrants (even four of them) will get in the way of that. Still, "American Idol" is not without its sense of drama or cruelty, so I think Ryan will reveal who would have gone home had the British gods of reality television not smiled upon them this fifteenth of March.
Bing: More about 'American Idol' | Photos: See the top 12 singers
But, why? Why drag it out so long? Wednesday night's performances were a perfect demonstration of why we need to comb through these contestants a little more: I don't want to have to listen to eight to 11 ballads anymore. I was secretly pleased to not have to hear Jermaine's -- or anyone's -- rendition of "Somewhere Out There." Wednesday night was a tour through Snoozeville, population these guys. As sad as I am to see Jermaine go under such circumstances, I say get rid of another one on this night and save the extra week for when we care a little more. Eliminate six of them and make the show an hour again: I'm feeling crazy!
More: 'American Idol' on BuddyTV | Plus: Non-winner 'Idol' successes
Oh, except now with this "11 Finalists" intro, we are just pretending Jermaine never existed. At the very least, we'll get to hear Jimmy Iovine's opinions of the performances. And at the very worst, we'll have to listen to Daughtry grunt out a melody on the "Idol" stage.

"Tonight we reveal the Top 10," Ryan says, emphasizing this elimination's importance and possibly putting us on. Jennifer Lopez's "big news" that we've all been dying to hear is that she has yet another single coming out. In other news that is not news, Tommy Hilfiger is styling the contestants this season. At least they won't be styled by Disney anymore. He somehow cites Carrie Underwood as a "great example" of a style maker. If you say so, Tommy. Do you even know what you're saying or are you just here to pick up your check?

Oh, but "nothing can save our Idols from a visit ... to a haunted house!" Ryan says ominously to introduce a "Ghost Hunters"/"Paranormal​ Activity"-style Ford Music Video featuring the Top 12. Yes, Jermaine was there. Or at least his ghost was. How fitting. Who made the scariest ghost? No one cares.

Phillip, Skylar, Elise and Joshua are the first to hear results. I'm sure they're all safe. But let's hear what Jimmy has to say! Jimmy says Phillip went far beyond the call of duty. Phillip is clearly Jimmy's favorite. Jimmy still hates the song that Skylar chose for herself but thinks she will stay. He believed Elise Wednesday night and thought she was hip, spectacular, etc. "She stays." Joshua inspired Jimmy to eat crayfish. Jimmy thought he was this week's Jessica. I just noticed Jennifer's pretty gold-sequin dress with stars on it. That would be perfect for a tap number in a USO tour. Hotcha!

Joshua is safe ("Pack your bags ... for the summer tour," Ryan says … unenthusiastically).​ Phillip is safe. Elise is in the bottom 3 (What?!), and Skylar is safe. Elise killed it, though! I guess America hasn't really come around to her yet. Or maybe the voters don't really relate to being born in 1983.
Poor Elise. She must wait while Demi Lovato sings a song about how great it is to be young and never have lived during the '80s. Look at that "Lion King"-worthy hair on Demi, though! She was just all right, which does not bode well for my enjoyment of a performance by Daughtry.
Colton, Shannon, Deandre and Jessica meet Ryan next. I demand a group number! Jimmy says Deandre didn't deliver on the song like he did in rehearsal and that "this isn't T-ball -- not everyone gets a trophy and an orange slice." He says Colton will be toward the middle of the pack, and "maybe he'll get an orange slice!" Jimmy is killing it, and he clearly thinks this T-ball comparison is hilarious. Because it is! Jimmy agrees with me -- that Shannon pushed too hard and showed her weakness and that it was good for Jessica to do an up-tempo song. He thinks Jessica screamed a little, lost her breath, then lost her rhythm, but, "if she goes home, we should all go home." We should all go home ... to our trophies and orange slices.

After Randy tries to make "sang the I-don't-know-what out of it" a thing again, Ryan announces that Colton is safe. Jessica is safe. Either Deandre or Shannon will be in the bottom (I kinda wish it was both). Deandre is safe. Shannon is in the bottom three. I'm cool with it! Heejun looks exceedingly nervous.
And now, Daughtry. Admittedly, this song sounds way better than their hits from the past. It has more melody, less constipated groaning. Still, I'm pretty sure Daughtry's goal image is smug, sweaty, over-styled guys who wear thumb rings and show up outside your apartment at 4 a.m. and text, "u asleep?"
"u want 2 hang or ...? ;) it's whatevs"
Hollie, Erika and Heejun approach Ryan last. My stream cut out, missing Jimmy's clever orange-slice-related​ comments, but as it came back, I saw Erika in the bottom 3. I can't believe Heejun is safe! Lucky guy. Ryan sends Elise to safety, after the judges cry outrage. Shannon and Erika are in the bottom 2, and "one of them could lose it all." Just when I was starting to believe they'd actually eliminate someone, too ...
Ryan tells Erika and Shannon that the person going on tour is Erika. Shannon will sing for her life and for the judges' save that won't come. Ryan advises her to "put your heart and soul, everything you have, into this." I think that is bad advice for the girl who pushes too hard to her detriment. She sounds arguably even worse on this night as she sings/pushes for her life. Ouch.
The judges admit that they will not be using the save on this night, and Shannon shrugs cutely. Bye!

But before she goes, there's one last reminder of how Steven called her "hot, humid and happening." Ugh. Ryan makes her thank her fans after watching her clip package, perhaps for not voting enough? Well, they kept her around just long enough, I think. What do you think? Yay?
What do you think of Thursday night's results?  Did America get it right?
"American Idol" airs Wednesdays and Thursdays at 8 p.m. ET/PT on FOX.