'America's Next Top Model' Exit Interview: Liz
The haute mama from Texas talks about posing and parenting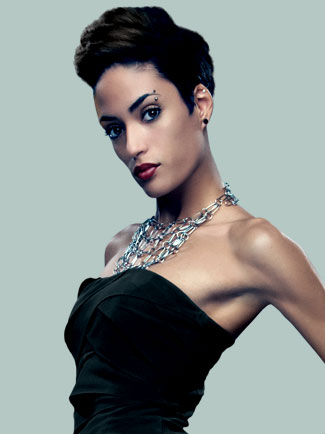 Working mom
Liz -- an Arlington, Texas-native -- knew doing "America's Next Top Model" wouldn't be easy. On top of the grueling photo shoots and challenges, she was leaving behind her one-year-old daughter -- a heart-breaking experience for any mom. But she knew the result would be worth it, whether or not she took the title. It wasn't a shocker for the potential poser that she got sent packing this week after a gondola-set shoot and a Missoni meet-n-greet. "I knew that my pictures were all over the place," she says. "I'd have a good week, and then a bad week. But I was learning the whole time, so I think I took a lot home with me."
MSN TV: You came off as a bit of a slacker and a whiner on "Top Model." True?
Liz: Yeah, that was upsetting. That was definitely was a reality check. But I think some of it is in the editing, of course. It did hurt to watch it with my family and my fiancé and my little girl all there. But in real life, I'm not a whiner at all. I'm a very different Liz in reality. I definitely have to work on how my image appears to people around me because that is not what I want them to perceive. I'm definitely not a slacker.
In reality, you're a working mom.
Yeah, I'm working my ass off. I'm working three jobs right now. It's crazy. I have a dry erase board in the kitchen, a couple of notepads around the house, things written down on on my hand, if I have to. I have to have constant reminders of where I'm supposed to be. My daughter used to be in day care, but that's one check I can't afford to pay right now. It used to be like, $250 a week for her. Now it's either me or my fiance or her grandma, who ever is not at work at the moment.
Was it hard to decide to go on the show, given how young she is?
Yeah, it was really hard to leave her behind because before that the longest I'd been away was three days at the most. At least I got to call and talk to her all the time. It was really difficult, though, because she was so young. If she was, like, seven or eight, it might have been a bit easier.  She couldn't even talk for herself, so it made it so difficult to know she was okay. She just turned two in August, so when we were gone, she was only one. She didn't even recognize me when I got home, because of my short hair. It was so strange and little sad. She was uncomfortable with me for a while.
Did missing her affect your shoots?
No, I tried not to let it. And given that it was my first time doing any photo shoots ever, I thought was doing a pretty good job. Like most of the girls, I was inexperienced. I didn't know what I was doing or how to bring out my best just because I was not sure. I tried my hardest, I really did. But when I got nervous, I laughed instead of crying. I think that didn't go over very well, like on the Cover Girl ad shoot. That was so embarrassing. I feel on the camera crew, spilled water, it was this huge disaster and I was going to cry. Then, there was Nigel, and he just kept saying, "Take it seriously," as if I wasn't trying. It was really hard. It was emotionally draining.
You also came off as uninformed -- mistaking Milan for Mulan, the Disney character, for example.
When it came to who designed this dress or who shot that photo, I was just not experienced at all. I had no idea. It's just something I've never put in the time to studying or learning. Architecture was my major, and education came first. Now I have a baby and work three jobs, I don't have all that much time for fashion magazines. I never really had the support with modeling. My mom wanted me to focus on school. So when I got there, I realized how far modeling could take me. Now my mom believes it can lead to something. Once you see it on TV, it becomes real. It's funny. But it's a lot of focus and a lot of effort. Now I'm making time to learn everything I can learn about modeling, everything that could help me make this a career.
Were you really disappointed about going home?
No. Eventually, you have to go. I'm so proud I made it as far as I did. I mean, I got to to Italy and meet all these designers and photographers. It was just amazing. I've only ever been on a plane three times. Italy was so beautiful. And I need to go without the cameras. Traveling is definitely on my to-do list.
Is modeling still on that list, too?
Yes, definitely. Now I have my family's support. We can't do anything until the show is over, but I'm definitely going to see what's out there, and we're looking at relocating so I can pursue it. I'm very interested in TV, hosting or maybe even acting. I can't wait to see what's in store for me.
Is there anyone you're rooting for now?

I have to represent Texas! So I have to say Ann and Chris. I'd love to see a Texas girl take the title.