Howard Stern's 'America's Got Talent' Triumph
Shock jock proves honest, charming and non-controversial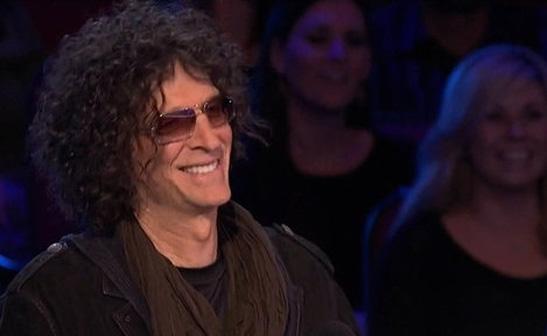 During its Season 7 premiere show Monday night, "America's Got Talent" discovered a father/daughter singing team, a teenage clogging troupe and a music teacher who expertly played strings rigged across an entire Los Angeles theater. However, the real talent America discovered belonged to new judge Howard Stern.
Bing: More about 'America's Got Talent'

Piers Morgan's replacement was heavy on his buzzer, usually branding the first "X" to unpromising acts. But he managed to be honest and funny without going over the line -- as critics feared he would.
"If you were on an island and all you had were your birds, would you eat them?" Stern asked a 55-year-old woman who crooned "A Nightingale Sang in Berkeley Square" while covered with 22 cockatiels.

Also: What TV shows are returning next season?

Of course, Howard being Howard, he couldn't resist a penis joke. But he used a G-rated word and aimed it at an abominable magician/stripper the audience had already turned against.
"I wanted to see some magic and all I saw is a guy with his pants off and a rather small package, quite frankly," Stern said. "Don't feel bad. I'm in the same boat, my friend."
In fact, the night's biggest insult was leveled not by Stern but one of the rejects. When Stern told the guitarist who butchered "Proud Mary", "I've been in radio 35 years and you're too weird for my show," the guitarist shot back: "That might hurt my feelings if I respected your opinion."
Check out the video:

As expected,
Howie Mandel
and
Sharon Osbourne
-- both frequent guests on Stern's radio show -- were deferential and non-combative. The only real dissension was Mandel's support of the cockatiel lady, and Stern was playful in his disrespect of that support.
If anything, all three seemed a tad lenient, waving forward a man who ate a scorpion, a ventriloquist whose dummy was a dog rigged with a false bottom jaw, and a middling rapper who claimed to be inventing rhymes about the three judges on the spot.


"You don't pre-write that?" Mandel asked.
"That was 100 percent off the top of my head," the contestant said, unchallenged. (Seriously?)


The show was edited tightly -- so tightly that, at times, it resembled a typical previous-episode recap -- so it's possible that Stern wasn't really as consistently funny as he appeared, and that more controversial statements were edited out.


Still, judging the show as broadcast, it's hard not to happily wave Howard Stern onto the next round and wish him continued luck.
"America's Got Talent" airs Mondays at 8 p.m. and Tuesdays at 9 p.m. ET/PT on NBC.