Emblem3: Demi Lovato has a crush on us
'X Factor' trio tries to explain judge's recent harsh critiques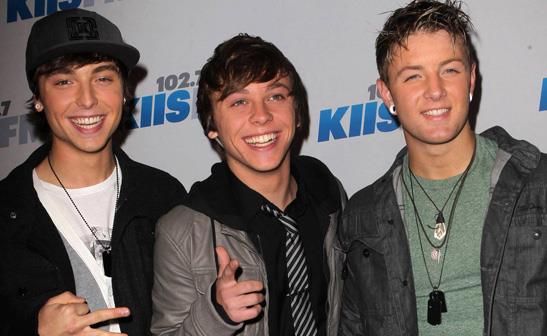 WENN
"X Factor" finalists Emblem3 insist that the reason judge Demi Lovato has been so tough in her critiques of them lately is because she has a massive crush on the boys. The California trio wooed the "Skyscraper" singer from the moment they sang an original song for their first audition. But now that they're fighting for victory, Lovato has been exceptionally hard on them.
Bing: 'The X Factor' | Photos: Season 2 highlights
On Wednesday's performance show, she likened them to a "downgraded version of the Jonas Brothers five years ago," which was just the latest harsh comment for the band. But the skater boys told the Hollywood Reporter that they know the reasoning behind her feedback. Drew Chadwick quipped, "You know what it is? She's got an old-school, school-girl crush, where the only way she knows how to flirt is by being mean. But she just wants the attention. She has a shrine of our faces in her closet." And while Lovato insists she just wants to be straightforward with the acts, Emblem3's coach Simon Cowell has continuously disagreed with her comments, causing frequent quarrels between the two.
Also: Favorite TV Scrooges | The year in reality TV
Chadwick says, "They're going at it, and it's not even about us." Bandmate Keaton Stromberg adds, "When they're going at it, we feel like we've developed a pretty big fan base, and we can do a lot after the show. So, whatever happen,s happens. We're not going to get attached to anything because attachment is the source of all suffering." The beach boys of Emblem3 have made it to the semi-finals, after making the cut for the final four on Thursday. They join country singer Tate Stevens, Carly Rose Sonenclar and Fifth Harmony.
"The X Factor" airs Wednesdays and Thursdays at 8 p.m. ET/PT on FOX.