'The X Factor' Recap: Thriller Wanted
Few truly shine on Michael Jackson-themed night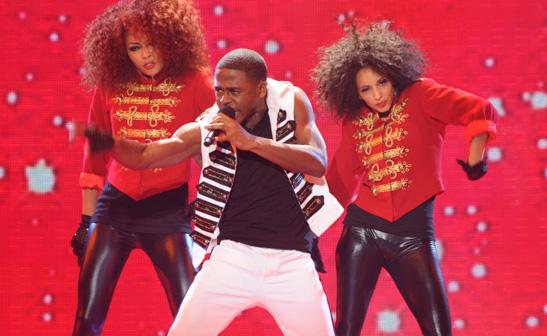 By Jilliane Johnson
Brace yourself: The remaining contestants perform songs from the late, great Michael Jackson. We already lost two contestants last week, but Thursday night we will lose two more on "The X Factor." Plus, Paula is now the only partial judge. (What does that say about her as a mentor? Think about it.)
Last Night on TV: Watch recaps | Photos: See performance pics

Is anyone else scared about some of these performances? I'm thinking Marcus Canty, Melanie Amaro and Josh Krajcik will be pretty good. As for everyone else ...
More: 'The X Factor' on BuddyTV | Bing: More about 'The X Factor'


Jackson Surprise!
Brothers Marlon, Tito and Jackie Jackson are in the building! No pressure, everyone. Kids Prince, Paris and Blanket, as well as mother Catherine Jackson, are also in attendance. "'The X Factor' is my favorite show," says Momma Jackson. How cute is she?
Josh Krajcik -- "Dirty Diana"
One of my personal favorites, Josh tries out his own spin on it. It starts off a little weak, and there is a lot of music and distraction with the half-naked women, but it sounds pretty good. No one can deny his guitar playing skills are impressive, though. Oh, yeah, and my previous prediction was proven
wrong!
Astro -- "Black or White"
The production looks great. All the dancers are dressed as dancing soldiers, and Astro even does a little jig at the end. He has some fun with it, but I don't believe it's his best performance. Astro really needs to find another way to wow the crowd. The same format will get old eventually. Every judge but Nicole loves it, though.

Drew Ryniewicz -- "Billie Jean"

Simon has struck gold with this performance. Drew sits on a chair, looking like a schoolgirl. Under a spotlight, she sings, almost pleading the audience to believe when she says, "The kid is not my son." I love it. Her voice sounds great on this track. So now, next week, Drew should do a really fun song.

Rachel Crow -- "Can You Feel It"

So Rachel is cute. We all know this, but this isn't working. There's too much sparkle with the outfits, the gloves, the shows, the disco balls. Plus, her vocals could be a lot better. Rachel seems to be very much out of her element this week. Side note: Simon does not take criticism well -- as if we weren't already aware of this after "American Idol."

Marcus Canty -- "P.Y.T. (Pretty Young Thing)"

This choice of song is perfect for Marcus. The entire setup is like something from the I Don't Want to Be in the Bottom Three Again Tour. He even has some audience participation going after a backflip and great vocals. Everyone loves it except for Simon. Apparently, he thinks he knows what it takes to perform as part of a spectacle. I would pay to see that.

Chris Rene -- "I'll Be There"

You know, it's hard not to feel for this guy whenever he steps on stage. I can respect his dedication to commit to the song in MJ fashion, but the vocals are not his strongest. Chris connects to the lyrics and the audience, more importantly. Paula makes a point on this night, though. He does his best when he can rely on his original lyrics.

Melanie Amaro -- "What About Us/Earth Song"

Once again, she is in her element. With a choir-like backup, Melanie shines and dominates, both in her leather outfit and her performance. Nicole says, "If that performance doesn't save a small country, I don't know what will!" Quite extreme, but I believe I understand how she feels. Best of the night, easily.

That's all folks, until tomorrow. Tune in to see which two contestants will be leaving the competition. Tinie Tempah will also be onboard for a special guest performance!
"The X Factor" airs Wednesdays and Thursdays at 8 p.m. ET/PT on FOX.