'Dancing With the Stars' Recap: Ricki's Riding High
Ricki Lake shoots back to the top of the leaderboard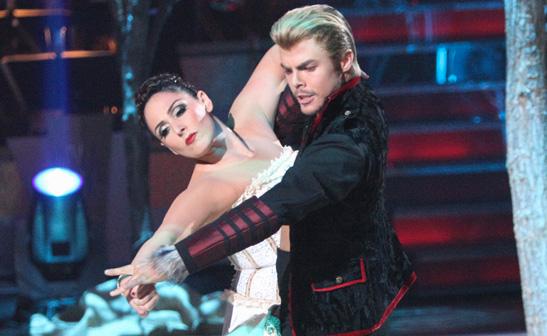 This week's Halloween-themed routines were generally fun, but scores were pretty low across the board. Ricki topped the judges' leaderboard with a gorgeous paso doble and Nancy landed at the bottom after a problematic jive.
Last Night on TV: Watch recaps | Photos: Check out the hopefuls
The contestants also did two group dances, a tango and a paso doble. The tango – danced by David, J.R. and Nancy – got mixed reviews from the judges. Len praised the group portion of the routine, but called the solos disastrous, and neither Bruno nor Carrie Ann contradicted him. Rob, Ricki and Hope's paso doble went off a bit better. The judges were floored by the moody, weird routine – and although all three stars gave it their all, Len singled second-place finisher, Rob, out for praise.
Bing: More about 'Dancing With the Stars' | Video: Watch full episodes and clips
Here's a quick guide to the stars' performances this week:
David Arquette
David and Kym's cha-cha may have had a magic theme, but it wasn't quite magical. His rhythm was a little off, and his knees were a bit stiff, but overall his technique was good and he seemed comfortable out on the floor. Len was a fan of the routine, and Carrie Ann called his improvement "phenomenal." The magician is hanging in there.
Cha-cha: 24/30
Tango: 23/30
Score: 47/60
J.R. Martinez
J.R. and Karina's Ghostbusters-themed tango was a lot of fun, but it wasn't Len's favorite. Sure, there were some cheesy elements, but the routine featured a jaw-dropping lift. As usual, J.R. totally sold the performance. Bruno said he was "bewitched, conquered, and swept away" by the routine, though he pointed out that J.R.'s timing was slightly off. Len was a little more blunt – he used the word "substandard," and went on at length about how J.R.'s footwork could have been better. Everyone has an off week, right?
Tango: 25/30
Tango (group): 23/30
Score: 48/60
Nancy Grace
Nancy and Tristan's devilish jive was really ambitious – and ambition got in the way. The judges have been pushing Tristan to ramp up the difficulty of his routines, but he pushed Nancy beyond the limit this week. She made quite a few mistakes, though she kept smiling through it all. Let's hope the votes will come through where her footwork didn't.
Jive: 21/30
Tango: 23/30
Score: 44/60
Rob Kardashian
Rob and Cheryl's "Addams Family" tango was phenomenal! The routine was tricky, and he held his own and then some. Rob's timing was amazing, and he clearly took the judges' suggestion that he seriously take control of the dance. Carrie Ann called this Rob's best dance so far, and I can't disagree. It's looking like Rob's a contender.
Tango: 25/30
Paso doble: 26/30
Score: 51/60
Ricki Lake
Ricki was dancing with an inflamed nerve this week, but watching her on the floor you never would have guessed it. She was completely on her game, and the Little Red Riding Hood paso doble she danced with Derek was downright thrilling. All three of the judges loved it. Carrie Ann praised her transitions, though both she and Bruno commented on Ricki's tensed shoulders. All in all, a thrilling performance that got Ricki rave reviews.
Paso doble: 27/30
Paso doble (group): 26/30
Score: 53/60
Hope Solo
Hope and Maks' werewolf-ish samba was unusual, but not in a bad way. The routine had a little too much going on in terms of choreography, but Hope was much more comfortable on the floor than she's been in other weeks. That single factor made a huge difference in terms of her overall performance! Bruno complimented her improved timing and placement, and Carrie Ann praised her for being more relaxed on the floor. Is there hope for Hope yet?
Samba: 24/30
Paso doble: 26/30
Score: 50/60
Who won the judges over: Ricki and Rob
Who dazzled the audience: Ricki and Rob
Who needs to step it up: Nancy and David
"Dancing With the Stars" airs Mondays at 8 p.m. and Tuesdays at 9 p.m. ET/PT on ABC.