'The Bachelor' Recap: Enter the Crazy
Was this the franchise's nastiest episode ever?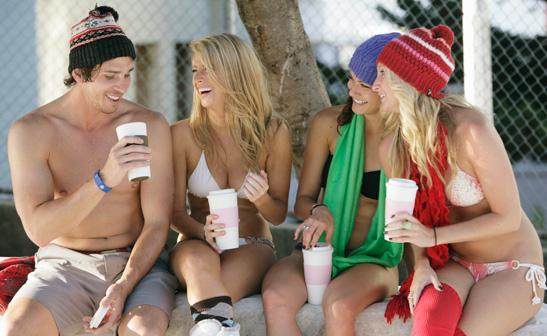 By Diane Vadino
Special to MSN TV
This episode of "The Bachelor" is introduced without much fanfare from Chris Harrison -- a first, possibly -- and yet it is, without a doubt, one of the nastiest, vilest episodes this franchise has ever aired. At a certain point, it even crossed the line from from entertainingly nasty to psychotic, unpleasant, I-sort-of-wish-I-was​-watching-Hurley-on-​"Alcatraz" nasty. But we're getting ahead of ourselves. 
Bing: More about 'The Bachelor' | Photos: See the contestants
We open this episode in San Francisco. Ben loves San Francisco. Ben speaks about San Francisco with the sort of unalloyed, bashful enthusiasm he can't entirely muster for any of the actual women on the show. We begin with Ben's sister. "The girls are incredible," he tells her. "Really?" she says. If we were writing out this dialogue, we'd add: "she says, doubtfully." ("Skeptically," "incredulously," or "disbelievingly" would  also work here.) "The girls are professional," Ben says. ("Defensively.")
The recipient of this week's first one-on-one date is, indeed, one of those professional women: epidemiologist PhD candidate Emily. ("She's very well educated, but book smart can be a little boring," Courtney hisses. Hissing is her chief method of communication, followed by snarking and kvetching.) Luckily for Emily, she doesn't have to deal with Courtney -- though she does have to confront climbing the Bay Bridge, to a point 535 feet above the water. Emily doesn't like heights, so this challenge is almost as frightful as dealing with Courtney, and she freaks out, midway up. "Talk to me, Goose," Ben says, in what is presumably the episode's only "Top Gun" reference. Ben confers his magical bridge-climbing power through his kiss. We are treated to approximately two million metaphors involving bridges, bodies of water, climbing, challenges, and so on, the most comprehensive of which is Emily's: "A bridge takes two things that are separate and brings them together." Which means this show is the "bridge" in bringing me and my remote control together, so that we may flip to "Alcatraz." There's more date to come, of course: dinner and rose chat. "You're quick and you're witty and you just get it," Ben tells Emily, but because she's not a model (like Courtney) her time here seems limited. "I think you're probably smarter than me." A rose is exchanged, along with an awkward hug/kiss combo. "I can't imagine anything topping this," says Emily, who probably understands that she gets the bed farthest away from Jaclyn when she feeds the producers lines like this. Cue: fireworks. "She definitely got a rose," one of the women back at the Fairmont gripes. She's right. 
Next is the group date, which perplexingly involves destroying someone's afternoon by dumping a whole load of snow in their street. Honestly, if ABC showed up with a snow plow and this cast on my street, everyone who lives here would call the police. For some reason, Ben and his harem take off their clothes, and the women ski down the hill in their bikinis and knee socks. We move on to the cocktail party, but the real drama is actually going on back at the hotel, where Brittney has just been given the one-on-one date card. She looks like instead of receiving a Bedazzled key to the city for her date with Ben, she got an audit notice from the IRS. "I'm conflicted," she says.
Back at the cocktail party, it's going on more or less as we would think. "I don't think there's going to be any drama tonight," Ben says, which is basically a cue for Brittney to enter the scene with her aubergine rolling luggage. "I feel like I don't even deserve a chance with you," she says. "I don't want you to waste a one-on-one date in San Fran." I truly hope that is code for "it's not you, it's me," which is itself code for, "somebody call me a cab, and fast." If she just chickened out, that is sad. It's interesting, though, to compare how Ben takes this versus how Ashley took a similar encounter last season: "I was on the fence with Brittney -- I gave her the date card. I wanted to figure it out, and she kindly declined." That's Ben's reasoned, mature, guy's take. Ashley's take would have been rolling into the fetal position and weeping. There's a message here, ladies. 
Brittney's loss is Lindzi's gain, and Ben takes her out for a tour of San Francisco -- which includes one of those non-cable-car cable cars, ice cream, and dancing in City Hall to a musician named Mat Nathanson, who Lindzi had definitely not heard of until someone at ABC sounded out the name for her. Lindzi tells the sad story of her ex-boyfriend, who supposedly broke up with her by text, with the message: "Welcome to Dumpsville: Population, you." I could be wrong, but I am calling shenanigans on this 18-month "relationship": If that's how it ended, I literally cannot imagine what it was like to be in that relationship. Ben plays David Gray's "This Year's Love" on a piano and Lindzi gets all weepy: "It's seriously amazing," she says. 
It's the final cocktail party. We have lots of makeup, women saying ridiculous things ("She's the kind of girl your boyfriend would cheat on you with," says Courtney of Blakeley), and the usual jockeying for position. So far, so normal, but then we have tonight's big surprise: the reveal of the mystery addition to the cast, Brad Womack-reject Shawntel. "My feelings for Ben are really strong," she tells us. It is not an understatement to say that this makes the women go into a group psychosis event that could turn a straight man...at the very least, into a celibate. "These girls are going to hate me, and I'm willing to take that risk because I want to be with him for the rest of my life," Shawntel says. Amazingly, her too-heightened emotional response is less insane than what's going on around her. It's like watching a room full of monkeys set upon a mouse. "I hope these women are gracious and welcoming," Ben says. I hope if he's still dating any of them, that he sees this and immediately breaks it off. "Get on with your life, you … creeper," someone says. Jaclyn: "We don't reuse Brad's Dumpster trash." Courtney makes an empty threat about leaving if Shawntel gets a rose. "I saw you talking to what's-her-butt," she tells Ben. Classy, classy lady, there. Erika passes out, presumably done in by all the crazy floating around the room. 
At long last, it's time for the roses...and with one left, everyone is safe but Jaclyn, Erika, and Shawntel. Erika faints. It's a pretty ho-hum fainting. Ben then makes a long-winded speech about how great they all are...but he'll be holding onto that last rose. He chooses himself! And the other ladies who already have roses. Jaclyn marches off in tears. Shawntel is clearly the most upset. "I'm flattered that you've come all this way," Ben tells her. Ugh, "flattered." The worst! "I just didn't think it was fair to myself and to you and the rest of the girls," he adds. Read: I'm just not that into you. Shawntel says something about how he only made that choice to be fair, but she's crying because she knows he's just not that into her. "No hard feelings, I hope." That's basically what Ashley told him last season, and it goes down just about as well here. 
Next: More crazy Courtney, and we're off to Park City, Utah. 
"The Bachelor" airs Mondays at 8 p.m. ET/PT on ABC.

I can't beleive you only had nice things to say about Undercover Boss.  That Cloobeck guy was clueless-he treated his wife poorly, he got defensive when he screwed up, and I'd like to know how is "just say yes" policy goes if a guest asks for a hooker or some blow.  He was a self important jerk and no amount of handing out cash at the end could fix his bad attitude. 
Are you sure you want to delete this comment?