'American Idol' Recap: Los(t) Angeles
Where the streets aren't paved with golden tickets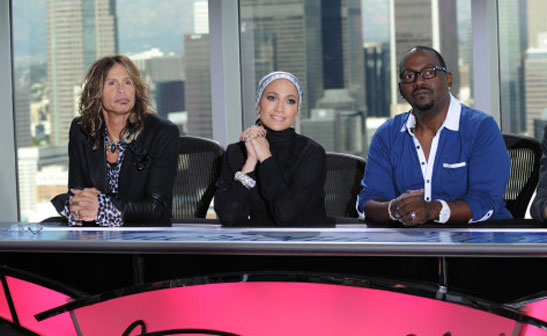 By Carla Patton
"American Idol" is going to L.A., Ryan Seacrest's natural habitat. I feel betrayed that they didn't use "California Love" or at least have a montage to "California Gurls." Betrayed. But L.A. is the land of hopes and dreams, the land of aspiring stars! Surely some real talent will come out of Los Angeles, as well as some crazies. Mostly just crazies.
Bing: More about "American Idol" Season 10 | Photos: See Season 10 gallery 
Before we settled into L.A., we got a reminder of Brett Loewenstern, Lauren Alaina, and Casey Abrams. Oh, should we be watching them closely, "American Idol"? I had no idea (yes I did). Did you guys see that old guy who came out to audition? He's probably one of the Myspace picks we'll be seeing tonight (because no one uses Myspace anymore).
More: "American Idol" on BuddyTV | Play "American Idol" Audition BINGO
They're Going to Hollywood!
Tim Halperin: He's working the "I have a crush on J.Lo" angle, which seemed to charm everyone. Randy, naturally, got offended that he sang directly to Jennifer. I love this guy, though, because we went to the same college. Go Frogs! Randy said no, but J.Lo could not deny Tim a ticket. They all told him he needs to work on his voice and find his vocal identity, though. Find yourself quick, Tim! Hollywood Week is next week! What do you mean these auditions don't take place live?!
Karen Rodriguez: She probably made a Myspace account so she could be eligible for this. And she is beyond eligible -- she's great! Karen saw J.Lo on "TRL," which also probably made her feel old. Jennifer's already wearing an old-lady rain bonnet. Oh wait, I think that's a trendy headscarf. I don't know fashion.
Mark and Aaron Gutierrez: Ryan let them in together, which is a good sign. These brothers rocked some Bill Withers, and some Gap spring colors and accessories. "There's nothing like two brothers singing together," Randy stated. Is that so! They each got a golden ticket, of course.
Heidi Khzam: The bellydancer worked her magic on Randy and Steven. An eye for an eye, J.Lo, a Heidi for a Tim.
Stay at Least 50 Feet Away From Hollywood
Victoria Garrett: Bless her heart. The Lord loves all sounds, the judges do not.
Best Buds Isaac Rodriguez and Daniel Gomez: Daniel went first, and it did not go well. I guess they only let people who are great audition together. "This is not for you," Randy told Daniel. Then Isaac came into the audition room and J.Lo practically deflated. "You set the song on fire, but," Steven Tyler began, "but you burned the song down," Randy Jackson finished. The verdict was in: "Singing is not what you should be doing."
Tynisha Roches: Oh no, she's gotta go. Bring back "Younique" please! Stop saying "ow." Make it stop. Randy's response was just to throw up his hands in surrender crying, "What is this?!" I don't even think Tynisha knows, Randy. Tynisha wouldn't stop singing so Randy actually walked out of the room. After chasing Randy, Tynisha was ushered out by security, singing the whole way. I think I loved it?
Matt "Big Stats" Frankel: Is this guy real? Please say he's real. CHAKA KHAN! Or more like KHAAAAAAN! Nobody beefs with my boy Randy!
Most of L.A.: It just wasn't going well. I'm guessing Matt "Big Stats" Frankel already snatched up all of L.A.'s talent for his label.

I'm going to include "The Human Tornado" in this group because it was just scary and I don't want to think about it too much. I think he might have actually been crazy, which makes talking about him feel a little exploitative. He didn't even know what he was auditioning for, he kept saying, "I'm gonna be the next American!" I'm uncomfortable!
I guess the talent is hiding in San Francisco.
Was this disappointment of an episode even worth watching? Do you have high hopes for anyone who came out of L.A.?

Sound off on the Los Angeles auditions: "American Idol" message board
"American Idol" airs Wednesdays and Thursdays at 8 p.m. ET/PT on FOX.
Are you sure you want to delete this comment?