'The X Factor' Recap: Tears and Jeers
Rachel Crow's elimination triggers uncontrollable sobbing and booing directed at Nicole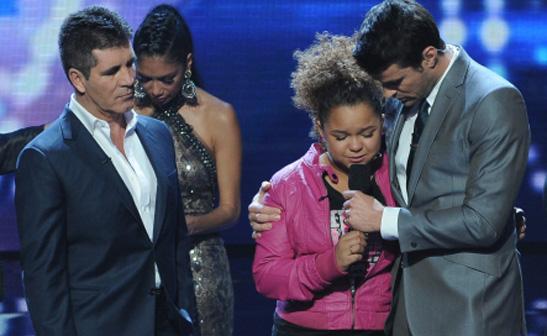 By Meghan Carlson
Hello, "X Factor" eXperts! It's time for the results show, and Mary J. Blige and Lenny Kravitz are coming to visit. So far this season, the lovely and judicial Jilliane Johnson has been bringing you "X Factor" recaps. But now that we're down to the final five (soon to be final four), the competition is heating up, so I'm taking the reins on recaps from here on out.
Last Night on TV: Watch recaps | Photos: See performance pics
But before all the Pepsi-themed pomp and circumstance, who do you think will get the boot just shy of the "X Factor" final four? I don't know how to choose. This is as solid a final five as we could have hoped for this season, and I know I'll be sad to see any one of them go.
More: 'The X Factor' on BuddyTV | Bing: More about 'The X Factor'

Lenny Kravitz Performs

Mostly, I just keep thinking about how he's going to play Cinna in the upcoming "Hunger Games" movie and wondering how he'll do. The performance kicks off with a new song but then quickly segues into "Are You Gonna Go My Way?" -- also titled "That One Lenny Kravitz Song We All Know."

Steve Jones on Lenny Kravitz: "No man should look good in that much leather." Oh, Steve, you endearing British robo-host. That's what you took away from the performance? Do you actually hear the words that come out of your mouth?

Then we get a bird's-ear listen at last night's performances. All of the final five -- Marcus Canty, Josh Krajcik, Rachel Crow, Melanie Amaro and Chris Rene -- had their highs and lows. Melanie and Rachel both got rave reviews for their vocals, though song choices once again became a point of contention. Simon went after Josh especially hard, but you know it's because he sees Josh as his (Melanie's) biggest threat. Marcus is still striving (but struggling) to overcome his past two times in the bottom two. And Chris Rene had a major moment of redemption when Simon called his original performance a "stroke of genius."

I've said it before, and I'll probably say it again until he gets eliminated or wins: If Chris can find a way to keep working his original music into all the covers he's being assigned, he might have this thing in the bag. People just adore his perspective, his story and his spirit. But then again, Rachel is America's sweetheart, Marcus is the show's showman, and Josh and Melanie are neck-and-neck for having the best voice of the competition. How do you choose?

"Watching Stars Being Born"/The Show Acknowledges How Over-Produced It Is
Well, at least that's how I interpreted the next segment about the massive amount of prep, wardrobe, makeup, backup dancers, smoke machines and screaming production assistants that it takes to put on each "X Factor" performance.

Results

It's time to find out who's safe for the semifinals.

Safe: Josh Krajcik

The Krajcik Magic has put a spell on America.

Safe: Chris Rene
America loves an original. That's what Chris is -- and what he sang last night.

So far, I am pleased with the results. Marcus, Melanie and Rachel have to wait a little longer to find out their fates. Sadly, if I were Marcus Canty, I'd probably be seeing the pattern here and be preparing for the worst. I'm not sure why America isn't giving him their votes, but I doubt, if he lands in the bottom two again, that the judges will opt to save him for a third time.

Pestering the Unsafe

Steve Jones makes poor Rachel Crow cry by asking her, "How badly do you want to be in the final four?" Marcus seems hopeful but mostly resigned to his fate, while Melanie thanks her fans and tries not to freak out.

Mary J. Blige Performs

Donning an impressive blonde beehive and an elegant space-age white dress, Mary sings her sweet, lullaby-esque "Need Someone." I'm only 26, but I'm pretty sure that, when I'm old and gray, Mary J. Blige will still look and sound exactly the same. God, she's so freakishly, sickeningly fabulous.
More Results

One final performer is about to learn if he or she is safe, and the others will be in the bottom two. In other words, one of Simon's girls will hit the bottom two for the first time, and Marcus is probably going home.

Safe: Melanie Amaro

You knew that was coming. Her voice cannot be denied.

Marcus looks like he just wants to get this over with. Poor guy. "Bottom two again?" he says. But he's accepting: "I just gotta go out and deliver -- from the heart." We hear Rachel Crow tell Simon, "I got this!" and then she tells Marcus that she loves him. Aww. Can't we just keep them all?
"Save Me" Songs

Well, since the performers sang their original "Save me" songs as their second performances Wednesday night after the Pepsi song mix-up, they probably didn't have much time to prep for these. It should be interesting to see whether Marcus' seasoned, emotional delivery can outshine Rachel's deadly mixture of talent and cuteness.

Marcus Canty -- "I'm Going Down" by Mary J. Blige

Um, how many times have we heard this song on this show so far this season? No matter, Marcus sings the s-word out of it. He knows -- and we know -- that this is his final shot, and it's a long one. The song is actually the perfect mixture of lamentation and frustration -- which is probably what he's feeling right about now.
But is it enough to save him? I still think the judges will yield to public opinion, which doesn't seem to be in Marcus' favor.

Rachel Crow -- "I'd Rather Go Blind" by Etta James

Anyone who thinks young Rachel is a novelty act ought to consult this performance, because this is not the voice and presence of a child star. Girl can saaang. She even held her notes when she was literally crying. Rachel wasn't lying when she told Simon she got this.

Now it's time for the judges to make their save. My prediction: L.A. saves Marcus, and the rest save Rachel. But let's see what happens. You never know with these four.
Elimination

L.A. Reid: He says this is the toughest decision of the show so far. Rachel surprised him with how she pulled out that performance. "I am a man of principle. And based on that, I will stand by my man." L.A. chooses to send home Rachel.

Simon: He doesn't mince words, because it's obvious. Simon chooses to send home Marcus.

Paula: She says that both were amazing. But the one who "blew her away was Rachel," so Paula chooses to send home Marcus.

Nicole: It's all up to Nicole -- which we all know is a recipe for tearful, drawn-out disaster. Yup, that's what happens. Nicole dabs at her eyes and holds her head in her hands. Thank god for Rachel Crow, who pleads with Nicole, "Please don't cry. I'm good with anything." Bless that girl. Nicole finds a way to make this about herself: "I can't make this decision because I've been there before." She says she's choosing Rachel, so that it will go to deadlock, and America's votes will decide who's out.

Eliminated: Rachel Crow

Poor Rachel, who clearly didn't actually see this coming even though she said she was good with anything, collapses on the stage and sobs uncontrollably. Nicole starts sobbing uncontrollably. Everyone is sobbing uncontrollably.
Simon and Rachel's mom pick her up off the floor and promise her that everything will be OK. By the time her season-in-review montage is over, Rachel seems a little bit more composed. Steve Jones asks what her highlight of the season was, and she says, "I love you so much, everybody, for voting for me. And thank you for giving me this." She vows that this isn't the end for her and then thanks her family and everyone.

Simon thanks everyone who voted for Rachel and says that she went out on the highest of notes. Which is very true. (Off in the distance, very faintly I can already hear Rachel Crow's phone ringing. Disney's on the other end of the line, and they want to give her a movie deal!)

But the episode doesn't go out on a high note. In fact, the opposite. Steve tries to get a comment out of Nicole, but the audience boos her, and she shrivels up and sulks away. Ouch.

Thoughts on Rachel's elimination? Is Marcus basically doomed for next week? And will Nicole Scherzinger ever recover from the traumatic experience of doing her job?
Did Rachel deserve to go home?
"The X Factor" airs Wednesdays and Thursdays at 8 p.m. ET/PT on FOX.