'The Voice' Recap: The Final Battles
Tensions run high with six final spots left to fill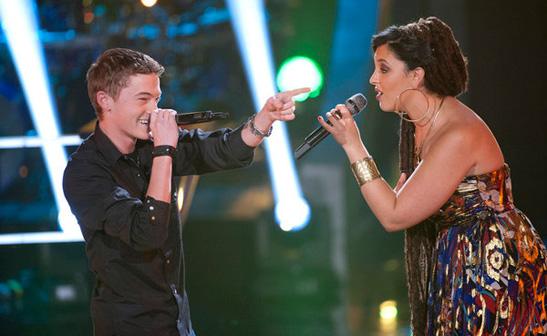 Tensions were high out of the gate on this most recent episode of a thus far stellar sophomore season of "The Voice."
Bing: More about 'The Voice' | Photos: Meet the contestants
Even so, the first two "battles" were actually somewhat shrug-inducing, so-so affairs. Cee Lo, that lover of '80s fare, assigned a tried-and-true '80s nugget, "True Colors." Brought to tears during the rehearsal, the money was on Wade going in, as Boston boy James Massone was a bundle of nerves. It was unanimous, however, when all was said and done: Massone brought it and took the prize. Then Levine, ever the lover of the more recent stuff, had Nicolle Galyon and Mathai perform "Love Song." The mentoring was mild, with Alanis Morissette continuing to need a translator. Levine himself dubbed the sparring a letdown, ultimately selecting Mathai to move forward.
Last Night on TV: Watch recaps | Video: Watch full episodes and clips
Next up ... an upset. It wouldn't be "The Voice" without one, right? Christina put country duo The Line up against Moses Stone, two total opposites as far as style, genre and pretty much everything else, and Shelton summed it up perfectly when he called the result "pretty weird." The judges were unanimous in their support for Leland and Haley of The Line, but XTina chose ... Moses! It was a stunner, with Haley even refusing to comment to the cameras immediately afterwards.
When Levine returned to finish rounding out his team, the choice of song, the Hall & Oates classic, "Rich Girl," was inspired, especially considering soulful Orlando Napier being one of the contenders. He went up against Karla Davis, and when the song suddenly changed to "Easy" by the Commodores, Napier was ecstatic, stating "it favors me because it's soul." Google some Darryl Hall, buddy. Perhaps that's why Davis bested you ... although this was a damn close one -- exactly what Shelton said as he wished Levine luck in making his decision.
Speaking of Shelton, his final pairing was Naia Kete and Jordan Rager tackling Jason Mraz. Honestly, (for me anyway) the "coming up" moment where we got a glimpse of the Tony Vincent/Justin Hopkins bout overshadowed this performance. Still, Kete took it.
And then it came. Tony Vincent versus Justin Hopkins. Cee Lo kept the '80's coming: Journey's "Faithfully," which he called "epic." The guy was brought to tears during a rehearsal again! You just knew something special was coming. A Broadway veteran (Vincent) against a true bar-band guy (Hopkins) -- this was heavyweight territory; theatrics versus throat, respectively. Justin got two out of the three judges' seal of approval ... but not the one that counted most: Cee Lo's.
Next week "The Voice" goes live, and being on your best behavior might be some of the contestant's only savior.  
What did you think of Monday night's episode? Tell us on Facebook
"The Voice" airs Mondays at 8 p.m. ET/PT on NBC.

The premise of The Voice makes for a very unpleasant experience. The so called 'judges' pick their best talent, then pit them against each other, and decide which to eliminate. Their choices and decisions are questionable to say the least.
Why has Christina Aquilera had the grate from a shower drain on her head for several weeks?
It is a ridiculous show, needs to be canceled quickly.

I actually didn't think the performance between The Line and Moses came off as weird.  I think the chick from the duo had a poor attitude going into the battle by not embracing the challenge.  I liked Moses he had stage presence, his voice was good, and he showed versatility by embracing the song.  I like the male part of the duo but the not female.  Together the sounded like a wedding band.  Blake's pairing seemed weird their voices didn't blend.  I also didn't think it was not fair for him to pick a song that favored one contestant over the other.  Ceelo is stuck in the '80's but I thought Justin was better than Tony.  He turned a Journey song into a rock opera.

I am sorry to say that The Voice is starting to be a disappointment...the​ songs selection has been so boring, just ballads..why??? and the judges picks...upsetting!! The Line did a way better job than Moses, are you deaf Christina? but even worse when Blake picked the little blonde country girl. I never understand Alanis Morrisette 'advise', and what the hell Jewel has to do with Christina? at least Sia is way more talented!
They need to step it up! ... and I am also tired of watching the judges with the same clothes for a month, it doesn't matter if they recorded everything on the same day...Christina's hat is annoying!
Are you sure you want to delete this comment?