'The Bachelorette' Recap: Week Three
Three guys self-implode as Emily's friends grill the pack
By 
MSN TV
 May 29, 2012 11:43AM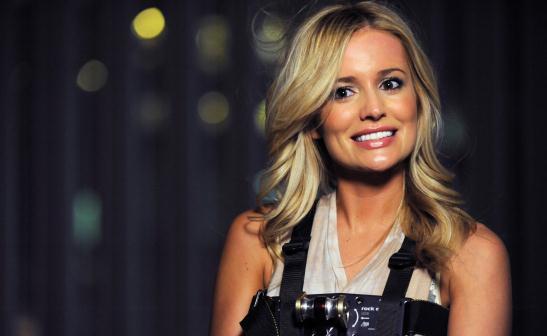 By Diane Vadino
Special to MSN TV
It's week three of "The Bachelorette," and this is shaping up, against all odds, to be an entertaining outing: I literally don't remember a season when the bachelorette managed to keep her sanity together to such a degree, and to not dissolve into weeping and wailing or spasms of "He's too good for me" insecurity. (Oh, Ashley—it all worked out in the end.) If Emily's resolve is due to her having a kid, the show should only cast single moms moving forward. I'm so relieved we're seeing echoes of that tough, flinty Emily we only see a couple times during Brad's season rather than how Brad seemed to view her: as a pretty girl with a hot body and not much to say.
Bing: More about Emily Maynard | 'The Bachelorette'
The first date card tonight goes to...Chris. We're still in Charlotte, and they're going to be climbing up the wall (er, of a mall? an office building?)—which gives Chris the opportunity for the evening's first adventure sport-slash-relation​ship metaphor: "Climbing the building is definitely like love—you have to start somewhere, and we're starting at the bottom." Honestly: Do they give these guys $50 for each one that makes it to air? At the top of the wall, Chris makes entirely too big a deal about whether or not he'll get to kiss Emily, before awkwardly high-fiving her: "I definitely want to kiss her, and I hope that opportunity will present itself, and we'll have a first kiss." If you thought the word "kiss" couldn't become totally creepy through overuse, you'd be proven wrong by Chris. "I really want to get that rose and maybe a first kiss," he adds. Emily asks Chris about his last relationship, and Chris tells her all about his high school girlfriend. Who he just broke up with. Which makes him.... "Twenty-five." Emily, literally, laughs. "It's a little bit of a red flag," she says. Chris still gets the rose, but there's an asterisk on the win, even as Luke Bryan sings and Chris (at long last) gets that first kiss. It's just as cringe-y as we have been led to believe: "Kissing Emily is the greatest thing I've ever experienced in my life," Chris says. Really, Chris? Really?
Next, we have this week's group date, which is at the park. Isn't it a relief to have these low-key dates? The genius (well, such as it is) of these dates isn't the helicopter/bungee jumping/etc., but in twisting the knife a little bit. Today, at the park, it's with the help of Emily's mom buddies, who have been recruited to evaluate the guys. It's maybe not as good as having children torment them (like last year, on Ben's theater date in Napa), but it's great in its own way. "Are you willing to get rid of your egg?" they ask the dude with the ostrich egg. "Have you ever cheated on a girl?" Wendy asks Wolf. "Don't lie." And: "Here comes Jersey!" they yell when Stevie comes in. They force Ryan to do push-ups. "You'd look good in a cape," Wendy says. "Or some Spandex." We see a bit of Sean assuring us that he won't be taking off his shirt today ... and then doing exactly that. Because the balance of power on this show—either this one or "Bachelor"—is so rarely with the lady, it is totally awesome watching Emily's mom friends grill the dudes. 
Photos: 'Bachelorette' stars: Where are they now? | This season's contestants
There's more to the date: Emily blows a whistle and a herd of children dashes onto the playground, sort of like a Greek goddess conjuring a storm. Emily and the women are taking notes about who handles the kids well (Jef, barefoot and on a slide, for example) and who doesn't. Speaking of fails, we have Ryan. They're talking about how pretty he is when someone makes a joke about Emily getting married—and getting fat. "As soon as I get married it's downhill," Emily says, jokingly, to Ryan. "Is that okay with you?" As a former pro football player, Ryan should be able to recognize this as a fumble: "Well, no, it's not," he says. "I think you need to be at your very best." It sounds like he's trying to make a stand against obesity in America, but it comes out more like he's just sort of a douche. "I would have a problem if you just got lazy," he says. "I would still love you—I just might not love on you as much." Emily: "He has the guts to tell me I better not get fat after we get married. It's not a good move." Later in the group date, Tony cries so much about missing his son that Emily takes pity on him and sends him home. Doug is nice to him about it ("He's five, dude—he has the attention span of a hummingbird"), and I think I have a crush on Jef. That dude is adorable. Sean gets the rose.
For tonight's second one-on-one date, Emily and Arie will be traveling by private plane ... to Dollywood. "For me, this is the happiest place on Earth," Emily says. In keeping with this season's theme of actual stars (see also: the Muppets), Dolly Parton shows up to serenade the couple. Emily and Arie dance: "This is like the best moment of my life," Emily says, and this is basically the first instance of someone saying that on this show and meaning it. "[Dolly] speaks her mind and wears costumes every day—she does not care. I wish I could be more like that." Dolly tells a totally star-struck Emily that true love is possible—and she knows because she's been married for 45 years. "I would not have known that this is their first date," Dolly proclaims. Over dinner, Arie admits that his ex-girlfriend, a mother of two, broke up with him because (a) she didn't want any more kids and (b) he reminded her too much of her ex-husband, another racer. He asks Emily if she could handle the travel schedule, and she is so enthusiastically yes-yes-yes about it that she literally almost jumps out of her seat. Unless he follows Ryan's crash and burn—Arie for the win?
That should be the end of the drama, but it's not—we still have time to spend with Kalon and Alessandro. The producers must have just insisted that Kalon hang out a bit more, because he's clearly revealed his true self to Emily: "Thanks to you, I had the week off," he says, miffed that he didn't get a date card. "I really took it personally when I didn't get a date this week." It's funny how rarely the guys complain about this—but it's a good thing they don't, since it's clearly a terrible tactic. But there's more to come: "I never had to share much in my life, so to share you is devastating," he says. Even more! How does he feel about becoming little Ricki's dad? "I always believed that my first child would be one of my own," he says. It's a miracle she doesn't ask him to leave immediately, especially when he drops an "I love it when you talk, but I wish you'd let me finish." Emily's take: "I do like tall, skinny and funny, but I don't like tall, skinny, and condescending."
Alessandro is not as lucky as Kalon. First—and we won't see the footage 'til the very end of the show—he apparently told Emily's friends that (a) he's cheated on a girlfriend and (b) he's had a one-night stand. Here's betting he's not the only one—but he was the only one dumb/honest enough to admit it. He's also dumb/honest enough to admit that he sees being a father as a "compromise." Emily is not at all into that; she wants her husband to feel like the luckiest guy on Earth. I know Emily's taken some flak for acting as if she's all that or that she's spoiled—but I say amen; it's about time this show featured a woman who believes she deserves the best. Neither Ashley nor Ali had quite so much moxie. "It's not like a language thing," Emily says, and ushers him to a limo. "While I appreciate his honesty, I'm not sure if he's someone I could see myself spending my life with."
With all these preemptive exits, everybody's getting a rose tonight but one—and that one is Jersey D.J. Stevie. How did he get on this show, anyway?
"The Bachelorette" airs Mondays at 8 p.m. ET/PT on ABC.
Are you sure you want to delete this comment?