'Bachelor' Recap: Two More Women Go Home
Chantal cries, Michelle licks and Britt falls victim to 'no chemistry'
By 
MSN TV
 Feb 14, 2011 10:32PM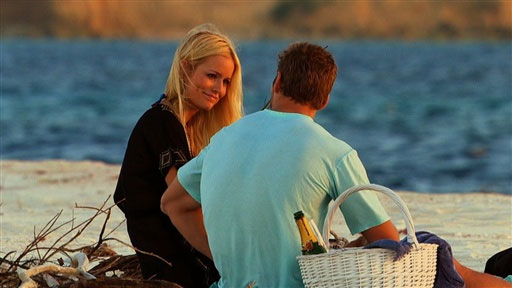 It's Valentine's Day in America, if not on "The Bachelor" — which would seem to guarantee twice our weekly delivery of amazing cheese. On this score if few others, this week's episode delivers!
Video: Watch clips and full episodes of 'The Bachelor' | Photos: See the ladies
We're in Anguilla. I swear to God, if I can't get on "The Amazing Race" next season, I'm trying out for "The Bachelor," because we all know they end up in South Africa after the hometown dates. Honestly, as long as you remember that these dudes are the kinds of guys you'd see at a bar and think, "Eh...", this show would be a piece of cake. (International travel + someone else's dime - eating sheep face = awesome!) It's lovely, and someone from the Anguilla Tourism Board, just off-screen, is praying that it doesn't rain for the next three days, like it did in last week's episode when we were in Costa Rica. Up tonight: Three one-on-one dates and one group date with the remaining three, which someone describes as a "pretty incredible group date." For once, on this show, an understatement.
Our first one-on-one date is with Emily. Where to, you ask? Perhaps to the Caribbean hotel where she first vacationed with her tragically killed boyfriend? Actually, this is the first of Emily's three one-on-one dates that doesn't key in directly to her boyfriend's death (you know, not involving a tiny little airplane or a racetrack where he once drove), so, yay, producers. First, she and Brad have what appears to be a cold and unpleasantly windswept picnic lunch on a deserted island, which is sufficiently romantic that they (shock) smooch. Emily wants more: "We're past butterflies -- we're at the point where we've got to get beyond that." Brad offers: "I care more for you than I should probably say right now." What does that mean? If my boyfriend said that I'd pinch him and tell him to do better. Brad, however, follows this with: "I finally told [Emily] exactly how I was feeling." At this point, I honestly rewound my DVR to see what big confession I'd missed. (Unfortunately I'd heard everything he had to offer.) "We're losing the sun and gaining the moon," Brad says. Well, ladies, we didn't say we needed him to be a poet, right? "I said coming into this that the only way this is going to work out is if the moon and the sun align," Emily says. They didn't, as far as I could tell, but at least we're not literally torturing Emily this week, so good for everybody. At dinner, Brad decides it's appropriate to basically tell Emily he can't move forward unless he gets to meet her daughter during the hometown dates. "I'm overprotective," Emily says. Call me crazy, but shielding your young daughter from reality television cameras seems like normal-protective to me. Good for you, Emily! Stay strong. "I understand Emily's dilemma, but I've got five other women back at the villa," Brad considers. And happy Valentine's Day to you, sir! Brad makes amends by "breaking the rules" and telling Emily that she's guaranteed a rose at the next go-around.
Next up: Shawntel. Shawntel comes off as all kinds of awesome on this date: Totally normal, natural and fun to be around. Party of one, Shawntel? They grab bikes and pedal their way into the middle of a farmer's market and a domino game. Someone hands them what I believe to be a massive coconut filled with an incredibly alcoholic drink. "Today just got a lot better," Brad says. Shawntel yelps, like: Weren't you having fun before? "I've only told two guys in my life that I've loved him," Shawntel says. Brad isn't exactly the third -- but, she says, "I'm definitely falling in love with you." The difference between these two statements is the difference between "I'm at the restaurant" and "I'll be at the restaurant in five minutes." The second one might not happen as fast as you think.
For our third one-on-one date, we have Britt, such a dark horse that she actually seems not to exist. She's more like a black hole than the sixth bachelorette. As Michelle puts it, "Not only do I not see them getting married, I don't even know if I see them friending each other on Facebook." Honestly, the more I hear this woman talk, the more I want to hear. If she weren't so intent on literally devouring Brad at any opportunity, I'd be rooting for her. Anyway, back to Britt: Nothing goes particularly well on this date. Brad says, "I just don't have the urge to just grab her and kiss her." There's no arguing with that -- and so it goes. Even though there's no rose on this date, Brad tells Britt after dinner that there's no chemistry, either. Two amazing things about this: Whenever a dinner date is going badly, there's no music. Also, after Alli's debacle last week -- when she took a brief pause during his introductory remarks, leading up to her ouster, to tell him how much she liked him -- Brad literally did not slow down as he kicked Britt out. In what might, in other shows, have ranked as an all-time cringeworthy moment, Britt follows this with: "I think a little more time might bring us to that point [of connecting.]" Brad disagrees. Exit, Britt.
We conclude with our group date: Michelle, Chantal and Ashley, which proves to be the very nightmare that list of names suggested. First is a photoshoot -- for, of all publications, Sports Illustrated and the magazine's swimsuit issue (conveniently on stands tomorrow). Ashley and Chantal both take off their tops for photographer Raphael Mazzucco -- who is one step away from Cinemax with his, "This would look incredible without a top on." But Michelle, interestingly, decides not to strip. Instead, she drags Brad into her shoot and, as Ashley puts it, gets "on top of Brad, basically licking the side of his face." The other two women pout and freak out, in turn, with Chantal clamming up throughout what looks like the world's worst four-person pool party, and Ashley just completely losing it: "Please don't send me home!" It's only more dignified than Britt because Brad actually gives her the rose, which sends Chantal into nervous breakdown-mode. "Today has been absolute hell," Brad says. Before we leave, the show manages to top Britt's mortification with an even more awkward moment, as Brad retrieves the rose, which has been stowed next to Michelle and Chantal, to give it to Ashley.
It's been a very, very long day, and Brad, like us, just wants to go to sleep, so he tells Chris Harrison that. Thank you, but no need for a cocktail party tonight. With Britt already on her way back home, just one woman will leave this evening -- and we pretty much all knew who it would be as soon as Brad told her that they were too much alike. R.I.P., Michelle. You were crazy, but we'll miss you.
Next week: hometown dates! They all look miserable except Chantal's, and even she's crying. Happy Valentine's Day!

I was really worried that Brad had taken leave of his senses, or perhaps the therapist was doing a not so good job. For the life of me, I still can't fathom as to why he (Brad) kept that lunatic Michelle around after the 1st 2 weeks...He must have had blinders on. But better late than never giving her the boot! I agree with Merangel54..I don't think we have heard the last from her..she could very easily fit the catagory of "
controller/stalker".​.I
see a few screws loose. I see Shawntel O as being a "clingy/needy" person...not a good fit at all. I really like Emily but those of us who follow Nascar (and know who Ricky was) can probably guess that there will be a very STRONG pull from those on the sidelines, to keep her in Charlotte. Since Brad made it clear he will not uproot from Austin, looks like that pairing may end before it gets a chance to go further. Sooo that leaves Ashley (the dentist) as the logical remaining lady...But I am still hoping it's Emily :-)

well I knew from the start Michelle had a agenda. But I was shocked how she took her being dropped so calmly. No screaming, crying in Limo.Somehow I feel we haven't seen the last of her. I knew from the first Ashley was his pick. He had more orlast told her 'she was the one' and that was on the third episode. Oh sweet love.
Are you sure you want to delete this comment?