'Dancing With the Stars' Recap: Last Tango in L.A.
Chaz Bono heads home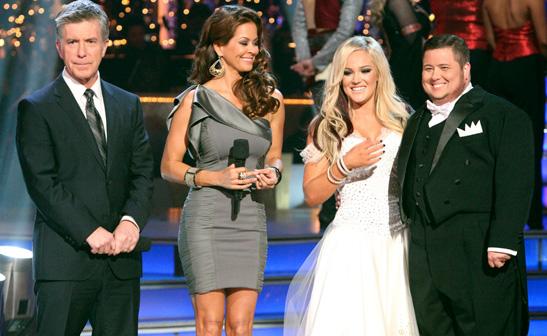 After a rough week with the tango, Chaz Bono bid the show farewell. Chaz said the experience taught him he could do so much more than he thought he would. When Tom Bergeron pointed out how much confidence and charisma he'd gained over the course of the season, Chaz replied, "I came on this show because I wanted to show America a different kind of man."
Last Night on TV: Watch recaps | Photos: Check out the hopefuls
He's got a lot to be proud of! It was clear how sad the rest of the cast was to see Chaz go – just about everyone joined him on the floor for his last dance with Lacey, and Nancy Grace looked like she was crying.
Bing: More about 'Dancing With the Stars' | Video: Watch full episodes and clips
This was a really tough elimination, but as always, the show must go on. Here's how each of the remaining stars fared this week:
J.R. Martinez
His elegant, mercurial quickstep had the crowd on its feet and the judges offering him the encore. His excellent footwork and dazzling stage presence really make J.R. the total package. He's got two dances next week, and I have a feeling that at least one of them will net him that elusive perfect 30.
Ricki Lake
Ricki's gorgeous quickstep was fresh and fun: Her timing and footwork were both excellent, and her presence onstage was the best it's ever been. Carrie Ann put it best when she called the routine "poetry in motion."
Nancy Grace
No one expected Nancy to last past the first few weeks, but here she is. Guess what? Nancy's sweet but cheeky foxtrot was the surprise of the week! It was easily her best performance to date, and will hopefully inspire her to even greater heights in the next round.
David Arquette
David's "Grease"-inspired quickstep had a great energy, but he was having a little trouble staying in sync with Kym. Len called it "rough around the edges," which seemed fair for once. He's getting better – but is it too little too late?
Rob Kardashian
Rob's cha-cha was a lot of fun, but it wasn't the judges' favorite. His timing and footwork were good, but Len wants him to work on his fluidity and Bruno wants him to step up and own the floor. Rob has been working hard, and it shows, but he'll need to work even harder to stay in this thing much longer.
Hope Solo
Hope's revealing rumba wasn't her best performance, but it had its moments. The problem wasn't the technique so much as the flow of Hope's movements. Len called the routine Hope's worst dance of the season – which prompted Maks to jump in and defend her and make things that much work. Yikes. It was good to see Hope dodge a bullet this week, but I'm worried for her.
Who won the week: Ricki and J.R.
Who needs to step it up: Hope and Rob
What do you think of Tuesday night's results?
"Dancing With the Stars" airs Mondays at 8 p.m. and Tuesdays at 9 p.m. ET/PT on ABC.