'Top Chef All-Stars' Recap: The End of a Bromance
Angelo oversalts his soup and is sent packing, but Dale dominates 'Sesame Street' and Target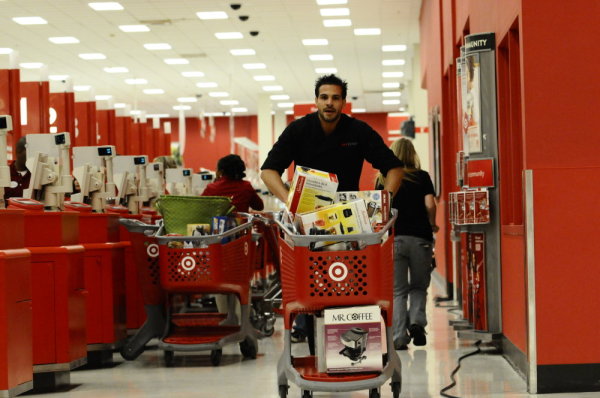 The bromance was over almost before it began. Unbeknownst to us, "Top Chef All-Stars" Mike Isabella and Angelo Sosa turned into BFFs. We were tantalized this week by scenes of Mike calling Angelo "sweetie" and Angelo feeding Mike a sip of his baked potato soup. It was all so cute and bromancey and great, but a heavy hand with the salt ended our glimpse of the new friendship. During a challenge in a Target store, Angelo's seasoning took a fatal turn toward extra salty in his soup, and by the end of this week's episode, the cocky villain from Season 7 was on his way home.

The bromance may be behind us, but we'll always have "Sesame Street," and specifically, Elmo, the most adorable puppet who ever lived. In the most delightful dessert challenge ever, squeaky-voiced Elmo, hungry Cookie Monster and practical Telly showed up in the Top Chef kitchen, cracking the chefs up with their peanut gallery commentary and causing much-needed merriment and mayhem among the chefs. When they heckled Dale Talde after he added potato chips to his chocolate ganache, potato chip and pretzel cookie, the eventual winning cookie, Dale observed, "You can't really curse at them. That just wouldn't be cool."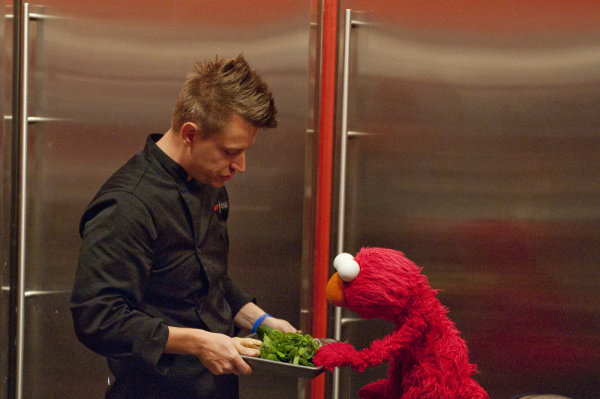 Elmo requested zucchini in his cookies, but Cookie Monster wanted  "chocolate chippies." The blue cookie fiend disapproved of Richard Blais' ice cream cookie with zucchini and chocolate chips. "It technically is not cookie," he said. They loved Antonia Lafoso's "chewy, gooey" chocolate cookies, though Elmo added they "look like cow chips. ... COW CHIPS!" We also learned that Mike Isabella has never made cookies in his life, which was too easy a target for Dale. "It's pretty amazing someone who eats so many cookies would be uncomfortable making cookies." Rim shot.

But the fun and games ended in the endless aisles of Target. For the elimination challenge, the chefs were sent to Target to pick up whatever they needed to make a meal for employees at 3 a.m., and had to shop for everything, including knives, appliances and produce.

Watching them tear madly through Target was exhausting. Perhaps the chefs are just tired, but the food didn't live up to the standard of previous episodes. Much of it didn't sound particularly appetizing — coconut curry and curried apple soup among them. Dale also made a spicy tomato soup, but he crowned his soup with grilled cheese with rib-eye that was grilled to a crisp with the help of irons, a trick he made up in college. It sounded kind of perfect for a 3 a.m. meal, and the judges agreed, choosing him ahead of Richard Blais' cornmeal pancake with two kinds of pork and Antonia's parmesan eggs. Dale rules.

It probably was the lack of sleep, but the bottom three of Tiffany Derry, Carla Hall and Angelo all either cried or looked like they were on the verge of tears when facing the judges. The judges scolded Tiffany for adding Creole seasoning to her lackluster version of jambalaya and told Carla her curry apple soup didn't have enough flavor. But it was Angelo's oh-so-salty baked potato soup that was the fateful blow to bromance and Angelo's hopes of redeeming himself. When he left, even host Padma Lakshmi looked moved. Angelo admitted he just lost it. "I've made over 40 dishes almost back to back. I think I'm just mentally fried. It's like you're so close, you had control and you lost control."

Next week, chef and "Food Network" star Paula Deen shows up, and we hope everyone doesn't immediately have a heart attack upon sight.
Are you sure you want to delete this comment?