'The Amazing Race' Exit Interview: Art and J.J.
The border patrol agents walk us through their calamitous race conclusion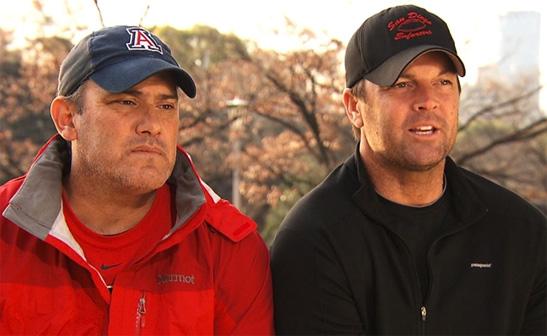 By Diane Vadino
Special to MSN TV
Art Velez and J.J. Carroll suffered an excruciating second-place finish in last night's finale of "The Amazing Race." Believing they were in second place, the border patrol agents had difficulty with a challenge that saw Art careening down a hill on a narrow sled. But things got much, much worse when they realized that they were actually squandering what had been a fairly substantial lead over eventual winners Rachel and Dave.
Bing: More about 'The Amazing Race' | Photos: Meet the teams
We spoke with the pair about that final leg, interrogating Jamie and Nary, and their Pit Stop promise to Mark and Bopper. 
Was that sledding challenge as tough as it looked? 
Art: That didn't even come to close to showing how grueling that was. I give props to Rachel; she hopped on that thing and on the second time down, she was done. 
How many times, Art, did you go down the hill? 
Art: I'd say 40? 
J.J.: I think it was closer to 50. 
What was it like figuring out that you'd actually been in first place the whole time? 
J.J.: I actually heard their voices first. Then we knew. We'd thought we were second. 
J.J., what was it like for you watching Art have such a tough time? 
J.J.: It was tough. I knew how he has the same competitive desire that I do. What people don't understand is the anxiety and the frustration that goes into it, every time. Then you start getting the attitude that "I'm not going to be able to do it." I think a lesser man would have said, "This isn't worth it" or given up. He knew he had to get down there. If I took him up on the hill right now, I'm sure he'd get it on the first try. It was just one of those things that didn't work out. But that's just how life is.
Art: When we walked up there, they were holding three sleds, and I was like, "This is going to be a piece of cake. I want to get a sled that's the quickest." So I chose the sled with the thinnest rails. Once you got it, that's the one. I never thought about not being able to balance. I just wanted to get down fast. I was looking at the sled with thick rails and thought, I need something faster. It's was as different as an ice skate to something pretty thick. 
Was it torture watching Sunday night's episode? 
Art: It was fun! We had close to 300 people watching it with us last night, and it was a blast. Of course we wanted to win, but our goal was to race to the end, and we did that. 
When you saw the fight you had with Dave and Rachel over the U Turn. Do you wish you'd been a little less aggressive about it? 
Art: To me, we're men of our word. We're men of integrity. You hear Dave and Rachel, like, "It wasn't this and that … " We had a plan -- to take the strongest teams to the finals, Ralph and Vanessa, Mark and Bopper, and Rachel and Dave, and it'd be all bets off to the final. If they'd done what they said they would do … If Dave and Rachel had been in [our] position, they would have been just as mad. 
How did you guys know Jamie and Nary were lying about being teachers? 
Art: My wife's a teacher. My mom's a teacher. My whole family's a family of educators. When you talk to them, they talk about kids or teachers or parents or administrators. We were like, "They say they're teachers, but they're not talking like teachers." People lie to us in our job every day, and our job is to figure out who's lying. But it didn't really matter because it was actually kind of funny. It's just part of the game. Personally, I could have cared less. 
How did the race change your relationship? 
Art: With J.J.? I hate him. [Laughs.] You know what, we became friends when we started working together, but now we're brothers. This is something I'll cherish for the rest of my life. He's an awesome, great man of integrity and value and conviction, and it's a good thing to have those kinds of people in your life. 
J.J. We'll be friends for life. One thing that sticks out in my mind: Art comes off as sometimes very direct and harsh in his professional life, but in his own life, he's a good, strong and Christian family man. When I got done Bollywood dancing, we got back in the rickshaw. It was the hardest thing I've ever had to do. Instead of railing on me, he goes, "You know, you did really good. We're in good shape." I remember sitting in that rickshaw, and I hoped if that had happened to Art I would be that good of a man. That was a poignant moment for me. 
As to that Bollywood challenge, were the judges too strict? 
J.J. No, I'm just a horrible dancers. I think the judges gave me the okay out of straight mercy. I have fond memories of those judges. 
And what about your promise to share your leg winnings of $10,000 with Bopper's daughter, who's been seriously ill? 
J.J. Absolutely. As far as we're concerned, we're considering those proceeds to be distributed by CBS. 
Are you sure you want to delete this comment?