'Survivor: Nicaragua' Exit Interview: Jimmy Tarantino
The former commercial fisherman says he got caught in puppet-master Marty's net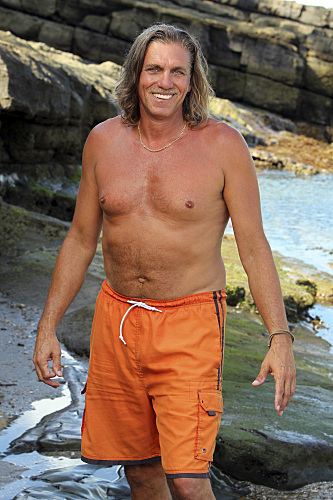 Former fisherman -- and current rower -- Jimmy Tarantino came to "Survivor: Nicaragua" game prepared -- at least physically. But it was the social aspects of the game that got the chatterbox kicked off this week, as mastermind Marty continued to plot against and protect weak link Daniel. We caught up with Jimmy T. to talk about alliances, Marty's mind games and knowing when to shut up.
You thought you were getting along great with everybody, but Marty really had it out for you, huh?

Well, I think I knew where I stood with everyone. But they had me thinking that we were going to keep the tribe strong, so I really thought Dan was going home last night. So that's what I was thinking before I went into the tribal council.
Were you surprised Dan didn't go home, considering you guys were carrying him -- almost literally? 
Well, hindsight is 20/20, as they say. But it seems to me that I was the only one that saw Marty orchestrating things, that Marty wasn't looking to keep the tribe strong at all. He just wanted to keep himself safe. Why wouldn't everybody want to vote the the weakest guy off? It doesn't make any sense to me. But he's really, as Jill put it, the puppet-master. You're the puppet-master, Marty, whatever you say. And there were a lot of people that were going along with that.
Do you think the Coach Jim was a puppet-master, too?
Oh, no! Right from the beginning, Marty was pulling the strings. He put Jimmy Johnson front and center, letting him do his little speeches and putting the target right on the back. When we were doing the challenges, Marty would say, 'I think we should do it like this, what do you think Jimmy?' And Jimmy would agree and get everyone going, so that made Jimmy J. the target. Marty would put the person up front, but he was controlling the tribe. 
So you think everyone who's been sent home so far has been a target of Marty's?
Well, Wendy kind of dug her own grave the first week at the tribal council. But maybe Marty did say let's get the weakest one off right off the bat. But since then, yeah, he's been the man in control of the tribe.
Do you feel like people who tend to talk more are the ones who go home?
Oh yeah, I think that definitely plays a role. And maybe I would have kept my mouth shut had I known earlier. Next time, I'm not gonna say anything. But that's easy to say and hard to do when success of the tribe is at the stake. If the bus is headed off the cliff, are you gonna sit in the back and not do anything? Or are you going to take the wheel? I had to step up and take the wheel. I can't not do that. 
Do you see Marty winning this game? 
I see Marty having a really good chance. Ultimately, though, long-term, people are going to realize what he's up to, they're going to see the light. I hope he doesn't win, because he played the game selfishly, kind of evil and scheming. Maybe he's not evil. Maybe he's just trying to do what's best for the team. But I think Marty thinks that's doing what's best for himself first. It's working for him, so good luck to him. But I hope to think a kinder heart would win the game. He's certainly a good choice, though. He's very smart and very tricky.
You were a commercial fisherman. Was this as challenging -- or not -- as you expected?
I'm a fisherman and a competitive rower, too. You wouldn't know it to look at me, with all that fat I carried, but that fat was intentional. So the physical part of it wasn't so bad for me, compared to the others who were suffering from the weather and the bugs and all that. The thing that was rough for me was that I couldn't sleep at night, I went so all in. My problem was that there are two games in 'Survivor' -- the physical game of keeping the tribe sheltered and safe, which I was great at. But that one doesn't count as much as the social game. And that's what kills me most about the whole experience. In hindsight, you've got to play with your head. I thought playing with my heart and soul would earn me respect, and it didn't. 
Would you play again?
If I play this game again, I will win it. I'm a quick learner, and I know how to apply what I learned. If I play again, I will take that seat on the back of the bus and keep my head down, for the most part. I will jump off when I need to.