Who Should Judge 'American Idol' Next Season?
We add to the speculation about who'll be sitting beside Randy Jackson next season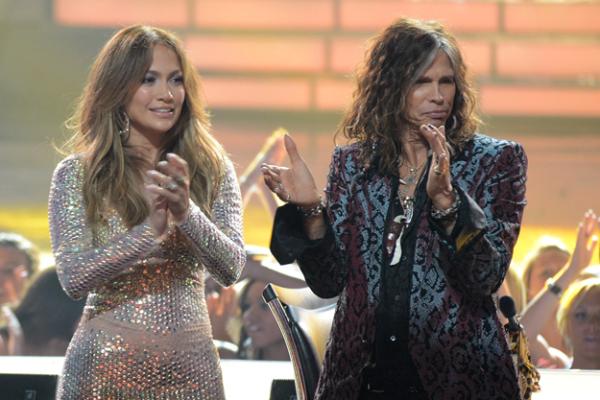 It's official. Steven Tyler announced today that he's skipping season 12 of "American Idol" in favor of actually making music. "I've decided it's time for me to let of of my mistress 'American Idol' before she boils my rabbit," Tyler said in a statement from FOX today. "I strayed from my first love, AEROSMITH, and I'm back -- but instead of begging on my hands and knees, I've got two fists in the air and I'm kicking the door open with my band." 

Bing:
More on "American Idol"
 |
Steven Tyler
 |
Jennifer Lopez
No doubt Tyler and his bandmates will grace the "Idol" stage next season when they promote the release of their new disc, "Music From Another Dimension," out November 6th. 
In the meantime, comments from fellow judge Jennifer Lopez on the "Today" show this morning have brought speculation about her imminent departure to a rapid boil as well. "Little by little, I'm moving closer to a final decision," she told Matt Lauer. "It's a heartbreaking decision....I love all the guys on the show, I love all the family that's there, but I am thinking it's time for me to go and do other things I love to do."
With both Tyler and Lopez bailing, that lives veteran judge Randy Jackson solo at the "Idol" judges table once more. Which might be a good thing for FOX, since season 11 saw the biggest ratings decline in the show's decade-long history. But all the drama? Hmmm....this sounds familiar. So who might fill those empty seats? Talk thus far as ranged from plausible -- like former "Idol" champ Adam Lambert -- to ridiculous, like Charlie Sheen. Although perhaps an infusion of crazy is just what the show needs. Herewith, some options:
Katy Perry: The pop tartlet is spunky and honest, and, most importantly, bold with her fashion choices. She'd add a dose of young blood that came with a hearty helping of pop cred, as compared to, say, former "Idol" mentor Miley Cyrus.
Mariah Carey: If "Idol" does want to bring some crazy to the show, they can't go wrong with bringing on Carey, who's had a strong musical career -- and a stronger history of making the tabloids for her nutty antics, especially on live TV. Plus, she's a 40-something mom of twins. Swap her out for J.Lo, who'll notice? 
Kelly Clarkson: Producers have been bandying Adam Lambert's name about, but former "Idol" champ Clarkson, who won the first season in 2002 and holds the record for the best-selling single by an "Idol" contestant, has the chops, the "AI" pedigree, and some history in the music biz behind her. She could judge -- and mentor -- the upcoming kids like nobody else.
Who would you like to see at the judges' table this fall?
"American Idol" returns to FOX with new episodes this winter.