'The Bachelorette' Recap: London Games
Fireworks explode over England as Emily goes 'West Virginia hood rat' on one bachelor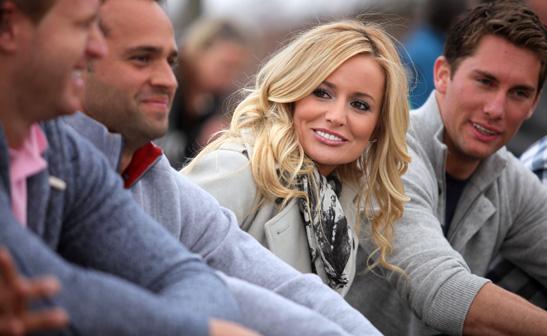 By Diane Vadino
Special to MSN TV
This surprisingly entertaining season of "The Bachelorette" continues this week in London and Stratford Upon Avon, where, conveniently, we get to see the guys humiliated by Shakespeare, which was always going to be a pleasure. (It's like a 16th century revenge, played out 500 years later.) 
Bing: More about Emily Maynard | 'The Bachelorette'
But we're skipping ahead: First up on this week's one-on-ones is Sean. Is Sean the dark horse this season? He barely even spoke the first couple episodes, until Emily's friends sexually harassed him and made him (a) take off his shirt and (b) do push-ups for their own personal amusement. But he's proven to be a mature, level-headed guy, and Emily can't get enough of his Olympic swimmer looks: "Guys that look like you are usually really boring," she tells him. But he's not! Supposedly. They head to Speaker's Corner in Hyde Park, and he gives an impromptu (?) speech about love: "My parents have shown me great love, and I'm searching for that great love. I haven't found it yet, but I'm hopeful that I will." Emily's all, can we please make out immeeeeediately. They have dinner in the Tower of London. "As you know, I have a six-year-old daughter," Emily says. I'm sure that made sense in context, but it sounds like, "As you know, I have blond hair" or "As you know, we breathe oxygen" or "As you know, I'm a corporeal human being." Not shockingly, Sean did know that, and equally unsurprisingly, he's totally down with the dad thing. He, of course, gets the rose. 
Photos: 'Bachelorette' stars: Where are they now? | This season's contestants
Back at the ranch, the guys get the group date card: "A rose by any other name would smell as sweet." Alejandro makes his sole contribution to the season by identifying the writer as Shakespeare -- which means that we're headed to the Bard's hometown of Stratford-Upon-Avon.​ The group daters are Chris, Arie, Ryan, Doug, Alejandro, Travis, John, and Kalon, who's put in an extremely bad temper by missing out on his chance for a one-on-one and sits in the back of the room stewing like Patrick Bateman before a kill. Though these outings inevitably reward a good sense of humor and penalize taking things too seriously, Kalon -- improbably cast as Romeo -- hasn't gotten that memo: "He needs to chill out and realize he's not on Broadway," Emily says. He doesn't do either, so Arie steals the show, good-humoredly tramping his way through a performance as a "Romeo & Juliet" nurse. Ryan similarly impresses Emily by finding a way to make out with her on stage. 
Shakespeare might actually be proud to know that the real drama came after the play -- with the cocktails. The evening begins typically enough, with Emily and Arie making out, and Ryan continuing to swing the pendulum from douche lothario to smooth operator. (He accomplishes the latter by pulling a necklace out of his pocket and giving it to her: "I'm sorry this is not some nice box or something," he says.) We've already seen a bit of Kalon's bad behavior, when he said that he was waiting impatiently for a one-on-one date -- but that every date's a group date when you're dating a single mom. (As, Emily will soon remind us, Kalon's mom was.) The slow-motion blow-up begins when Kalon complains to Chris about waiting for his chance to talk to Emily: "I'll get a chance to talk to an exhausted sick mother who has a daughter waiting for her." Oh, and? Kalon thinks six-year-old Ricki is baggage. Chris talks this over with Arie, and probably nothing would have come of it except Doug becomes involved -- and single dad Doug thinks that Emily needs to know. Doug actually tackles this the most mature way possible: He asks Kalon if he actually did call Ricki baggage. (He did. He's "not going to apologize for it.") Thus reassured, Doug tells Emily. "I'm trying to to think of the most ladylike way to handle it," she says. Then, she says, "I want to go out there and rip his limbs off and beat him with them." Confronted with his own words, Kalon tries to reframe "baggage" as "responsibility," but it's not working. "She's the furthest thing from baggage, and anyone with the tiniest heart could see that," Emily says. (Her best line is actually "I love to hear you talk, but not before I'm done -- I got that line from you.") Emily kicks him out, but all the drama leaves her in an unhappily contemplative mood. "I'm worried about my judgment," she says. "No one said anything. It makes me wonder, whose back do you have?" Well, except for Doug, right? There will be no roses on this night. "My dream guy would be willing to fight for me," she says. "And I don't know if I have someone who would have my back like that." 
Emily, therefore, is even more under the weather when she meets Jef for afternoon tea. And an etiquette lesson. "I realized my one-on-one turned into a two-on-one with [the etiquette expert] and Emily," Jef says, disheartened. It looks incredibly, incredibly painful. "I'm not used to someone correcting me after everything I do on a date," Jef says. The etiquette lesson seems to be cut short: "I'm ready to get the hell out of here," Emily says. They go for fish and chips at a local pub, and then head up the London Eye for dinner and views over the city. Emily tells Jef that she "questions if you're into me all the time," which seems to utterly mystify Jef. He scores the best Ricki-related answer of the night when Emily asks him if -- when she and Ricki move to Salt Lake City to be with him -- "the party's over." "No," he says. "It's like the party's just begun." Well played, sir. Jef, obviously, gets a rose.
The rose ceremony follows, and is most notable for Ryan recovering from his lame-o showings the previous two weeks, with a dramatic interpretation and bunch of kissing. Emily's not totally buying it ... but she sort of is: "He's so smooth he thinks he can get any girl, and here I am falling for it." As for the roses, they're going to ... everyone but Alejandro. It's gotta be a little more embarrassing when you're the only guy who's not going home. "Gosh," he says. "I was definitely not expecting to go home tonight [and not go to Croatia]." We hardly knew ye, friend.
"The Bachelor" airs Mondays at 8 p.m. ET/PT on ABC.