'Dancing With the Stars' Recap: Ave Maria
Maria Menounos and Derek Hough score the season's first perfect 30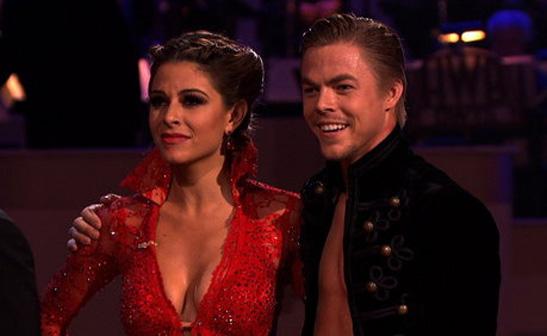 Surprise, surprise! The first 30 of the season went out to Maria Menounos, not Katherine Jenkins! I wouldn't have guessed it, but I'm sure not surprised. Maria has been fantastic almost every week and her paso doble was just plain unstoppable.
Bing: More about 'Dancing With the Stars' | Photos: See the dancers in action

That said, Classical Week wasn't my cup of tea. It's strange watching dances like the rumba set to string music, and although there were some amazing performances like Maria's paso doble, there were also some duds. Melissa had an especially bad night, and Roshon and Jaleel both ran into trouble as well. It was enough to leave me hoping that the dance duel will feature "regular" music.
Last Night on TV: Watch recaps | Video: Watch clips and more
We also saw the first team dances this week. The first, an intense tango, put Maria, Katherine, Roshon and Jaleel through their paces. Their individual solos were precise and tightly crafted, and the brief part at the end where all four couples danced in sync was really something. Len called Maria and Roshon the standout couples of the group, but didn't seem to love the dance. Bruno praised the choreography and called Roshon "a revelation."
Donald, Melissa and William danced a smoldering paso doble, and only Melissa kept her shirt on. The tango was powerful, but this paso doble never quit. We saw spins, lifts, drama, passion and some excellent technique to boot. Bruno called the dancers superheroes, and Carrie Ann could only laugh and call the dance "ridiculous to watch." Len, surprisingly, had the killer one liner: He said the performers "undressed to impress." Not too bad!
Here's a quick look at this week's performances:
Katherine Jenkins
Katherine's Grecian rumba was breathtaking. She and Mark moved beautifully together, and the slower classical music really highlighted her precision and control. Len complimented Katherine for staying "on rhythm" in a song without rhythm and Bruno called her an "unattainable object of desire." He seemed disappointed by a total lack of raunchiness in Katherine's admittedly demure rumba. Carrie Ann commented on Katherine's beautiful lines and perfect placement, but cited a lack of passion on her part.
Rumba: 27/30
Tango: 27/30
Total: 54/60
Melissa Gilbert
Melissa's spirited Argentine tango had the crowd on its feet. The routine was difficult, interesting and just plain fun to watch, but the judges weren't having it. I was worried for Melissa with Maks dancing on an injured ankle. Bruno complimented Melissa's drive and energy, but found her execution choppy and frenzied. Carrie Ann was even more blunt. She called the routine "Cirque du Soleil gone wrong" because of all the lifts. Len was gentler, but did say Melissa's performance lacked dance quality. Their harsh words and mediocre scores could leave Melissa trying to dance her way back into the competition come elimination time.
Argentine tango: 21/30
Paso doble: 26/30
Total: 47/60
William Levy
William too danced on an injured ankle. His Viennese waltz was slow and stately, and William did a fantastic job selling it emotionally. His frame was excellent and his movements were easy and unstudied. He even stayed in hold with Cheryl in spite of the crazy height difference between them! The judges didn't have too much to say about the technical content, but they sure loved the dance. Carrie Ann praised William for bringing romance to life, and Len said he was transported to Austria, if not actually Vienna. Even Bruno was serious, calling the routine touching and beautiful. A coup for William.
Viennese waltz: 27/30
Paso doble: 26/30
Total: 53/60
Roshon Fegan
Roshon's Argentine tango was a huge departure from his usual hip-hoppy, lighthearted dances. He definitely commanded out on the floor, and there were some good spins in the routine. He looked shaky on of the lifts, and his posture could have been better at times. Len called the dance "clean and confident" overall, but Bruno commented on his wobbly legwork. Carrie Ann gave Roshon a hug and welcomed him back to the competition. She at least doesn't expect him to have to face the elimination dance-off. Let's hope his fans prove her right.
Argentine tango: 25/30
Tango: 27/30
Total: 52/60
Donald Driver
Donald's Viennese waltz was lighthearted and energetic. After a rather slow and serious night, the crowd warmed right up to it. The routine was full of crazy dips and spins, and Donald really sold the show. The waltz was good from a technical perspective as well: His frame was excellent, and he more than kept up with Peta. Bruno praised his sweeping passion, and Carrie Ann commented on his precision. Len complimented Donald's footwork. This was an amazing performance from Donald.
Score: 27/30
Paso doble: 26/30
Total: 53/60
Maria Menounos
Maria's vampiric paso doble was that rare routine that's gimmicky, but totally works anyway. The routine was bold, dramatic and never let up for a minute. Maria and Derek moved perfectly together, and her rhythm and control were both excellent. She also brought the necessary intensity to the routine. Carrie Ann praised Maria for being "on fire," and Len was a fan of the tension between Maria and Derek. Bruno called her "the queen of the damned and the queen of the night," and praised her storytelling.
Paso doble: 30/30
Tango: 27/30
Total: 57/60
Jaleel White
Jaleel's "Downton Abbey"-esque Viennese waltz was quiet and moving. He was very expressive throughout the routine and did an excellent job in hold with Kym. Len said he "liked it enough not to be cruel," which seemed pointlessly mean, and then criticized Jaleel's footwork. Bruno commented on Jaleel's loose arm work and an overall lack of content to the routine. Carrie Ann liked the storytelling aspect of the routine but agreed with Len on Jaleel's wild arms. Tough words from the judges, but Jaleel's score wasn't too bad.
Viennese waltz: 24/30
Tango: 27/30
Total: 51/60
Who won over the judges: Maria
Who won over the crowd: Maria
Who needs to step it up: Melissa
"Dancing With the Stars" airs Mondays at 8 p.m. ET/PT and Tuesdays at 9 p.m. ET/PT on ABC.