'Survivor: Philippines' exit interview: Jeff Kent
In this season's biggest blindside, former MLB MVP is the latest castaway sent packing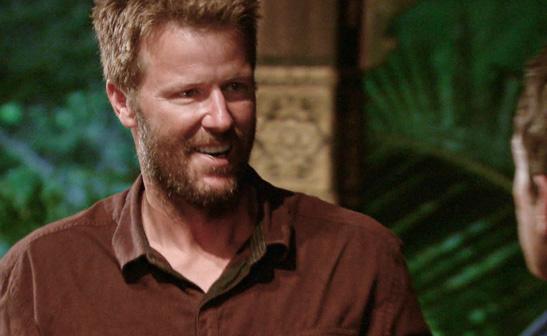 This week on "Survivor: Philippines," nearly every castaway's name was thrown into the ring at tribal council. Still, former baseball MVP Jeff Kent was surprised that he was the player packing his bags and heading off to the jury. We caught up with the former TK star to chat about his Penner fixation, hiding his MVP status, and that big-time blindside.  

MSN TV: In the minutes before tribal, everyone's head seemed to be on the chopping block – Malcolm, Skupin, Pete, you? Did you know it would be you?

Jeff Kent: No, I knew my name was thrown about – but everyone's name was thrown about. We were all scrambling in the 15 minutes before tribal. And I still don't know why it was me. Up until that day, I felt pretty safe. I didn't feel like there was a target on my back. But I guess that someone thought I might be dangerous when it came down to the final three. Or that I did too well in the challenges. 
Bing: More on "Survivor: Philippines" | Jeff Kent
What do you think Jeff Probst meant when he said that this tribal was a blown opportunity.
I think Jeff's always viewed "Survivor" as a numbers game. And he likes to see us make those big moves, to see things shift. Kalabaw could have stuck together to make a move, but that didn't happen. And some of that blame was put on me, but there were things they didn't show. We didn't have Denise locked in, for one thing – because she was standing firm in her alliance with Malcolm. And Malcolm, as much as he seemed to be playing the game with Pete and the others, he was sticking with Denise. I tried to convince Denise to step up and make a move, to play more offensively, but she just wouldn't do it. They went with Pete last week and voted for RC. So we never actually had the numbers. And this week, they could have reversed that – Skupin and Penner could have joined with us to take down Tandang, but they didn't. Now Tandang will take them out one by one. So I think Jeff called them out on that.   
This week, with Penner and Skupin, just minutes before you were voted off, it seemed like there was a possibility to fix that. Even though you had it out for Penner from day one.
You know – that was really out of respect for his game. My main strategy going in was that I just wanted to stay one step ahead of him. He's a smart player, and it's not like I wanted to be next on the list after Penner, as it seemed to play out. I really just wanted to be there longer than him. But I think he's a really smart player, and I respect his game. So I was willing to put myself out there and make that happen. I thought that it might work. We could have fixed things, and started to take out the Tandang alliance. But at the last minute, it just didn't come together. I don't know what happened. I don't know why it was me.
You laid low for the most part by not revealing your MVP status. Do you think you would have gone sooner had you not done that?

Yeah, I think it would have made me a target. But also, I didn't want to carry that with me into the game. I wanted an even playing field – I didn't want to come in there and have other people have expectations, like they did of the veterans.
Were you surprised no one recognized you?

No, I think in that world, you're so focused on the game. And I just looked like one of those older guys, a bit of a spare tire, no big threat. I was surprised Dawson had figured it out, but grateful no one else really recognized me.
Speaking of which – Lisa was laying low, too, but now she's stirring the pot.

She sure is. She's causing all kinds of trouble. Finally, 22 days in, she's starting to play the game. But I think she's causing trouble for herself. She's spilling secrets, she's breaking alliances, she's making herself seem untrustworthy. She really had an opportunity to form a solid alliance with Malcolm and maybe Denise, but instead she burned that bridge. She won't be able to cross back over it now – it's too late. She thought it was a power play, but she gave away the only power she really had. So really, she's causing the most trouble for herself.
Is there someone you're rooting for now?

Well, I always got along best with Carter. He was my little buddy on the island, and we had a pretty strong alliance. So I'm pulling for Carter all the way. If he keeps laying low, he'll stay off everyone's radar. So far, his name has never even come up. Then, near the end, that's the time for him to make his move. I hope Carter takes it in the end.
Want more "Survivor"? Check out our recap of this week's episode.
"Survivor: Philippines" airs Wednesdays at 8 p.m. ET/PT on CBS.