Jill Zarin's 'Housewives' Return Apparently Unreal
Report: Pink-slipped star possibly planting fake tabloid rumors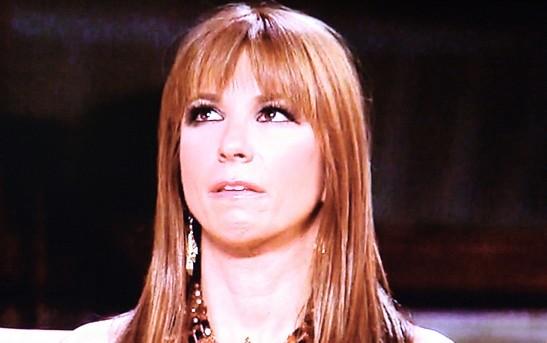 Pink-slipped Jill Zarin could be telling tall tales about being asked back to "The Real Housewives of New York City."


According to tabloid truth tracker GossipCop.com, a report in the current OK! Magazine announcing her possible return is false and may actually have been planted by Zarin.

Bing: More about 'The Real Housewives of New York City'

The OK! report, available on newsstands only, quotes one "show insider" saying that Bravo "really wants to add Jill back" due to low ratings, and another saying that "it would take a lot of groveling and a hell of a lot of money" for that to happen.


However, a legitimate Bravo insider says there is "no truth" to the report, nor the claim Zarin made in January to RadarOnline that another "show insider" asked her back and she declined.

Also: Reality TV's most ferocious females | TV's boys of summer | Summer reality TV fare
Zarin -- who was replaced last fall, along with fellow cast members Alex McCord, Kelly Bensimon and Cindy Barshop  -- seems to have had a hard time adjusting to the boot imprint on her butt. On June 12, she posted an entry on her personal blog suggesting that her fans might want to try the same type of letter-writing campaign that once brought actor Patrick Duffy's Bobby Ewing character back from the dead on "Dallas."


"I am certainly not advocating anything," Zarin wrote, "just thinking of all the scenarios out loud."


"The Real Housewives of New York City" airs Mondays at 9 p.m. ET/PT on Bravo.
Jill can't stand to lose and being fired is not something she's going to take laying down. I don't doubt for a second she is behind these rumors of returning and it's really sad to see someone as desperate as Jill stoop to such a level. Jill is just a spoiled little rich girl who thinks the whole world loves her because, well, she's Jill! I can't stand her and I'm glad she's off the show. I'm sorry that LuAnn is still on - now there's a woman who is one marriage and some luck from sponge baths and bed pans. A vocational nurse giving everyone advise on etiquette in her, "I'm better than everyone else" attitude is a little stomach churning. Bringing back Alex is an interesting idea because she's educated, has an edge and Simon is a riot.

my quess as to why there are low ratings with this season is because alex (and of course simon) was let go and luann is still there..    i caught one of the reruns and luann was being her snitty self and of course causing trouble like always.....   i will never watch this show again or any of the other housewive shows........   maybe beverly hill, should it come back.......  otherwise they made a big mistake leaving luann and removing alex.....   jill, yuk!!!!    im glad shes gone, now if we can get her off of HSN,!!!!

I read in the Daily News an article stating that Season 5 was in ratings trouble and advocating the return of Alex and Jill to up the ratings.  The fool who wrote this article had obviously swallowed a new fish tale concocted by Jill in a pathetic effort to reinstate herself.  How many bs stories will the media print. A series in England, a series for Fox a seemingly endless trail of lies taken up by a desperate media.  This woman is certifiable.  NO ONE WANTS YOU BACK.JILL.
Are you sure you want to delete this comment?