Report: Ryan Lochte Mulling Reality Show Offers
Popular Olympic swimmer poised to become TV personality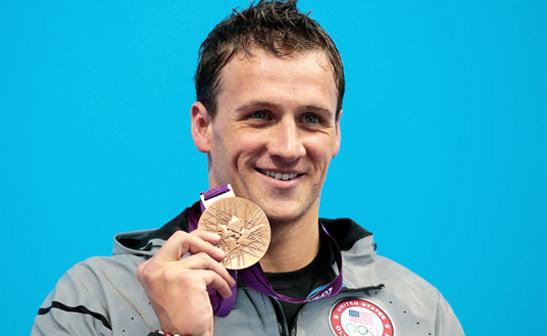 Multiple reality show offers are being floated to Olympic swimmer Ryan Lochte, according to the Hollywood Reporter.
Lochte, 28, won five medals in London. However, that had as much to do with his appeal as his admission of urinating in the pool, his attempt to wear a $25,000 diamond-and-ruby American flag mouth grill while accepting the gold medal for the 400 meter individual medley (which Team USA forced him to remove), and his own mother decrying his penchant for one-night stands. ("He's more of a love 'em and leave 'em type," she told "Today" last week.)
Plus: Olympic TV efforts
Lochte's sports agent told THR that "two different reality show concepts have been offered and one additional is being discussed."
Lochte -- who plans to relocate to Los Angeles following the Olympics -- also told reporters in London that he would love to do "Dancing With the Stars," perhaps in a square-off with U.S. swimming teammate Michael Phelps.
Plus: Reality TV stars who need introductions | Summer TV guide
Last week, Lochte was named "America's Sexiest Douchebag" by a blog called Jezebel.
In related news, Mike "The Situation" Sorrentino was discovered moving over.
Primetime coverage of the 2012 Summer Olympics airs nightly at 8 p.m. ET/PT on NBC until Sunday, Aug. 12.

 A Small Cap To The Head Of nbc sports chairman mark lazarus
Corporate Values we always knew there was no such thing...just another buzz word. The nbc coverage of the 2012 Olympics in London was not an "Event" events are live thats the difference between an event and a show..or program,a film or movie.The Olympics are an event not the tuning into a channel thats just watching tv.
 Let's remember nbc thought so much of the Olympics they decided we shouldn't all share it at the same time, at the same moment as the billion others, let's cheer the fact we weren't all let in on the celebration when it happened as it was happening with collective AWE nbc went to the party and bought us back a tape.. The universal consciouness was sedated in the USA placed in a induced coma. The population dependent on others more fortunate in other country's for information. The live nbc Olympics on the net did not work and ..others from small country's some without the latest HD, some gathered around old tv's with bent attennas in far away villages, towns watching on small outdated non-digital tv's watching their global instant connection together watching as the world celebrated in perfect real time. 
The IOC who banned people for not repesenting the true Olympic spirit, for their behavior, for not playing by the rules of the game and yet they sold the rights until 2020 for American broadcasting to a souless broadcasting  hijacker who basked in the fact people were "driven" into time slots like sheep. The IOC should award the small golden medal of greed medal to nbc and then ban themselves from the Olympics.nbc uses the peoples airwaves we own it. If the fcc (a small cap to their heads to) will not create any standards of broadcast quality as a condition of  influence and licensing then why fund it why have them at all.Keep in mind only two country's did not see the Olympics live,,they were the USA and North Korea..it appears we have more in common with the North Koreans then we may have thought. It's a sign of disgust for nbc but from now on they have earned from me and will be known and addressed in only small caps as it fits small people in small company's.

Are you sure you want to delete this comment?