'Taste' judge: I flirt with Nigella for a reason
Ludo Lefebvre reveals hidden agenda for on-screen chemistry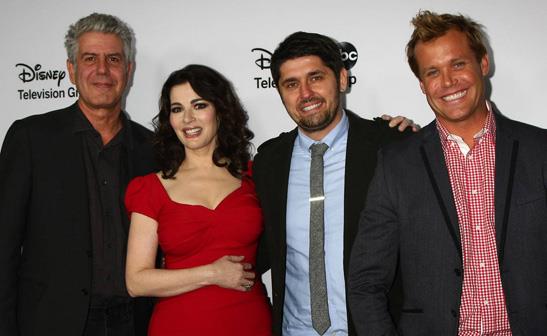 WENN
"Taste" judge Ludo Lefebvre has confessed to flirting with co-star Nigella Lawson in order to get closer with his competition. The French chef sits next to the British baker on ABC's newest cooking competition, and many viewers have noticed his undeniable chemistry with Lawson. But Lefebvre tells TV Guide magazine that, although his flirtation is 100 percent real, he may have a secret agenda.
Bing: More about Ludo Lefebvre | 'The Taste'
He explains, "Nigella had her own show on E! Entertainment 10 years ago. She was so sexy! She still is so sexy. But I was in love with her. So just to be next to her was so exciting, and I was nervous too. So why wouldn't I want to flirt with her? She's cute, she's sexy and you should see the way she puts the spoon in her mouth. "And she's fun, and she knows a lot about food. Better watch out for her on the show because, trust me, she knows what is good food. Yes, I flirt with her, but I want to be very close to my enemy."
Also: Shows guys watch when women aren't looking | 'Smash' Season 2 preview
"The Taste" airs Tuesdays at 8 p.m. ET/PT on ABC.