'Teen Mom 2' star apologizes for trailer tantrum
Kailyn Lowry says she's 'humiliated' that emotions got the best of her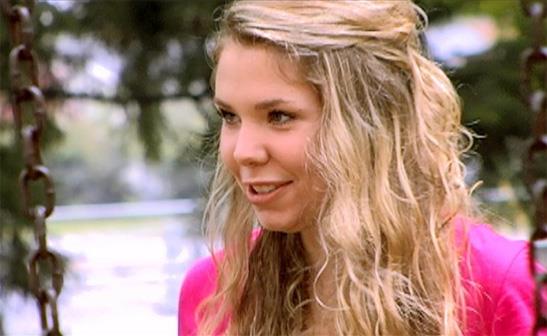 WENN
"Teen Mom 2" star Kailyn Lowry has apologized to her husband and his family for lashing out at him in front of MTV cameras. Footage of Lowry hitting her husband Javi Morroquin has appeared in a newly-released trailer for the upcoming fourth season of the docu-series, prompting the fiery reality TV star to set the record straight about her relationship with her husband.
Bing: More about Kailyn Lowry | 'Teen Mom 2'
Speaking to entertainment website Starcasm, the "Teen Mom 2" star saids, "I just want to publicly apologize in advance to my fans, and even though Javi and I have moved on from it, I want to say I'm sorry again to him and his family for letting my emotions get the best of me. I know how humiliating that is for them, and I'm humiliated myself." But Lowry's friend, Lex Lopez, insists the cameras didn't catch the full extent of what happened during her televised meltdown. Lopez explains, "She never hit him. She pushed him out of frustration and was instantly sorry for her actions ... That day there were 14 people in Kail's (Lowry) tiny house, including an eight-person camera crew. It was so hectic and Kail was very frustrated and she just lost it for a minute. Javi forgave her that day, even though MTV tries to make it look like he leaves the house after the incident. In fact, he went outside to go help his parents fix Kail's car." "Teen Mom 2" premieres Monday, Feb. 18, at 10 p.m. ET/PT on MTV.
Plus: Breakout stars of the season | 'Downton Abbey' shockers | TV's real-life couples

Kail: I think she needs counselling on the Joe issue where his girlfriend is concerned. Having been a teen parent myself and a single dad. I understand the desire to want your son to have what we make up in our minds to be a "complete" family. But there comes a time when we must realize that our kids will never have that because of the choices we made. The we have to grow up and move on. She needs to drop the facebook drama and meet the girlfriend and be cordial. Only reason she won't is because she refuses to move on form the hope that her and Joe will be together... So Javi just know that although she is playing house with you.. She really wants Joe to be the man of the house. I think Joe needed to be smart and file a restraining order on Kail.
Leah: Don't know why you tried to do the thing with guy number two when you still had feelings for Corey..period. Jason: she is leaving it up to Corey as to whether or not they can have another go at it because she wants him. So why play second fiddle to Corey, when they are truly done then the two of you can explore a relationship. Chelsea: you are the biggest fool going on tv. Adam does not and will not ever want you the way a man should because you don't respect yourself enough for him to respect you. He can literally make number 2 in your face, tell you that he wants your money and then leave for weeks to months on end and then you will still let him come back and have unprotected sex with you... And you will tell everyone about it with a retarded smile. You have a great dad though. He is Adams biggest adversary, and if he wasn't Adam would do much worst stuff to you..if there can be worst. Janelle: you have really taken it home for me why I am divorcing this crazy chick I married from Durham, NC. You NC chicks really have mental issues. I was on your side somewhat, I wanted you to get Jace back. Thought your mom was the biggest witch this side of the Mason Dixon, and at times she can be. But your constant ups and downs, in and outs of Jaces life kills me. You will life like a ping pong ball bouncing here and there, only bouncing back when you got a strong enough swat from the opponent on the other side of the table. I would hate to see how Jace would turn out if your were a fulltime, 100% mother, with no mother of your own to supervise or ..BAIL YOU OUT!!! But then again..your mother raised you... so what makes anybody think she can raise someone else???? Hopefully Jace has enough of his dads genes to compensate and make him a better child then you ever grew up to be. Is Jaces dad gay? He was showing some gay signs in his manorisms, etc! He just creeped me out.
Are you sure you want to delete this comment?