One to Watch: 'Snooki & JWoww'
After six seasons at the Shore, those crazy girls are moving on up -- to Jersey City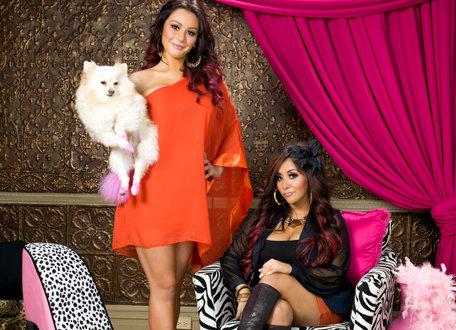 Earlier this year, Nicole "Snooki" Polizzi's announcement that she was pregnant really put a wrench in MTV's big plans to spin-off her crazy antics -- along with those of pal Jennifer "JWoww" Farley -- from the sultry shore up to the city on their new reality dramedy "Snooki & JWoww." 

But the show must go on. And so it will, starting tonight at 10 p.m. on MTV. It follows the hard-partying pals as from the Shore to their more laid back day-to-day as the girls go apartment-hunting in Jersey City, Snooki learns to parallel park, JWoww faces toilet paper fiascos and fights with her boyfriend, and the roomies cope with Snooki's surprise pregnancy. Cue Snooki quotable: "Instead of life throwing me a curveball, it threw me a sperm ball." 
That poor kid.
The baby, a boy, is due in September. But in the meantime, Snooki and JWoww are busy shooting the seventh season of "The Jersey Shore" in Seaside Heights, and Snook's still apparently partying it up big time, despite being engaged to baby daddy Jionni LaValle. Because those wedding bells won't be ringing any time soon. "I don't want to rush everything and get married just because I'm pregnant," Snooki
recently told MTV
. "I'm only getting married once, and this is the guy. You might as well have the baby and then get it all looking good again and then have a wedding and have the baby in the wedding. I want to make it very special." 
And that, no doubt, means a made-for-TV wedding. But that's down the line. 
In the meantime, here' a brief sneak peek of a key moment:
"Snooki & JWoww" airs Thursdays at 10 p.m. ET/PT on MTV. 
Are you sure you want to delete this comment?