'Amazing Race' Exit Interview: Michael and Kevin
The father-and-son team -- already an Internet sensation -- give us the scoop on their final leg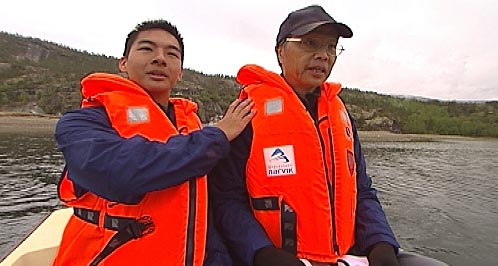 "The Amazing Race" ended for father-and-son team Michael and Kevin Wu last night, after they finished out the episode with not one but two thirty-minute time penalties. It was a perversely fitting finale: After worrying about his dad's physical fitness, Kevin misread a clue -- which cost his team the victory. We spoke to Kevin and Michael about their Internet following, their team strategy, and that infamous 10-minute Roadblock. 
MSN TV: Kevin, you have a massive YouTube following on your KevJumba channel. What's the reaction among your fans been like? 
Kevin: There's been all types of reactions. Most of them are pretty nice: "I'm sad to see you go." Other people were like, "Why can't you read? Did you learn how to read in school?" I definitely had a fanbase going into the show, and it's grown, which has been great. I'm disappointed that I let them down a bit. The general consensus is my dad and I lasted seven legs, which was more than some people thought we would. 
Did any specific comments leap out? 
Michael: I saw a response on Twitter saying, "Kevin, you need to get a stronger partner next time -- pick me." 
So mean!
Michael: He was just stating the facts. 
What was it like watching that final leg last night? 
Michael: I almost couldn't watch. It was just me and my wife. My daughter texted me and said, "I can't watch it anymore." She sensed it already. 

Knowing you guys a bit from the YouTube videos, I wasn't sure that you had the same level of energy on the show. 
Kevin: After every leg, we were pretty tired. We carry a lot of energy into the videos we produce. Going into the show, I wasn't trying to entertain people. My main focus was, let's finish the race and do the best we can. 
Did you have a strategy going into the race? 
Kevin: We had little things, like I would do the more physical challenges. My dad held on to the clues. 
Michael: I watched the money. 
Kevin: We played most things by ear. Our goal was not to get too riled up and stay calm. 
What was your favorite moment from the race? 
Kevin: Definitely going from last place in Ghana to getting that earlier flight [to Sweden], bouncing back and showing that we belonged in the race. 
The Roadblock penalty (which forced the team to sit on a block of ice for 10 minutes) seemed pretty basic. 
Kevin: It was painful! It was only 10 minutes long, but it was still painful. I don't know if you've ever had frostbite on your....
Rear end? 
It hurts!