'Survivor: Nicaragua' Exit Interview: Kelly B. and Yve
In a double blindside, both Yve and Kelly B. are spent packing this week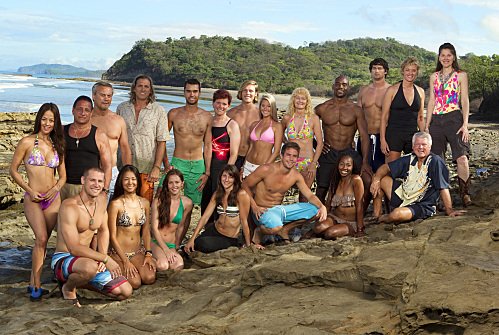 In what's been the most riveting tribal council so far this season, two players were sent packing on "Survivor: Nicaragua," Kelly B. and Yve. Kelly B. was blindsided when she was voted off despite a plum opportunity for Brenda and the La Flor tribe to vote off bossy Marty. And Yve expected weak link Danny -- who asked to be sent home -- to be voted off, but instead got a grand blindside herself. We caught up with both to talk tribal councils, alliances and who they're rooting for now.
Yve On The Swap Throwing Her Off:
"I knew as soon as I walked up and we found out it was a double elimination and individual immunity, I'd have to get it or I was going home. I had the perception that I was aligned with the Espada folks was putting me in a difficult spot. The switch-up totally changed the game for me. I was very confident in my core alliance at Espada. Things were going great for Marty, Jill and I. Unfortunately, the swap came early and it caught me a bit off guard. I think that was part of my downfall. But I thought I was safe going into the final vote. Stuff happened behind my back, so to speak, that changed the game. And Dan had said that he wanted to go home more than just that morning -- it was a consistent theme with Danny. I think I was thrown under the bus a little a bit by who Jeff is going to take to the end. Logically speaking, I knew the jury would be stacked against me. But the fact that I was a threat, that surprised me, pleasantly."
Kelly On the Vengeful-ness  Against Her Leg: 
"I knew going in that I was going to be a disadvantage because I was going to have to prove myself right off the bat. So it didn't surprise me that much initially, because I think people didn't know how physically competitive I was going to be. But it worked almost to well, I think people felt a bit threatened about how well I would do after the merge. I was pretty shocked about being voted out. I was pretty confident that we had the numbers, and the plan was for the young tribe to stick together and vote out the older ones."
Kelly on the Re-Vote Blindside:
"At tribal council, Brenda had Marty right where she wanted him, and he didn't use the immunity idol. There was clearly a huge rift between Brenda and Marty, so I thought the target was off me at that point. It would have been so easy to pick off the older players and then go strong into the merge. I thought they had my back. And at one time Kelly S. came up to me, uncomfortable and miserable, and asked me to vote for her. She mentioned that my name had come up. And that's when I started to realize that noone would look me in the eye. That was an hour before tribal council. So it was really too late to start negotiating with people. But I thought when Marty didn't play the idol and there was a re-vote, I thought he'd go home for sure. It was shocking to me. I don't know why that they were gunning for me so much at that point."
Kelly B. On Clear-cut Villains:
"I feel like everyone was kind of trying to play a Russell in a way. I feel like the last few seasons have kind of changed the game of 'Survivor' in general, and there is a ton of strategizing and a ton of cunning deceitful now that underlies the game. I think you Brenda and Marty and Sash trying to play that role, although they're not quite Russell. But it seems like they were trying to be."
Kelly B. On Who She's Rooting For:
"I think they need to put Kelly B. back into the game. But Alina was  strong player on my side -- I had a lot of respect for her and I wish her well. And Fabio as well, despite the fact that he turned on me in this last tribal council. He was great comic relief and seemed like a genuine person, you know? Maybe not the brightest. But he was nice person."
Yve On Who She's Rooting For:
"I really respect the knowledge and preparation that Jane brought to the game. I really admire that. I enjoyed playing with Marty and Jilly and Holly. I want the original Espada tribe to pull together and take it. I'd like to see one of them win it and the other two pat that person on the back. They're three people who really played the game well. But I'm 100 percent ready to go back -- to Nicaragua or anywhere else for that matter. My back is still packed and ready to go."